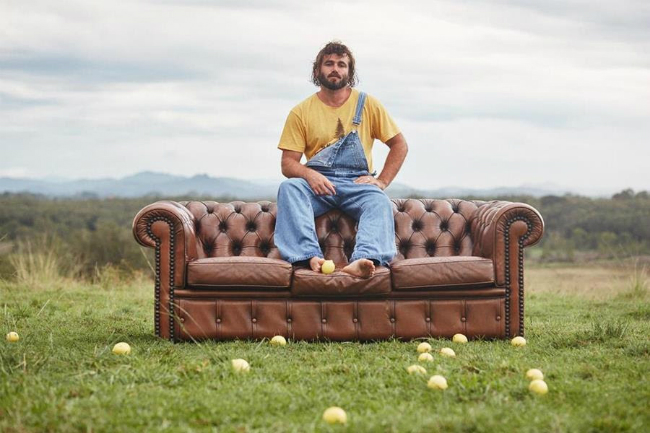 Angus Stone never seems to slow down. His latest project Dope Lemon has taken the reigns recently with the release of album their debut album 'Honey Bones'. We caught up with Angus to talk about the story of Dope Lemon, doing tequila shots, snowboarding in Switzerland, and what he's planning to do next!
Well firstly, congratulations on the release of 'Honey Bones'!
Thank you very much!
For those who have only just heard of Dope Lemon, how did this side project actually begin?
It began with a room full of instruments and recording gear, and basically we just walked into our room and started to create. We pushed record and magical things happened!
Where did the awesome name come from, Dope Lemon?
Dope Lemon…I don't know, a few things. Throughout the recording of the album the tradition in the band was you had to squeeze lemon in your eye, have a shot of tequila, and then snort some chilli paste! But I don't know to be honest, Dope Lemon was sort of something that we just chewed on for a while. We're all dopey, y'know? Like when you buy a car that can be a lemon, I guess sometimes you can get that with yourself.
How was the writing and recording process with Dope Lemon different to your solo work and your work with Julia?
It wasn't so different…we would go into the studio and when I walked in, that was my time. And the musicians that walked in with me knew that was my time because I had the song that I wanted to record, you almost become the captain of that session. And then it was [Julia's] turn it was vice versa, y'know. But I guess in this case, with Dope Lemon, it was everyone. There were lots of cooks in the room, and we all stirred the pot and came up with ideas as a band, y'know? It was like the chief sitting round the fire coming up with some cool stories.
Dope Lemon has a more psychedelic rock vibe than Angus and Julia Stone. Have you always wanted to produce your music with more of this sound, or did this just happen organically?
It just happened organically. I don't really ever think about what I'm going to do before I walk into a studio and start recording…you all just start strumming guitars, and y'know a song will sit down on the kit and so many different things, so many different styles show themselves. I think it's cool just to let go and let that happen. I think that's what happened with this record…
We did see on your social media you had a holiday to Switzerland recently, what drew you to that part of the world?
You know Toblerone, the chocolate? That chocolate was made from the shape of a mountain called the Matterhorn. And the Matterhorn looks over this town called Zermatt. We have friends over there that pretty much own the town, they have really old, old blood lines in this town. And they run a little festival called Zermatt Unplugged. And basically, they bring bands internationally, all over the world, to come and play shows for them and the town. And we did so, and they put us up in a little chalet up on the mountain, and we snowboarded for a week or so. We got to play around in helicopters. Yeah, it was pretty incredible! It's such a magical, sort of story book part of the world!
Did the trip give you any fresh perspectives on your music or change your writing style at all?
It definitely did! Everything has an effect on how you write and where you're going with your music and style. It was really cool, with one of the guys there, he's this entrepreneur guy, and he was like (in Swiss accent), "If you guys ever want to record here, I can build a studio up in the mountains, and you can make a record". And we're just like, "Yeah! F*ck yeah, sounds awesome! Let's do that". So maybe the next record will be…up in the mountains of Switzerland. You never know!
Nice! Can we expect the next Angus and Julia Stone release any time soon?
Umm…yeah. You know what, Julia and I have actually been recording. I've got a little studio at my farm and Julia came over last month and spent a few weeks just kicking round, recording. And some really f*cking cool shit happened! We were pretty stoked with it…that's just sitting there at the moment. We're just gonna sort of sit on it and wait, and when the time comes and it feels like we're ready to release another record we'll do that. But I guess we'll just chip away at it 'til we feel like it's ready and…yeah, we've both sort of done our own things. I think for me Dope Lemon is my main priority at the moment.
And will there be a  Dope Lemon tour soon?
Yeah, it's a bit of a secret at the moment! We're gonna do a little secret tour, play some more shows and just have a bit of fun with it, y'know, get loose! But we're sort of keeping it under wraps for now. But we will reveal it eventually!
Any words for the fans?
Just, I love you guys! thank you so much for listening to the music and supporting all the projects that I've been involved in!
Read our album review of Dope Lemon's debut album 'Honey Bones' HERE