Album Review: DZ Deathrays 'Bloody Lovely'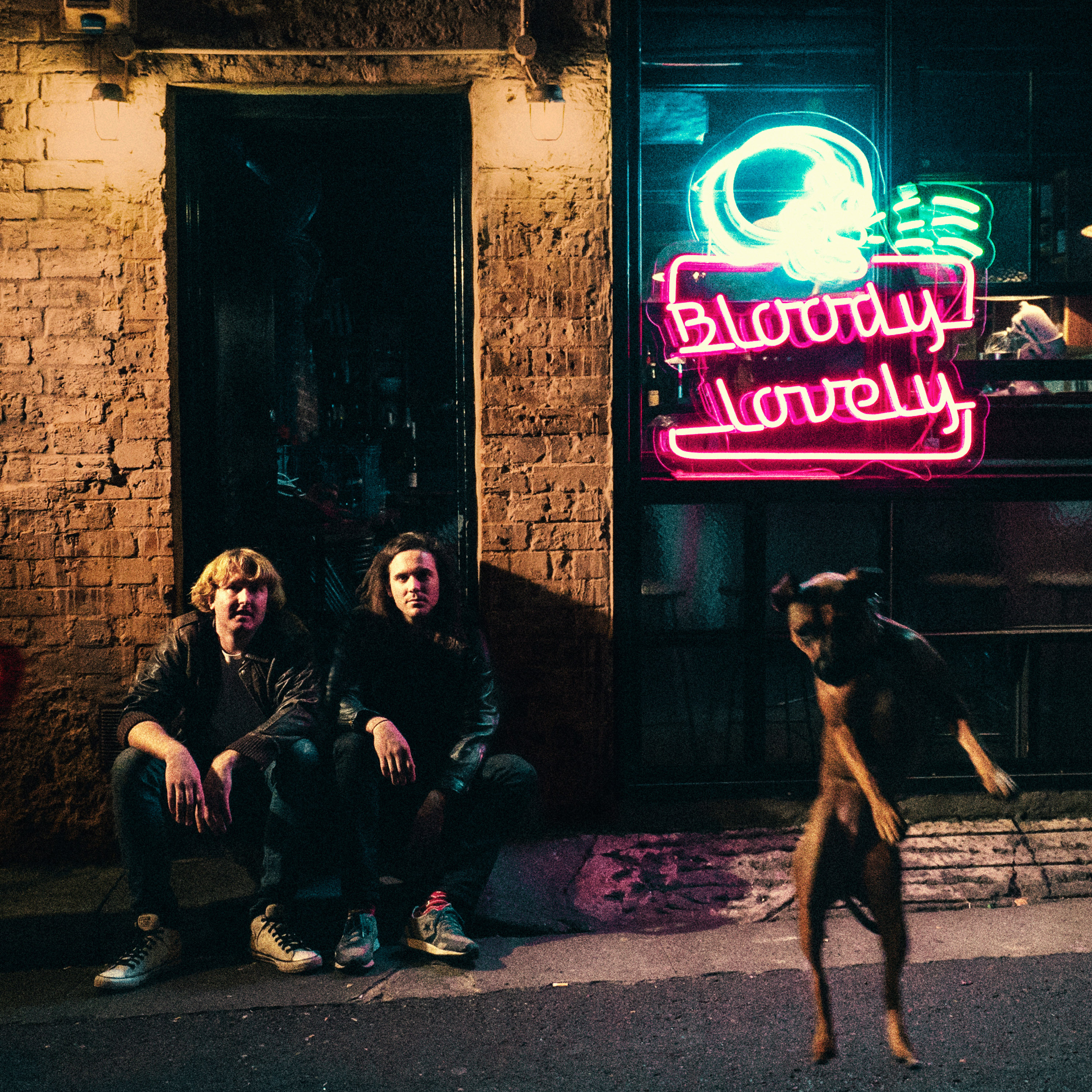 For DZ Deathrays, change is progression, genre is constrictive and they are relentless. For years, anticipation had grown to extreme levels for a new third full body of work for the duo. Tour after tour after, a string of one-off singles and then another drip-feed of singles which are placed on 'Bloody Lovely'. Four years after 'Black Rat', it seemed DZ Deathrays had, then, made their most constructive and structurally inventive record yet. They follow it up with easily their most audacious, lucid and resolute product.
Returning to legendary producer Burke Reid, who also produced 2014's 'Black Rat', DZ Deathrays' goal on this album, whether intentional or not, was to make a record you hear blaring over muffled chatter, billiards clanking and beers being poured at a dive bar.
Understanding where they've come from, DZ Deathrays have looked to the past to form a fully formed progression to 'Bloodstreams' and 'Black Rat'. Taking their two-piece house party punk mentality of their early shredders, pairing it with the methodical noise and beautiful clutter of their more recent years and pieced it together with an overbearing toughness. From its razor-sharp guitar tones—a DZ staple at this point—to its continuous air-drumming moments, 'Bloody Lovely' is the sound of a band who's finally come into their own.
Instantly, the momentum of brutality and finesse kicks off the album in a rushing start. Previous singles, Shred For Summer and Total Meltdown set the precedence for the next 40-odd minutes. Reiterating the note of DZ channelling the past and the future, Shred For Summer is the apex of that—its fuzzed-out opening melodies could be taken directly from their debut EP, then it cuts into full effect with a piercing shriek from Shane Parsons, signalling one of the most infectious riffs the band has ever written. On Total Meltdown, DZ Deathrays take their learnings from Northern Lights and infuse its meaty, layered, shoegaze-influenced guitar tones into a screecher of a singalong track.
What sets 'Bloody Lovely' apart, and propels this band into an exciting future, is the moments of experimentation at the end of some tracks. Like People's climax cuts from a cassette change over sound effect into, what sounds like, Parsons jamming a love ballad before switching into a pulsating synth line. Much the same on Over It which reignites the cassette sound again and plays something akin to the final moments of Ratatat's Nightclub Amnesia—it flicks between perplexing music samples, giving context and life to that album.
Lyrics have never DZ Deathrays' strongest selling point—nor does the band state their importance to the overall sound of the band. They get the groove, melody and riff of the song down first and Parsons layers his vocals over the top of the powerful punk as if it's another instrument or effect on his pedal board. A change to this method is on Like People where Parsons adds one of his best vocal performances yet—not to mention its great lyrical content. Grasping a lower cadence, he sings about the noisiest public domain in the world, the Internet, "I don't really like people, making comments behind a screen." Feeling Good, Feeling Great, though one of the weaker tracks on the record, also has Parsons' voice taking a tighter focal point.
Each track presents a sonic adventure—something the band has always been so brilliant at. Their albums take on many paths, shaking things up every song or two so the punk brutality doesn't end up becoming stale or overdone. In saying that, High is a psychedelic track which contains some of the more interesting guitar tones the band has produced—the final 40 seconds of the track has some psych brilliance which would have Kevin Parker giving his thumbs up to. From here, the album is entirely uphill—each song is near perfect a true testament to a band who's worked so very hard to be this moment in their career. Guillotine and Bad Influence are short, frantic and both contain a tried and true formula of claustrophobic. guitar power layered atop a massive singalong. Bad Influence and Over It holds its breakneck pace together so well thanks to Simon Ridley's incredible solid drumming techniques.
This deep into 'Bloody Lovely', it's understandable how much of a perfect sequel this record is to 'Black Rat'. There, they forgave some of their heaviness to learn a lesson in melody. The record panned out more moderately as Parsons' guitar swirled over his vocals. Burke Reid's work, both here and on 'Black Rat', has done wonders as the combination of death-defying guitar explosiveness and the incredible song structure is easily DZ's best.
On Afterglow and Witchcraft Pt. II, the duo absolutely saved the best for last. The former holds the corrosive, sharpened and best guitar line ever comprised by the group. Its chorus is heavy-disco personified and, thanks to that genius, warped vacuumed guitar riff, Afterglow is a track that will lay in your brain for some time—reiterating their "brutal but beautiful" thesis. The former, Witchcraft Pt. II is a continuation of a hidden track which played after Trans Am on 'Bloodstreams'. If you wanted classic DZ Deathrays, you've come to the right place. Screaming, pounding drums and relentless uncontrollable power from Parsons' guitar. It's as impressive as it is infectious as it bends and weaves through a tempo shift.
'Bloody Lovely' is everything I wanted DZ Deathrays' third album to be. It's an incredible repurposing of their sound while remaining truthful to their cataclysmic pathos of heavy-disco.
DZ Deathrays will tour 'Bloody Lovely' nationally this April and May. Gig details below.
DZ Deathrays Live Dates
THURS 26 APR
Galatos, Auckland
FRU 17 APR
Blue Smoke, Christchurch
SAT 28 APR
San Fran, Wellington
FRI 4 MAY
The Gov, Adelaide
SAT 5 MAY
Captiol, Perth
THURS 10 MAY
Cambridge Hotel, Newcastle
FRI 11 MAY
Metro Theatre, Sydney
SAT 12 MAY
Hellenic Club, Canberra
THURS 17 MAY
Karova Lounge, Ballarat
FRI 18 MAY
170 Russell, Melbourne
SAT 19 MAY
Republic Bar, Hobart
FRI 25 MAY
The Triffid, Brisbane
TICKETS