Alexisonfire Announce First Aussie Tour Since 2012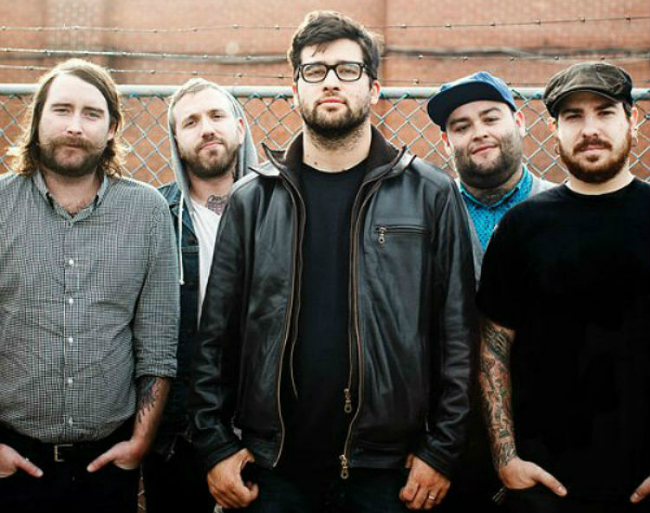 After somewhat officially calling it a day as a band back in 2011, Canadian post-hardcore legends Alexisonfire have done a Johnny Farnham and announced a run of massive headline shows in January next year.
Announced as one of the major drawcards of UNIFY 2017 just over a month ago, this announcement is music to both Australian fans and indeed Alexisonfire's sizable international fanbase.
The quintet announced their return to the scene last year after the they broke up after the band's 10th Anniversary and the world tour of their fourth studio album 'Old Crows/Young Cardinals'. The upcoming Australian tour will signify a homecoming of sorts for Alexisonfire, being the first non-festival headline dates since they played their sold-out 10th Anniversary Australian shows in 2012.
Joining the award-winning and universally loved heavy rockers will be Dine Alone Records' label-mates The Dirty Nil. As fans themselves, Alexisonfire handpicked the Ontario punk rock trio to join them on their upcoming tour down under.
For all you die-hard fans, Alexisonfire will be hosting a Fan pre-sale which includes tickets and Upgrade Bundles, onsale from Thursday, 11th of August. For those who purchase concert tickets, a limited number of Upgrade Bundles, which include Meet & Greets and limited edition merchandise. However, we've been told to check the band's official website and social media for more information regarding the slightly confusing process of purchasing these upgrade bundles…
Hailed as one of Canada's most influential bands, Alexisonfire's original split was fuelled by clean vocalist and guitarist Dallas Green's duties to his folk-rock solo project City and Colour, saying "trying to balance his life between touring with [Alexisonfire] and at the same time quelling the success of City and Colour was a task too difficult to continue managing".
Green shortly after the band's announcement to split said, "I'm leaving [Alexisonfire] because it's killing me. As much as they saw me always on tour and always putting records out back to back to back, I don't think they really understood that I was literally never home. When people would ask me when I'd make the decision, I'd joke [I would] when I have a nervous breakdown".
"But I have already had those. I was in the hospital with pneumonia. I've lain in the bus crying uncontrollably at night. I was living this unbelievably blessed life, but I had no idea how to enjoy it because I was running myself ragged trying to appease my commitments to Alexisonfire, but also trying to appease all the people that were showing interest in City and Colour. It just got to a point when I had to make a decision. A very hard decision. But after ten years, my heart … well part of my heart is there, but most of my heart is with this," said Green.
Frontman George Pettit's statement on behalf of the band back in 2011 said "Under the knowledge Dallas was leaving, we completed the 'Dogs Blood' EP and toured Europe, Australia and Canada. Our last show in St. Catharines, Ontario on December 19, 2010 was poised to be the last ever Alexisonfire concert with a line-up as we knew it. In the meantime, the rest of us discussed the future of the band.
After much deliberation, we decided to continue and attempt the difficult task of replacing Dallas, but time got the best of us. Over the last six months we all dealt with a litany of personal issues, which pulled us further and further from Alexisonfire.
In addition to that, Wade was recently asked to join another band and he felt it was an opportunity he would like to pursue.
 Replacing one guitar player/singer/writer was something we thought was possible, but replacing two would run the serious risk of perverting the legacy of what we had achieved. So we all took a good hard swallow and decided to end it so it would never get old and ugly.
Was the break up amicable? Not really. Was it necessary? Probably. Regardless, the members of this band are my family and I wish them nothing but good fortune," said Pettit.
If you're a fan of hardcore, rock, or just want to see what Dallas Green was like before he began melting hearts as City and Colour, make sure you grab a ticket or four, they'll sell faster than Maple syrup-drenched hotcakes! All tour dates and ticket links below!
Alexisonfire 2017 Australian Tour
with The Dirty Nil
WED 11 JAN
HBF Stadium, Perth (All Ages)
FRI 13 JAN
Adelaide Entertainment Centre Theatre, Adelaide (All Ages)
SAT 14 JAN,
UNIFY Festival 2017, Victoria
TUES 17 JAN
Festival Hall, Melbourne (Licensed All Ages)
THURS 19 JAN
Hordern Pavilion, Sydney (All Ages)
SAT 21 JAN
Riverstage, Brisbane (All Ages)
Fan presale begins 10am AEST Thursday, 11th of August. Tickets for public onsale 9am AEST Monday, 15th of August.
Get Tickets HERE