Ball Park Music Have No Chill, Release Banger Straight After Splendour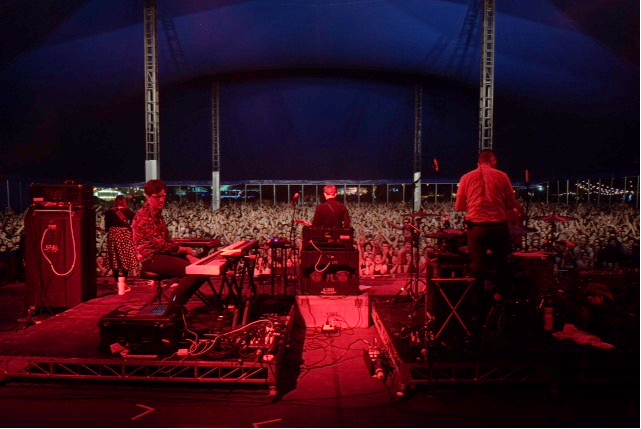 Hot off the stage of Splendour In The Grass after a magical performance, Ball Park Music have dropped new music with their latest single Whipping Boy.
Whipping Boy is the second taste of Ball Park Music's forthcoming album 'Every Night The Same Dream' which is thankfully only weeks away, set for release on Friday 19 August.
The new single is a luscious blend of alt-pop vocals and psychedelic pop instrumentation combining these flavours into a delicious creamy Ball Park Music sundae that you won't regret later in the day.
"It's a basic song but it represents all I enjoy in good indie music: it's fun and simple with somewacky sounds and some fascinating lyrics," said Ball Park Music frontman Sam Cromack.
The guitars are without a doubt where Whipping Boy gets it's own voice filled with pitch-shifted melodies and swirling spacey chords along with acoustic guitars to keep the track grounded in reality.
Soon after the release of 'Every Night The Same Dream' Ball Park Music will be partying around the country on an extensive national tour throughout September and October.
With Brisbane and Melbourne shows sold-out and new shows added to compensate, the tour is shaping up to be one for the history books!
Have a listen to the new albums lead single Pariah HERE and Nihilist Party Anthem HERE
Ball Park Music 'Every Night The Same Dream' Tour Dates
SAT 3 SEP
Snowtunes, Jindabyne
THU 22 SEP
Studio 56, Miami Marketta
FRI 23 SEP
Solbar, Maroochydoore
SAT 24 SEP
The Triffid, Brisbane
SUN 25 SEP
The Triffid, Brisbane
THU 29 SEP
Anu Bar, Canberra
FRI 30 SEP
Enmore Theatre, Sydney
SAT 1 OCT
Yours & Owls Festival, Wollongong
TUE 4 OCT
The Corner Hotel, Melbourne
THU 6 OCT
Barwon Club, Geelong
FRI 7 OCT
170 Russell, Melbourne
SAT 8 OCT
The Uni Bar, Hobart
FRI 14 OCT
The Gov, Adelaide
SAT 15 OCT
The Capitol, Perth
FRI 21 OCT
Discovery, Darwin
SAT 22 OCT
The Gapview Hotel, Alice Springs
FRI 28 OCT
The Venue, Townsville
SAT 29 OCT
Tanks, Cairns
Get Tickets HERE