Beyonce's 'Formation' Calls For Black Freedom And Justice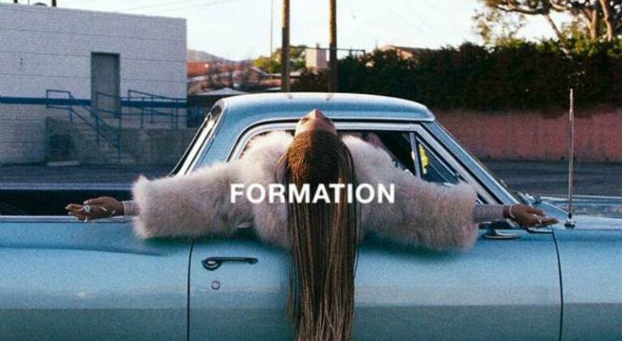 After a quiet 2015, Beyonce has shocked the world of music and is dominating the internet after releasing a video for her newest single Formation. This time Bey's not calling "all the single ladies/all the single ladies" or asking "who run the world?/girls". Her latest single Formation delivers a powerful and unapologetic political statement to the masses: a call for freedom and justice for all black lives. Beyonce uses her global popularity to highlight the Black Lives Matter movement as Black History Month gets underway, an annual celebration of achievements by black Americans in February and is a time to recognise the central role of African Americans in U.S history.
The Formation video was filmed in New Orleans and sees Beyonce challenge rumours about her beliefs, her marriage to Jay-Z, and her daughter Ivy. The video opens with Beyonce standing atop a submerging police car, with a backdrop evoking the aftermath of Hurricane Katrina. The flooding from Katrina destroyed entire neighbourhoods of the black middle-class back in 2005. Formation begins with Bey addressing the haters who stir rumours about her: "Y'all haters corny with that Illuminati mess/Paparazzi, catch my fly, and my cocky fresh".
The lyrics are about black self-love; "I like my baby hair/with baby hair and afros/i like my Negro nose with Jackson Five nostrils", her black Southern upbringing; "My daddy Alabama/Momma Louisiana/you mix that Negro with that Creole makes a Texas bama", and Beyonce's phenomenal success; "I might just be a black Bill Gates in the making/cause I slay". Beyonce wants us to know she's grounded, and despite her global success, she remembers her roots and is proud of them.
The controversial video features incredible imagery including artwork of Martin Luther King Jr., a graffiti wall with the words "stop shooting us", and at the end of the video a little boy dancing in front of a police riot squad. At the boy's command, the Police raise their hands in surrender.
Formation dropped a day before Beyonce performed the new single at the Super Bowl 50 halftime show. Only the Queen B can demand attention on a world stage, nail choreography and vocals in a reworked uniform of the Black Panther Party, and light up the internet with controversy on her political standpoint.