Brisbane's Shag Rock Release Blissed-Out Single "Roadtrip" + Perfectly Named Tour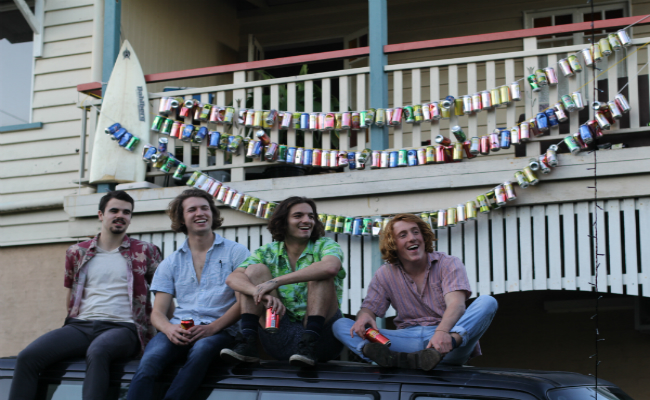 Brisbane's most loveable new surf-rockers Shag Rock have dropped their latest chill AF single Roadtrip (ironically?) ahead of a run of shows around South-East Queensland. 
The Shag Rock dudes have had an incredibly busy 2016 so far. Their previous single Sunbleached Girl blew up on Spotify, nabbing over 100,000 streams in two weeks and getting added to the 'Fresh Finds' playlist, as well as gaining a fair bit of air play in colleges around America.
Now with summer fast approaching the lads are in their element and have returned with Roadtrip. The second single from their yet-to-be-titled debut album, Roadtrip began its life as many of Shag Rocks songs do: a few simple chords, a few beers, and some good friends!
"Lyrically Roadtrip it's all about takin' it easy and slowing down the grinding gears of the mundane. Breaking the rules a bit, grabbing the Milton by its mangoes, and just going and doing something meaningful. It was also influenced pretty heavily by our collective stoke of someday doing a massive band tour…getting in the van and just cruising from place to place living the life, chasing that amber sunset," says frontman Alex Wilson.
"Roadtrip was one of those songs that just fell right into place as soon as it was brought to the band room. It started from an acoustic jam fingerpicking the three basic chords and coming up with the main guitar riff in the track. From there, with smashing cymbals and a silky bass line, it expanded into one of our fullest songs in the album," says guitarist Jacob Reed.
The track's super relaxed vibe stems from the chilled-out chord progression that forms the backbone of the song. The bassline of the song subtly adds some funky surf-groove to it, propelling the track along without ever being obtrusive or too noticeable.
The real highlight of the song however is the guitars, as the creamy lead lines and shimmering chords that are liberally sprinkled throughout the song really make Roadtrip an instant laid back surf rock gem.
In-between touring and releasing some fantastic singles, Shag Rock have been hard at work recording their debut album with ex-Powderfinger guitarist Ian Haug. With the album's recording process pretty much done and dusted, Shag Rock will be embarking on a mini-tour along our local coast line, so check out the latest single Roadtrip and upcoming live dates below!
Shag Rock 'Road Trip' Tour
SAT 19 NOV
Stag & Hunter, Mayfield NSW
FRI 25 NOV
Villa Noosa Hotel, Noosaville
SAT 26 NOV
Jungle Love Festival, Imbil
FRI 2 DEC
Nightquarter, Helensvale
SAT 3 DEC
Woolly Mammoth, Brisbane
Get Tickets HERE