Dead of Winter Festival Announce Set Times, Brisbane & Gold Coast Afterparties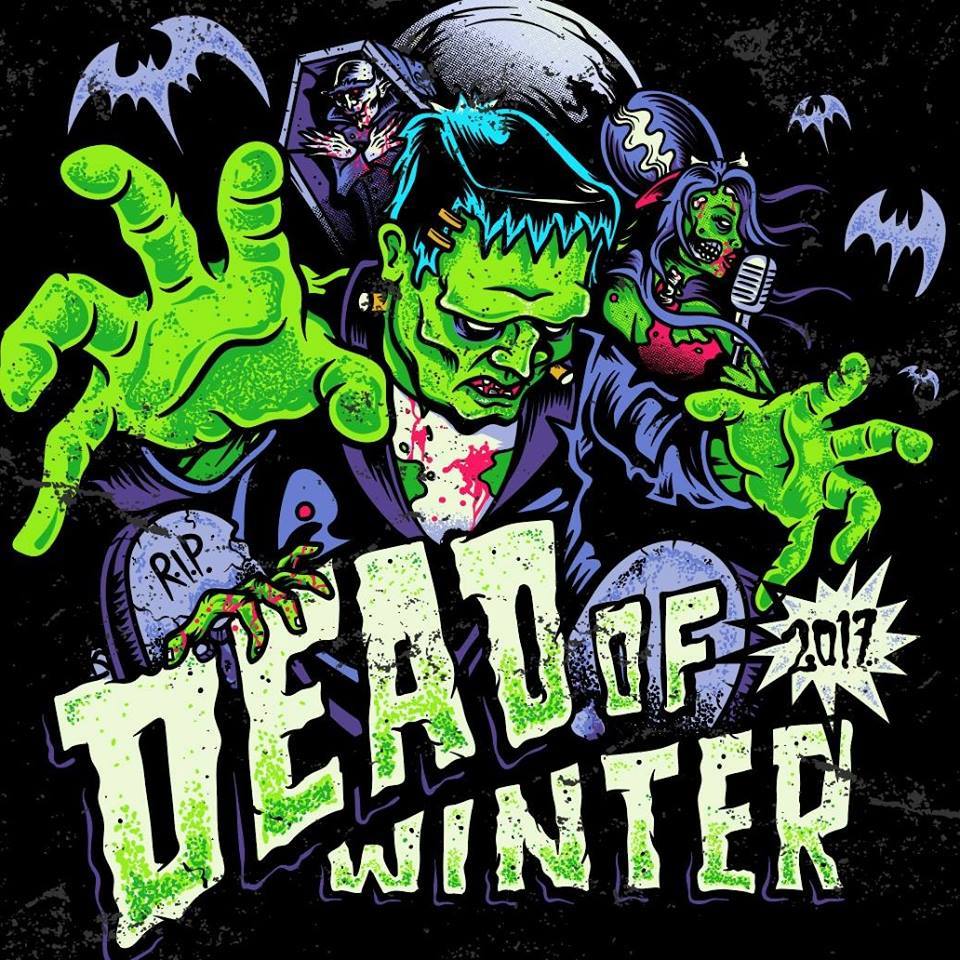 Dead of Winter festival is already stacking up to be this year's hottest and craziest one night, multiple staged festival event. Well buckle in because some major Dead of Winter news has dropped including festival set times as well as afterparty information.
With a lineup as meaty as the Porkers, Dallas Frasca, Night Gaunts, Tesla Cøils, Hobo Magic, Whoretopsy, Hollow, the Black Swamp and literally so many more, Dead of Winter is Brisbane's hot ticket item for July. Now it's time to whip out those highlighters as organisers have dropped the set times for the evening. Clashes are a guarantee so choose wisely.
In addition, organisers are also pleased to announce two, repeat, two sets of afterparties for those really prepared to rage through the weekend. Directly after the festival on 29 July, head from the Jubilee Hotel to Fortitude Valley's the Zoo where some yet-to-be-announced headliners from said Dead of Winter bill are set to play again! Entry is free for Dead of Winter ticket holders and $15 for everyone else—details HERE.
Gold Coast also gets clued into the Dead of Winter action with the next day, Sunday 30 July, ushering in more madness at Miami Shark Bar. With a relatively early afternoon starting and heading well into the evening, the official Dead of Winter kick on afterparty will have you recovering in no time. The lineup includes: Blind Man Death Stare, The Royal Artillery, Fire Away, ELKO FIELDS and CAKES. Tickets on sale now and at the door—details HERE.

Scope the set times below and get ready to rip your hair out with the many, many clashes. Final tickets remaining are on sale now and stay tuned to AAA Backstage next week for a sneaky giveaway.
Dead of Winter Festival
SAT 29 JULY
The Jubilee Hotel, Brisbane
TICKETS
Second Lineup Announce:
THE PORKERS, DALLAS FRASCA, NIGHT GAUNTS (NZ), GIANTS OF SCIENCE, AS PARADISE FALLS, DARKCELL, CHRONOLYTH, SABRINA LAWRIE & THE HUNTING PARTY, RIVAL FIRE, BLIND MAN DEATH STARE, HADAL MAW, TAI SUI, ARTERIES, IN DEATH, RED BEE, THE ROYAL ARTILLERY, VALHALORE, HOLISTIC, ELKO FIELDS,  FRIENDS WITH THE ENEMY, DERAIGN, THE GUTTER BIRDS, HOT WINGS, FIRE AWAY!, FREAKSHOW NIGHTMARE and sideshows LILLIAN LACE & LILITH REVERE
joining…

THE BENNIES, THE MEANIES, WHORETOPSY, HOLLOW, TRUTH CORRODED, HOLLOW WORLD, BLACK RHENO, SHE CRIES WOLF, FLANGIPANIS, TRANSVAAL DIAMOND SYNDICATE, HOBO MAGIC, LA BASTARD, SMOKING MARTHA, FAT, WALKEN, SOME JERKS, THE BLACK SWAMP, BEING JANE LANE, TESLA COILS, MAMMOTH, THE CUTAWAYS, SWAMP GULLY HOWLERS, THE MOLOTOV, A.M.P and THE HEART & DAGGER SIDESHOW