Dune Rats Drop Chaotic Drug-Filled Interactive Music Video & Album Details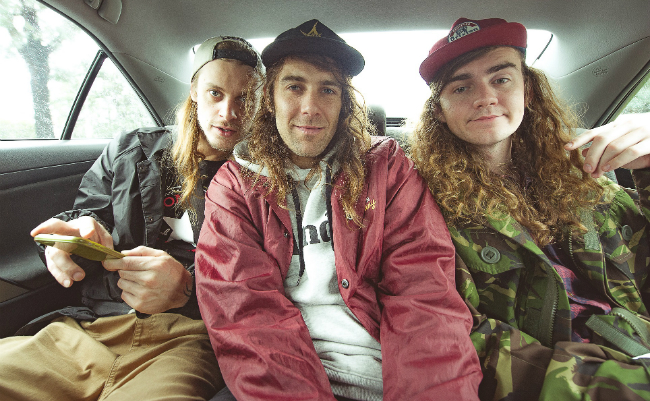 Brisbane's princes of stoner rock Dune Rats have dropped their most hectic music video to date, and it's freakin' INTERACTIVE!
The trio's music video for their latest single Scott Green can be viewed as both a regular video or as a 'choose your own adventure' clip. Somewhat unbelievably, Dune Rats have made history in becoming the first Aussie band to release an interactive music video!
The regular music video follows the trio as they stumble through an epic house party, trying to find and capture a very elusive 'Scott Green' after he nicks off with the band's bag o' weed. During the pursuit the lads explore rooms themed around different drugs, which coincidently 'Scott Green' turns out to be their supplier before leggin' it to the next section of the party.
Apart from glamourising some seriously dangerous substance usage, there are plenty of laughs to be had throughout the video. Our favourite parts of the video are the psychedelic furry walls and Dune Rats on the cover of TIME Magazine in the 'cocaine room'.
If you need to feel more involved in Dunies' journey through the party, the interactive video allows you to choose who takes what drugs and which doors of the house party to breach… 'cause a foot chase should only take place once you're more cooked than a Coles' chicken. You can also earn points for correctly tagging who's 'Scott Green' in each room of the party – we only scored 140 points.
Video director Mac De Souza, from Hype Republic, said they just ran with the concept of Dunies' stash being stolen by 'Scott Green' at a house party. 
"The chase for Scott Green begins and they search for him high and low throughout this fantasy-like house party with four different themed rooms based on drugs you'd see at a typical Aussie house-party – weed room, ecstasy room, cocaine room, and LSD room.
"The viewer gets to choose which door they go in, and each room provides a 'clue' to where Scott Green might be hiding in a Where's Wally-like game adventure," said De Souza.
Dunies drummer BC Michaels said they had "a f*cking blast" making the music videos.
"We jumped straight off the plane from Europe, filmed for three days straight and then got on a plane to the [United] States. [We're] stoked with how it turned out and everyone who put in effort! Good sh*t legends!" said Michaels.
Scott Green and previous single Bullshit have been confirmed to be part of the track listing for Dune Rats' sophomore album 'The Kids Will Know It's Bullshit', set for release in early February. Most of the album's tracks were written in beach shacks across the East Coast of Australia, although Scott Green has its own unique origins in the United States.
"We made Scott Green out at Joshua Tree in America with Zac from FIDLAR. We had five days to write some songs in between tours in the US & UK and we busted out a fuck load of tunes having a blast in the middle of bum f*ck nowhere.
"One day we went to ask people at Walmart if they [Scott Green?]…and it took all day. When we got back, Zac said "you better have a f*cking song after wasting a day looking…so we just started making a song about the day, "Who's Scott Green?", and that was it," said Dune Rats.
Scott Green sees the trio of loveable larrikins deliver their signature pub-rock laced with yelly vocals from frontman Danny Beusa's and hyperactive bassist Brett Jansch, while continuously asking "Who's Scott Green?".
However, it seems Scott Green is both a person, "He owes me twenty and I can't call the police/He blew it all away, now there's nothing left for me", and a substance, "Cocaine or ecstasy/Cigarettes or LSD/It really doesn't matter just gimme gimme gimme". Musically it's not one of Dunies' best tracks, especially directly following on from Bullshit, but it's still hella catchy and will be pretty darn fun live!
'The Kids Will Know It's Bullshit' is set for release on Friday the 3rd of February. In the meantime check out the interactive Scott Green video HERE or the regular music video below!