Get To Know SoSo – Your Favourite New Party Punk Band.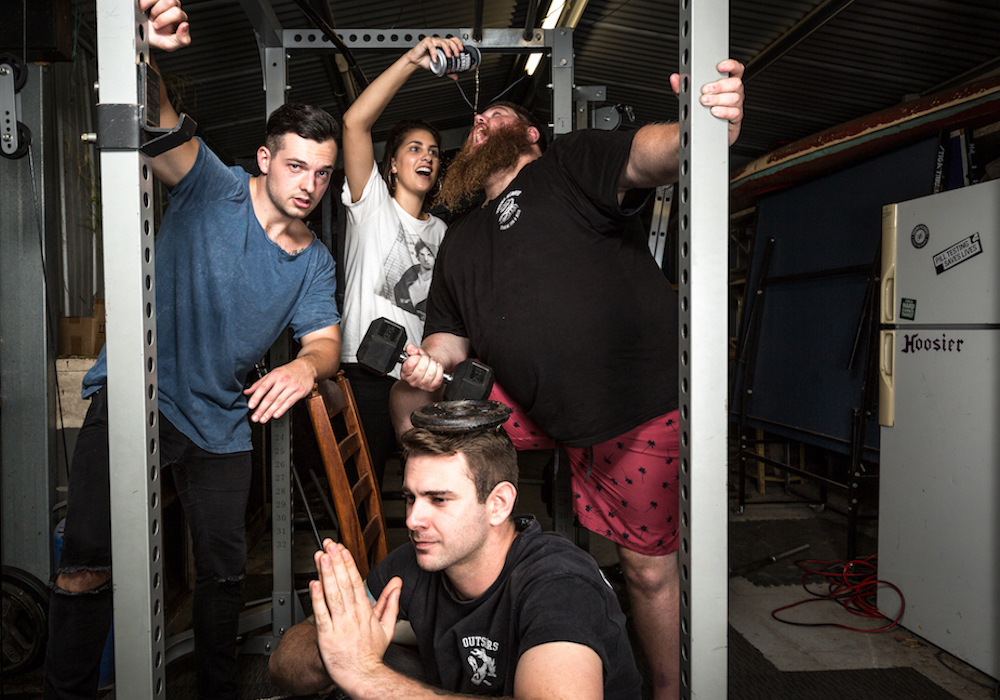 Although their slogan states they're 'Offensively Average', we here at AAA Backstage think Sydney-based pop-punk newcomers, SoSo, are selling themselves a little short! Their maiden single The Henry Lawson Jive is an absolute belter of a tune, so we sat down with the gang and asked a few questions to get to know them a little more.
Welcome to the scene! You've hit the ground running with your stunning debut track 'The Henry Lawson Jive'. Can you tell us how this song came together in terms of its creation / writing process?
Good old cobsauce, Dr. Doy (Tom Doy, drummer) showed us all a pretty nifty demo he had hidden in his skyrocket for a few years – 'The Henry Lawson Jive'. It was nifty but needed some work to make it bang. So, we re-worked that sucker until we were certain it banged – and there ya have it. We've kept the demo name because well… it's The Jive.
How was it to work with Stevie Knight? It seems like the guy can do no wrong at the moment, working with the likes of RedHook, Down For Tomorrow, Stand Atlantic, Yours Truly and even churning out music with his own band The Dead Love. Did Stevie play a pivotal role in helping shape your sound?
Working with S. Knight. Shyamalanana is always an absolute pleasure, mostly for him – sometimes even for us. Nah the bloke is a wizard and we've learnt a lot off him over the years (we had him produce 6 tracks with our old band). Stevie really helps us polish the songs up to industry standard. We're kind to him and usually bring in pretty fleshed out demos. I think we put so much work into pre-pro ourselves, once we bring it to Stevie, he can focus on really making it shine.
RELATED: TAKE 5 WITH HOUG. READ HERE.
Who are the artists who have had the most influence on you sonically and motivation wise to get together as SoSo?
Dr. Doy would kill me if I didn't say Mary Kate & Ashley Olsen. Nah, he'd kill me if I didn't say Blink-182. The dude is just waiting until some university creates an undergraduate degree where you can study Blink-182, – seriously. But to be fair, they're a massive influence on us all. Stand Atlantic's debut album 'Lavender Bones' absolute bangs and that really got me back into pop-punk. Trust the old S.Knight Shyamalanana to work his magic….
We hear you guys are quite fond of a little partying… can you tell us your ideal party? We want to know who you'd invite, what drinks and food are being served and where would it be held?
We think we've been unfairly represented by the media, who clearly have their own perverse agenda, but anyway….Our ideal party is a good ol' backyard shindig – but what's this? The Australian Test AND ODI team from the golden era have arrived, with their own backyard cricket set. Brett Lee's brought a shit tonne of old, rock hard Weet-Bix that he's been saving since his glory days of being the face of quite possibly the blandest cereal ever.  That's food sorted. Matty Hayden and Andrew Symonds have brought a couple of kegs of beer – that's them sorted. The rest of us can scrounge around for whatever is left over….Jason Gillespie is fast approaching another 201* (lord), Simon Katich gets into a few brews and finds his hands wrapped around Michael Clarke's throat for some unfinished business. We all play a brilliant game of drunk backyard cricket, which ends with us all sitting in the lounge room at 3am, listening to Ricky Ponting practicing his best 'Valvoline – You Know What I Mean' over and over.
What are you plans for the rest of 2020?
We'll be looking to get out there and play as many shows as possible. We've got some more material up our sleeve, so if people are vibing it, we'll keep dishing out the offensively average stuff – few more cheeky vids. Just remember – Sundays are for content.