Interview: Anna Murphy from Cellar Darling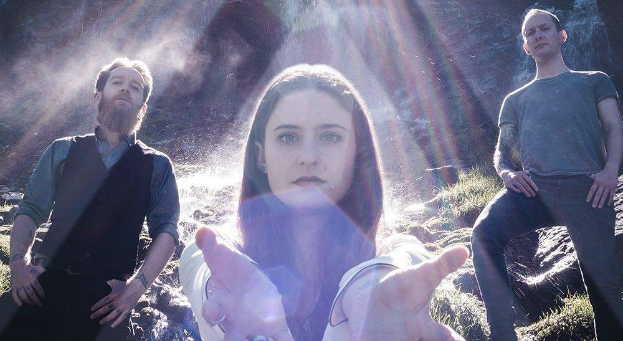 Swiss metal trio and former ex-Eluveitie members Cellar Darling are finally about to release their highly anticipated debut album, 'This is The Sound' and fans won't be disappointed! We caught up with hurdy-gurdy goddess and frontwoman Anna Murphy who revealed the challenges in starting from scratch, secrets from their new album, and whether a visit to Australia is in their near future!
Congratulations on the new album! You've had such a massive year getting this new trio on its feet. What have been the biggest challenges of Cellar Darling since it's conception?
There haven't really been many as everything kind of fell into place and happened naturally. For us, writing the album was actually quite an easy task because we had so many ideas and so much output.
But of course there were struggles within the realm of real life. Financially, we obviously weren't having a great time since we lost our main job in Eluveitie and thus didn't have any money. Merlin's living at the rehearsal room at the moment and I'm also forced to leave my apartment, so everything is a bit chaotic. We're trying to get our real lives back on track, but creative things are so great and that's more important so I would say we're facing the challenges we have very well.
Apart from the first single (Challenge), do these struggles come out in the lyrics of the new album?
In some of them. Everyone's always subconsciously inspired by what they're going through, but with Cellar Darling I don't really want to convey what I am currently feeling or currently experiencing. I want to take those feelings and make stories out of them – completely new stories and abstract poems, so I think it would be pretty hard to tell what is going on in our lives.
A lot of our songs deal with the end of something, like an apocalypse or a death. It kind of represents what is going on with us because something very important ended and something very new started. You can definitely interpret some of that in our lyrics.
What was the overall vision for 'This is The Sound'?
Actually, everything happened very naturally. When I write lyrics it's similar to when I'm writing melodies and songs – it all just comes to me. I don't sit there and have something in mind. It's really interesting because looking at the album and listening to the songs, it's only after we realised what was going on in our lives that we started to interpret out own songs.
Do you write the lyrics yourself or is it a group effort?
It's always a bit different. A lot of the songs were written together in the rehearsal room, like somebody had an idea and then we just spent hours jamming and working with it. Some of the songs were also written by Ivo or myself at home, but all in all it was a real group effort.
Who are some of the musical influences on the album?
It's hard to say because we're very open-minded. We listen to a lot of different music and we're not really spoken in just one genre. I think we're mostly sub-consciously influenced by music, like we never had a talk and said, "We want to sound like this" or "We want to do that." You can really hear each band member's influences in each song. It's really a symbiosis of us three and it's hard to say what other artists inspire us.
We listen to a lot of progressive music and Ivo and I listen to a lot of black metal, trip-hop and classic music. It's all hidden in there somewhere!
What was it like recording the album in comparison to your previous experiences with Eluveitie?
For me the experience was definitely more intense because I was very involved in the whole process. I wasn't only a musician; I was also co-producing the album. I recorded a lot of the things myself as well. The three of us were constantly in the studio. With Eluveitie, everybody just came and recorded their parts and it wasn't as personal.
What is your favourite song on the album?
My favourite song is Six Days. I wrote it in the middle of the night because I suddenly had this idea and took a very different approach to songwriting. It has almost a weird element about it, like it's not a typical structure of a song. I also decided to play the flute and incorporate a lot of classical elements so yeah, that song is the most special for me, personally.
Love the new music video for Black Moon! Could you explain the concept for the clip and how you came up with it?
I always like to think of Black Moon as not really a story but more of an abstract collection of images. The idea came spontaneously and I pictured a black moon, like a moon eclipse. It's basically about a collective fear of the black moon because a lot of different cultures and religions see these apocalyptic signs and it connects different people. Not only in Christianity or the Mayans but also people today that are in weird cults or sects or even just conspiracy theorists. It's this connection that certain people have and in the end nothing happens. That's what you see in the video. They all go crazy but in the end they notice it's still here. We're all still here.
I've noticed the woman on the horse appears in every other Cellar Darling video so I'm curious; is she the band's official mascot?
(Laughs) Yeah, it kind of seems like it. She's actually a very good friend of mine and she's a professional actress. The idea I had was to have one element that stays the same throughout our videos. It's kind of like Sia, the Australian pop singer. She always has the girl in her videos and I really liked that concept so I had the same idea but to just use Fabienne (Fellmann) though she has a different role each time.
How did Cellar Darling come to be signed to Nuclear Blast?
We already knew the people there because Eluveitie was with Nuclear Blast and when we released our first two songs Challenge and Fire, Wind and Earth, we sent them and they immediately wanted to sign us. They had a lot of faith in us so that was a huge success. We were very happy and lucky this happened!
You had the chance to play the album live for the first time about a month ago; did you feel pressure from Eluveitie fans to live up to a certain expectation?
We were very nervous but not because of expectations but rather because it was something completely new. People coming to our shows can't expect it to be the same as Eluveitie. It really felt like we were a new band starting from scratch because it's so different. It was also great to play songs for an audience that haven't heard most of the material. It was quite a challenge as well.
Will Cellar Darling be paying a visit to our shores in the near future?
I really hope so! Merlin's in touch with some people we know there and it's looking pretty good. I assume once the album's released the ball's going to get rolling with tours and stuff and I really, really hope we come to Australia. That's definitely one of the top places we want to visit.
What would you say is essentially the heart of Cellar Darling?
I would say it's creativity. All three of us are very good friends so friendship is definitely one aspect of it, but what's the driving force of this band is impulsive creativity and how our minds just work. It's how our music is created.
Where do you hope to take Cellar Darling in the next few years?
I'm not really somebody who thinks about the future. I'm always kind of stuck in the present and it's impossible to know so that's why I don't really spend time thinking about it. I definitely just want Cellar Darling to exist, but how successful we'll be or what's going to happen –it's written in the stars.
'This Is The Sound' is set for release Friday 30th of June.
Read our recent review on debut single 'Challenge' HERE