Interview: Bailey Judd Talks Up His New Single, 'Brand New Car'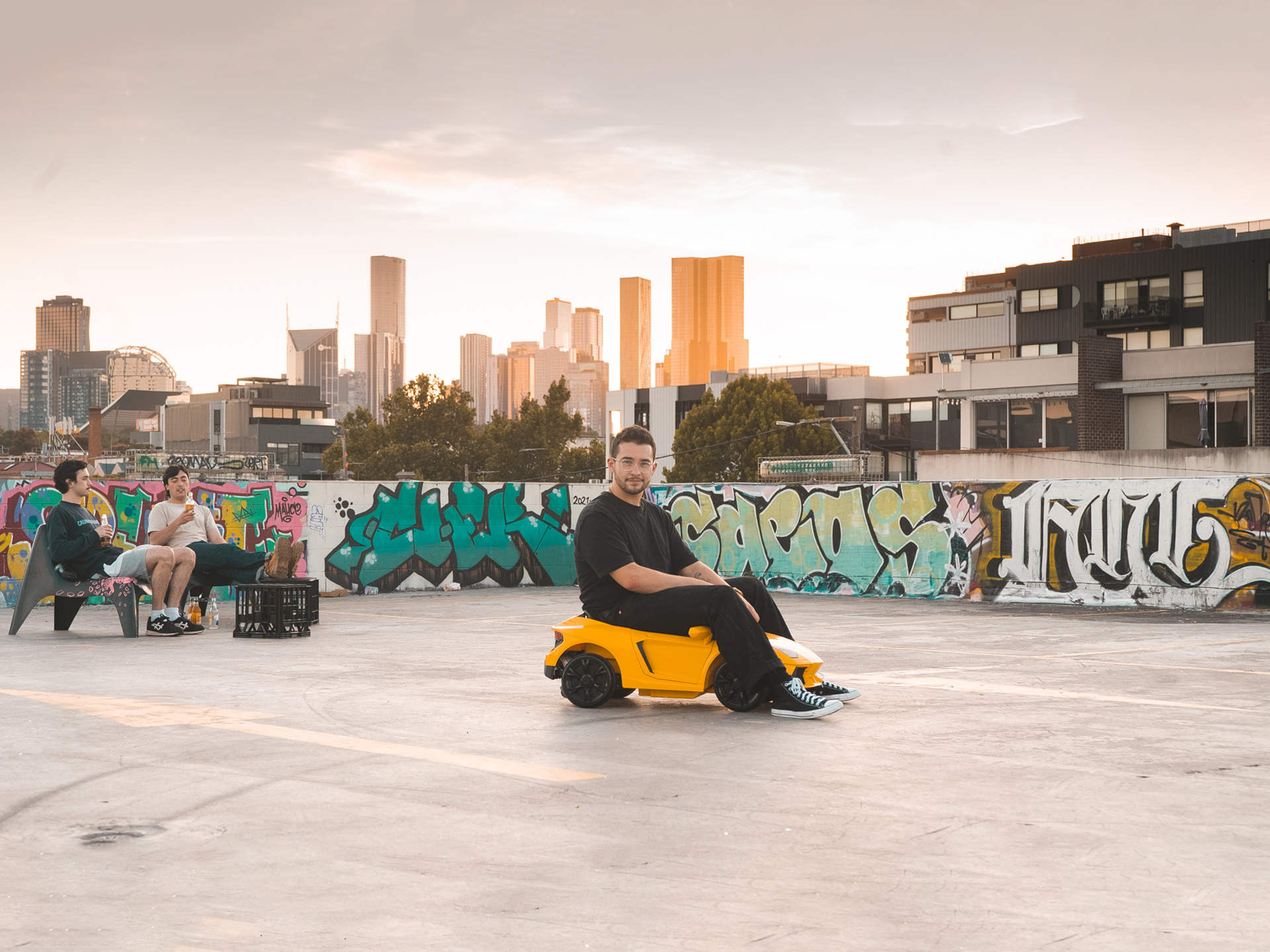 Melbourne-based indie-electronic artist Bailey Judd has just revealed his first release of 2022 in the form of his effervescent new track 'Brand New Car' – produced by the artist himself and mastered by Adam Dempsey (Angie McMahon, Courtney Barnett, Eilish Gilligan). We had a chat with Bailey to find out more about the tune, production, his idols and more!
Congratulations on your latest release, 'Brand New Car'! Can you tell us a bit about the song, how it came about, and what message it conveys?
'Brand New Car' came about as a way to express my frustration of constantly feeling like I was on the edge of a cliff financially. When I moved out of home in 2018, I taught guitar at a music shop, busking and doing odd jobs to piece together an income.
From that point on up until the pandemic, I was making all my money solely from being a freelance musician, and so when the inevitable crash of the music industry happened, I was left pretty floored. This felt worse because lockdown made others' privileges more transparent. Having said that, I do acknowledge my privilege to have had government support during that time.
It comes from that place of feeling insecure about your financial status as there's a large group of young people in the northern suburbs that dress and act as if they're struggling but spending time with them reveals just how wealthy their families are. It became apparent on dates – one of the worst being where someone kept referring to me as the poor musician while bragging that their parents moved from one affluent suburb to another because they were tired of that side of town.
Musically, this track is heavily inspired by 'Currents' era Tame Impala and Tears For Fears using those Juno synth sounds. The first demo sounded so 80's with Lynn Drums, only synths and cheesy effects, but it came to life with Dom's live drums and heavy guitars.
I chipped away at the recording and arrangement for months, putting the headphones on walking around the block every day during that lockdown period.
It's been a tough ride for musicians in Australia for the last two years, and around the globe as well. How have you kept yourself busy and active in these times?
I've kept myself active musically by consistently writing and collaborating. In addition, I took the time to hone my production skills and my musical direction – I was very stylistically confused and inconsistent, but over the last two years, I had the space to develop a sound that felt exciting and authentic.
The musician community were so supportive online, making iso-jams and collaborating on Instagram. I also met many of my now favourite musicians online during the lockdowns.
Your music is self-produced and mixed, which is a handy ability to have in today's music scene and culture. What advice would you give to people who want to develop these skills for their own future benefits? 
My advice to aspiring producers and mixers, which I'm aspiring myself, would be to actively listen to music every day for the sounds that excite you, emulate those sounds on your DAW and seek out the information to fill in the gaps between your skills and the sound in your head.
Also, watch great people work. Adam Dempsey taught me so much in our first mastering session together about how frequencies translate from mixing to mastering and how to listen for a good mix.
RELATED: BONOBO TAKES US TO THE CLOUDS WITH HIS NEW ALBUM, 'FRAGMENTS'. READ HERE.
Who would you say are your idols? Who has the biggest impact on your songwriting and production?
I'd say I've gone through some pretty eclectic phases, but the most prominent names throughout have been Megadeth, Paramore, Jeff Buckley and the Foo Fighters in my teens, then getting into Pat Metheny and bebop during Uni but more recently Tame Impala, Tom Misch and Louis Cole.
Big daddy Kev (Kevin Parker) has had a significant impact on me for the simple fact that he demonstrates that you can blend so many live and electronic elements in the production and manipulate sounds however you please to make unique arrangements. I came from a live band centric background, but his music opened my mind to the production possibilities. Also, I used to hate the sound of 80's synths until I heard what Kevin did with them in Currents and his earlier band-driven work primed by ears for those sounds.

Music keeps the world from spiralling into extreme chaos in dark times. What's a song that's kept the light on for you when you needed it the most?
The song that lifted my mood consistently during the dark times of last year was 'Is It True' by Tame Impala. The straightforward and slick strutting four-on-the-floor groove is so simple and just makes me feel great. I also rinsed Genesis Owusu's album 'Smiling With No Teeth' – 'Waiting On Ya' and 'Don't Need You' put me into a better state always.
If 2022 decides to be nice, what plans can you tease for us?
If 2022 decides to be our friends, our Retreat Hotel February residency will nourish our gig-depraved souls, but where there's smoke, there's fire. We have more singles in the bag to drop, which will set us up nicely for some bigger gigs in the near future…