Interview: Bert McCracken from The Used – Part 1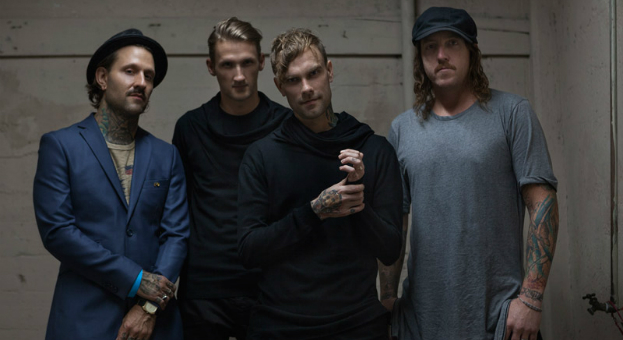 It's American emo rock legends The Used 15th Year Anniversary as a band and they can't wait to celebrate with their Aussie fans in style! In each city they visit during their highly anticipated tour in late November, the Taste of Ink quartet will perform their self-titled debut album one night and sophomore album 'In Love And Death' the next. In alignment with this concept, we've opted for a 2-part chat with the rockers. Firstly we caught up with frontman Bert McCracken to discuss the tour and their first album. Stay tuned for Part 2!
What are you looking forward to most about this tour to Australia?
Playing these two records have been magical so it's a real hard-core celebration for The Used fans who kind of grew up with these records. They get the experience of an amazing escape combined with nostalgia. It's an incredible night and we've been having a blast!
How does it feel to know the Melbourne shows were sold out in 90 minutes?
It was great! We're very humbled.
What do you love the most about Aussie fans?
Rock fans around the world are very similar but The Used fans stand out because they're not typical music fans, they kind of take music a little more seriously. It's more like religion to us.
What made you decide on the concept of playing two separate shows for both your self-titled album and 'In Love And Death'?
Well these records meant so much to a lot of people here and there was so much feedback. And especially for us – we share those stories. Records have literally saved our lives and it's really a triumphant celebration of the last 15 years.
Based on the Anniversary tour in the US, has the concept made shows more strenuous? I mean your basically doing twice as much as a regular tour! 
The tour schedule has been pretty relaxed, like the tour's very long but we've been getting through and it's worth it! It's like a big family sing-a-long in there so whenever I'm struggling or feeling a little bit crusty my fans have my back! (Laughs)
What have been some of the highlights of the US tour?
Every show has been incredible, I mean every show has sold out. The amount of fans who are still around after 15 years, words can't even describe how fortunate and lucky we feel.
Focusing on your self-titled album, did you ever think it would achieve as much success as it has?
That's never really been a part of the thought process for the years we've been making records. We kind of make music we want to hear and is special to us so the fact that it caught on in such a way is really nice. I think we're general enough that everybody can feel part of the story. Everyone all has to share the same issues in life, we all have to lose people and grow up and be teenagers so I think it's accessible and widely re-accessible, but at the same time we never really anticipated anything.
Do you have a favourite song from the album? 
It depends on the day. There's lots of different great songs. I guess today my favourite song would be… (makes lip-smacking noise build up). Sound effects and over-dramatics. 
Is there any song on the album that resonates with you in a different way than it did initially when the album first came out? 
Not specifically. The demo for The Taste of Ink had a different chorus than we had when we were in LA. You can find it online.
For the shows, are revamping the tracks or playing them similar to the record?
You will have to come out to the show and find out now, won't you?
Sure will! Congratulations on 15 years as a band! Apart from the tour, were there any celebrations? 
This tour is celebration enough. It's fantastic! 
Lastly, since you have a home in Sydney, I've got to ask, are you a state of Origin fan?
State of Origin fan? Oh no. Sports is a distraction!
The Used '15 Year Anniversary' Australian Tour Dates 
Night 1: Self-Titled
MON 21 NOV
170 Russell, Melbourne
SAT 26 NOV
Metropolis, Fremantle
TUE 29 NOV
HQ, Adelaide
FRI 2 DEC
Enmore Theatre, Sydney
MON 5 DEC
170 Russell, Melbourne (SOLD OUT)
THU 8 DEC
The Tivoli, Brisbane
Night 2: 'In Love And Death'
TUE 22 NOV
170 Russell, Melbourne
SUN 27 NOV
Metropolis, Fremantle
WED 30 NOV
HQ, Adelaide
SAT 3 DEC
Enmore Theatre, Sydney
TUE 6 DEC
170 Russell, Melbourne (SOLD OUT)
FRI 9 DEC
The Tivoli, Brisbane
Get Tickets HERE
For more on The Used tour click HERE