Interview: Caravãna Sun Talk European Tour, Their Upcoming Festival + More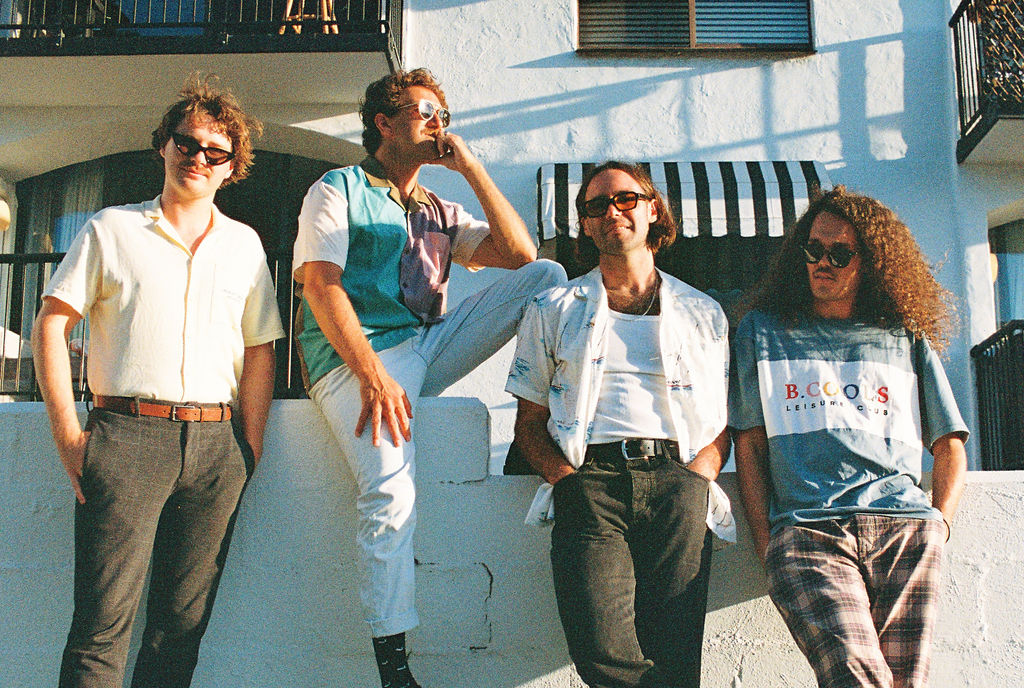 Fresh off the back of their European tour, we had a chat with Ant Beard of Caravãna Sun about their big plans for the rest of the year.
Creating music that ranges from sun-drenched reggae to sweeping synth indie groove, Sydney/Byron Bay collective Caravãna Sun have made a name for themselves with their vibrant onstage energy. Written and recorded all within the last 2 years, their new album 'Burning Palms' was self-produced, mixed by Andy Lawson (Death By Denim, Eskimo Jo, End of Fashion, Little Birdy) at Debaser Studio, and had additional mixing and engineering by Ian Pritchett.
RELATED: Ivey Share Their Top 5 Euphoric Break-Up Songs
Read below to hear what they had to say about their creative process, getting back on the road, the festival they've organised & more:
Congrats on releasing your 'Burning Palms' album! We're loving the collection, such a treat to have 10 songs on there. Can you tell us a bit about the process behind this one?
This process was the most organic one we've had yet. We began officially recording it a couple of years ago and decided to not have any creative constraints on the music. This record is the first time we've had Chris Smithson (Synthesizers & Keyboards) and James Smithers (Drums) in on the writing process. We really wanted to capture what was going on in the room with all four of us. 
How would you describe your sound to someone who may not already know of you? And is there a particular song you think they should start off their Caravana Sun journey with?
Describing our sound has always been a little tricky. I'd say we're an indie rock-reggae band. All of our writing is groove-based, always having some final destination on the stage and moving the crowd in some way. The best place to start would be 'Golden Hour' of the new record.
We'd love to hear about the inspiration behind your music, are there any stand-out artists that influence your creations?
I think the two main pillars for us have always been Fat Freddys Drop out of Aoteroa and Foals from the UK. We've always sat somewhere between rock and dub and I feel if these two bands happen to cross paths in Australia back in 2010, we may be the love child. 
You've got some shows coming up this month and September, including the all-ages Summer Escape Festival that you actually put together! We'd love to hear more about how this event came about & how you crafted the killer lineup!
We've always joked around putting our own festival on. Like "Oh god I'd love to have a huge party with all of our friends on it" Well they say your jokes are sometimes your best ideas! Still yet to see that as the date grows closer to the festival but we are truly so excited about summer escape!
You also recently finished up a string of shows abroad and at home, including a set at Byron Bay's Blues Fest, what have you loved the most about getting back to proper touring this year? 
Without a doubt, the thing we missed most about proper touring is connecting to audiences. Live shows have been in our DNA for so many years and getting back on the stage with our new record has been truly incredible. To just create a few special moments for people has always been a real privilege of ours.
As a band, what's been the most memorable moment in your music career so far?
We played a show 2 weeks ago in front of 4000 people in Mainz, Germany. Our former trumpet player moved over to the Netherlands before Covid and we hadn't seen him in 3 years. He surprised all of us on stage and came out for his solo in front of everyone. It was truly incredible and a mixture of so many feelings!!
Lastly, do you have any milestones or ultimate goals that you're wanting to achieve in the future?
For us, we'd like to keep writing, releasing & performing music for as long as we can. Playing overseas and in our own home country has been so close to a meaningful life for all of us. More of that. And Glastonbury. Would like to defs play Glasto x
Listen to the 'Burning Palms' album now & find their upcoming tour dates below!
CARAVÃNA SUN TOUR DATES
SATURDAY 27 AUGUST
Factory Theatre – Sydney, NSW  tickets
Joined by special guests Steph Strings + SULT + Rochelle Natoli
SUMMER ESCAPE FESTIVAL LINE UP
SATURDAY 3 SEPTEMBER
NightQuarter, Sunshine Coast, QLD
Caravana Sun, Hot Potato, Peach Fur, Toxic Fox, Jazzelle, Steph Strings, Make The Moon, Olivia Ruth
SATURDAY 10 SEPTEMBER
Howler – Melbourne, VIC tickets
SATURDAY 17 SEPTEMBER
Spin Fest, Wollongong, NSW tickets 
FRIDAY 7 OCTOBER
Gage Road, Fremantle – WA tickets
FRIDAY 14 OCTOBER
Roebuck Bay Hotel – Broome – WA tickets