Interview: David Le'aupepe from Gang of Youths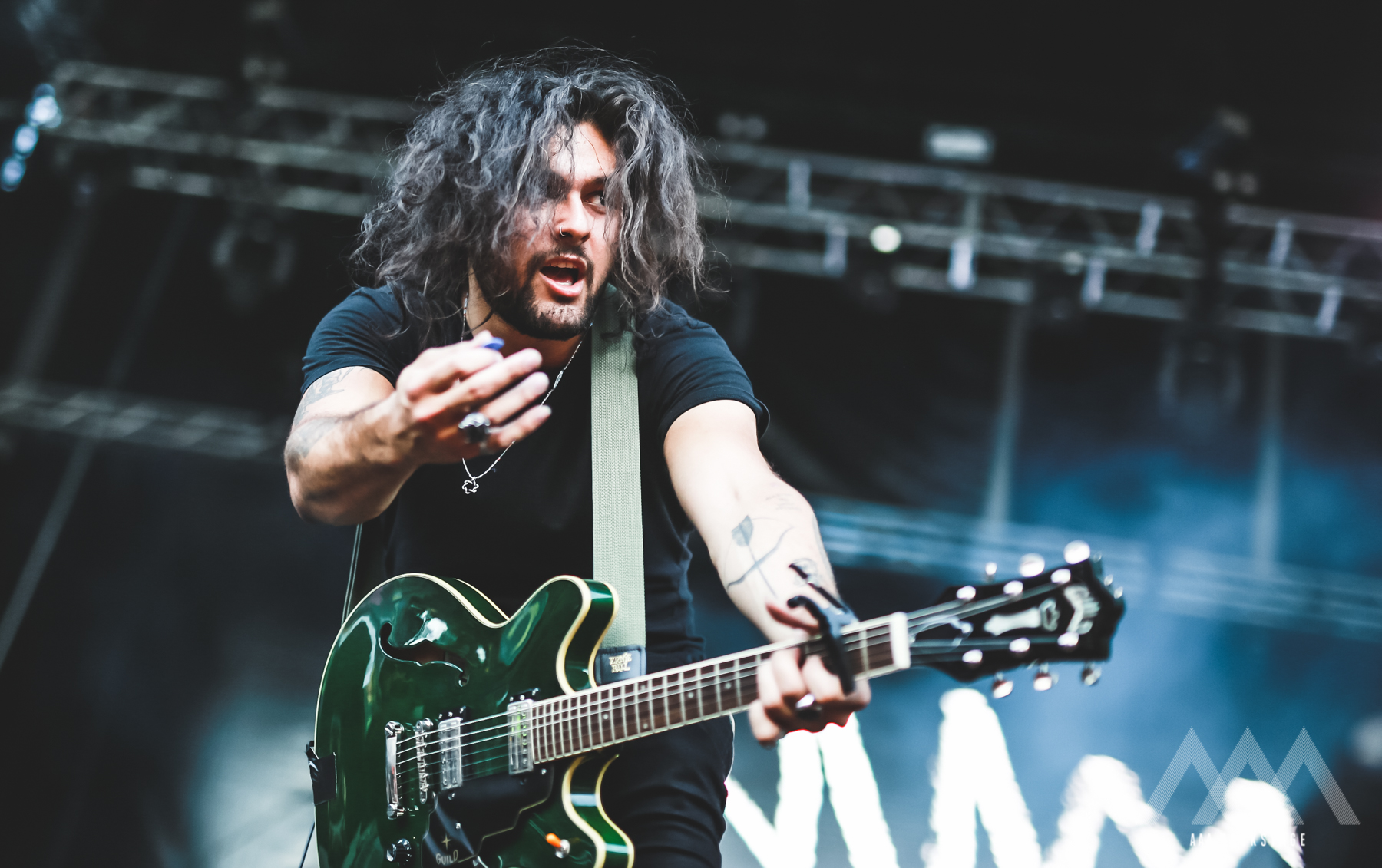 Sydney rockers Gang of Youths have been on an incredible rise over the past few years. After releasing their huge debut album 'The Positions', coming in at an incredible #21 in the 2015 Hottest 100 with Magnolia, and performing to a string of sold-out shows earlier this year, the band then played to a packed Amphitheatre crowd at Splendour In The Grass. We chatted to the quintet's enigmatic frontman David Le'aupepe about why he says Gang of Youths don't deserve their success, what inspires him to dance like Beyonce onstage, and his love for Hommus and Pita bread.
So our interview time was pushed back because you were in the studio this morning with Thelma Plum! Can you tell us anything about this collaboration?
Ah, she's just a mate! One of the producers she works with is a buddy of mine, so he said "Come in, you and Thelma are friends" and we were just hanging out doing nothing, trying to write something. I'm a terrible collaborator and she's really f*cking awesome, so she's teaching me how to relate to other human beings on a creative level.
So is this just you learning how to collaborate or are you and Thelma actually planning to release something? 
Oh, it's for her…but it also might not make it anywhere. It's pretty much just me hanging out in the studio, people do it all the time now (collaborate) without any expectations for a release.
I guess no expectations mean if something awesome does come out of the collaboration it's a great surprise!
Yeah, well when you make music in this country that's so f*cking small you end up rubbing shoulders with everyone…our manager is friends [with Plum] so it was more of a "Yeah, I'll come by if you need a hand" rather than an actual thing.
Ha, that's great! So getting into it, I was one of the many thousands that packed the amphitheatre for your Splendour In The Grass set. During one of your many thanks to the crowd you said "We don't deserve this". Why do you think Gang of Youths didn't deserve the turnout and love you received from the Splendour crowd?
Mate, I'm a f*cking nobody. I'm a kid from a high-risk, low-income area with poor parents, been kicked out of schools my whole life, I don't deserve this sh*t! I'm just some guy! I'm exactly the same as all the kids in the moshpit, I just lucked out because for some reason I was given the platform to say sh*t. There's no rhyme or reason to it, it's totally absurd that someone as painfully average and mediocre as me would even have a platform. Whatever you see onstage is just a reflection of freedom I feel, I'm not some outstanding artist…I'm just a guy! What the whole rise of Gang of Youths feels like is I tripped over and as I got up people started clapping, that's kinda it!
So do the rest of the band feel incredibly humble and confused by the situation?
We're all genuinely stoked! We have the funnest job in the whole world, we act like pampered pricks and people give us free drinks on our rider and we play infront of people who really enjoy the music that we make, it's so amazing! But I don't want to rest on my laurels, like it's a job. Not like a fireman or a school teacher, it's a job of standing onstage and playing guitar and y'know people paying you too much to do it. I derive any personal identity from it…it's the best job in the world, but I know everytime I step out onstage I could've also been stepping out to work in a steel mill, y'know? I just lucked out.
So if Gang of Youths didn't take off where do you think you'd be at the moment?
Probably at the business end of a shotgun somewhere in a trailerpark, contemplating the meaningless of my life (laughs). I don't know, probably working some sh*t job somewhere and playing bass in a hardcore punk band.
What was the feeling in the band when Magnolia reached #21 in triple j's 2015 Hottest 100?
Was it #21, that all it was? I know it was in the early twenties…
We could say #1 if you'd prefer? 
I'm a jealous, competitive person…so in my heart of hearts I was like "I wish it got top 10!". I don't know aye, like who would give a sh*t about my suicidial expression…glad people liked it! (takes a pause) I wrote it as an apology to the people I've hurt…and then my little baby neice, she's four-months-old, her parents gave her the middle name Magnolia…so the fact that something that was so painful for me is bringing people joy and hope and people are hooking up to it or drinking wine to it, or listening to it on the way home, like that's pretty profound! [Magnolia's] position in a f*cking contest (Hottest 100) isn't really the point, the fact that people like something I've made, that was painful to make, that's f*cking awesome!
Are they any Gang of Youths songs you're proud of that haven't directly come from emotional pain? 
Nup! It's all pain, all absurdity, it's all suffering (laughs). Like, I'm a really enthusiastic person and about life, I'm just totally aware of its limitations. Writing poetry and suffering is something I can do really easily, finding life-affirming hopeful things and very human moments, being negative or positive. So, maybe one point in my life I'll write something that's not born out of [pain]. I think I'm one of those people that still need the darkness even though we've seen the light?
Many who have seen Gang of Youths live say you're Australia's best live band, why do you think you guys put on such a great set?
Well I read a review yesterday by AAA Backstage that said I was lazy, so I'm sorry for whoever thought that, I wasn't. I can assure you I'm a lot of bad things but one of them isn't lazy, so I kindly give an ol' tip of my hat to that reviewer (laughs). But if people really think [we're one of Australia's best] live bands then that's f*cking rad!
One caller into triple j on Monday afternoon after Splendour said seeing your hair flick live is like a "religious experience". So, what's your favourite dance move and have you always been so active on stage? 
(laughs) Well the religious experience thing is interesting for me, I have mixed feelings about it…I like the idea, but we all grew up in a pretty religious environment so that brings about some f*cking weird feelings. In terms of the dancing it's kind of like whatever I feel like doing at the time. I like doing the Beyonce dance primarily because it's a tribute to a woman who I think is the greatest entertainer whose ever lived.
When you did the Beyonce dance at Splendour it defnintely recieved the loudest of the "woos"…if that's a compliment, even though everything you did recieved some kind of "woo"…
(laughs) It's one of those things that even if it gets old I'll never stop doing 'cause it's f*cking fun.
And you do it so well!
I'm…very pronounced and effeminate when I do it! I think it took a certain bravery to do it when I was still married and that f*cked up time during 'The Positions' (debut album) era, as I never talked to the audience and I was always grumpy and agro onstage. I was always swearing at people and drunk or high on drugs, and I never moved unless it was agressively with a guitar…like we were a punk rock band and so aggressive, but I never wanted to rebel or celebrate or connect [with the audience], I just wanted to get up [onstage] and expunge all the garbage inside of me then bail.
So, [the Beyonce dance] happened soon after I got a divorce and when I wrote Magnolia. I was tired of lying to myself and pretending I'm this moody, angry, desperate, dramatic poet, I'm not! I'm of the opinion there isn't a single moment in your life that is so unbelievably awful, so unbelievably overwhelming, that it can't be momentarily destroyed by dancing! I want everything I do onstage to be a reflection of what I feel inside.
The EP's lead single Strange Diseases and second single Native Tongue to me sound slightly slicker and more epic sounding, if that's even possible for you guys! Did you guys try anything new or different for the new EP?
To be honest I can't really put my finger on it. I love arranging strings, so the EP's got a lot of strings on it. I think the other thing is we're trying make it sound like a natural progression for us, like it would be disingenuous to recreate the feelings and sounds on 'The Positions' because I'm not a 20-year-old kid anymore bereft in drunkeness and married to a dying girl. It would also be disingenuous to make an indie-rock record that's all low-fidelity and kind of pretentious 'cause we're not those kind of people and we don't fit that world.
We have ambitions that are more closely alligned with Sonic Youth and U2 style of alt-rock, not Pavement and Dinosaur Jr. y'know? I think we wanted to create something that sounded like a stepping stone between album one and album two without dropping some hugely different thing out of nowhere. We're not going to rest on our laurels, none of us can do that.
Gang of Youths have been releasing rock with symphonic and orchestral arrangements even back when you we on triple j unearthed. Have you guys always made it a point to be different to other Sydney rock bands, or has the band's music direction always been natural?
Half the band will say we always wanted to sound different and half will say "nah, we just wanted to do what we wanted". I'm sort of obsessive when it comes to music at the moment, like I said I'm very jealous and competitive and petty. I don't listen to anything else 'cause it either makes you feel totally sh*tty and incapacitated, like "I'm nothing and nobody, I won't ever do anything great", or it makes you feel bulls*it superiority. Like, if it's good music I'll hate it because I'll wish I wrote it, and if it's bad music I'll hate it 'cause…well I don't like it!
I think for me, sounding like the people I wanted to sound like as an eight-year-old dreaming of being in a rock band and trying to recapture the moment of hearing something and being totally transfixed, that's what I'm aspiring towards. I think [our developing sound] matches our ambition to become a global enterprise, not just an Australian band.
You've said the themes in the new EP are the bookend of sorts to those in 'The Positions', which are your experiences and feelings of being in love with someone fighting cancer. As this is the case, how are you approaching writing lyrics for the next chapter of Gang of Youths' music?
With 'The Positions' I find that a lot of the imagery was a reflection of living in Nashville, so there was a lot of Americana and big sweeping grandios images and tieing it to a really local intimate situation. For me, I'm just trying to uneather all the f*cking garbage inside of me and find some potentially diamond thoughts in all the sh*t swirling around my conciousness. I believe wholeheartedly in conversational songwriting, Paul Kelly did it, Mark Knopfler from the Dire Straits did it, Lou Reed did it.
I believe wholeheartedly in making conversation fluid, beautiful lyricism, so I'm just trying to figure out how to do that! The next record is going to be about empathy, humaness, and trying to find some kind of meaning to the lost western millennials with no direction and no understanding of self. I guess instead of one giant tragedy it'll be an amalgamation of lots of little tradegies in my life (laughs).
That all sounds great, when can we expect the second Gang Of Youths' album?
F*ck man, I don't know. I'm sorry, I wish I knew! We're going to record it in November, like I'm writing [the album] now but I'm just as lost and clueless as I was during 'The Positions'…
(laughs) Lastly, in one of my favourite Gang of Youths' songs Poison Drum you list seveal things you're not afraid of. So, what is David Le'aupepe scared of?
Ahh, I'm scared of not being scared of enough things. I'm afraid of loving, of being in a period of stagnation, of getting my wisdon teeth out. I'm afraid of not feeling enough or doing enough, of never being free and losing the freedom I have now. I'm afraid of a Seinfield reunion, I'm afraid Ross and Rachel (TV show 'Friends') were always meant to be together, and I'm afraid the Gilmore Girls' movie is going to suck.
I think though on a really ontological level I'm not afraid of dying or the meaning of life, because life doesn't have a f*cking meaning, we're just perscribed one, I'm actually afraid of not being human enough, of getting to my deathbed and being like "f*ck, I could've done exactly what I wanted in that moment but I didn't".
And to flip the question, what makes you the happiest David Le'aupepe can be?
Umm, Hommus and Pita bread always! (laughs) On but like a real level, being able to say and do whatever I want whenever I want as I feel like it, that kind of unbridled freedom to be and explore who I am and what I am is pretty cool. Not many people are afforded the opportunities I have, like I said I'm just a f*cking idiot who fell over and people started clapping when I got up.
But I also enjoy connecting with people. Like, I don't really like crowds of people, I don't really go to parties and I don't have a wide circle of friends, but when I connect with someone on a human level it's like the most life-affirming sh*t ever! I've started to realise there's a transformative power in listening and comforting someone but also being listened to and comforted. I think that's what really makes me happy…and Pita bread and Hommus, OMG that sh*t is amazing!
Read our review of Gang of Youths' latest EP 'Let Me Be Clear' HERE and read our SITG2016 Day Two review HERE