Interview: Joshua Eastley of RAAVE TAPES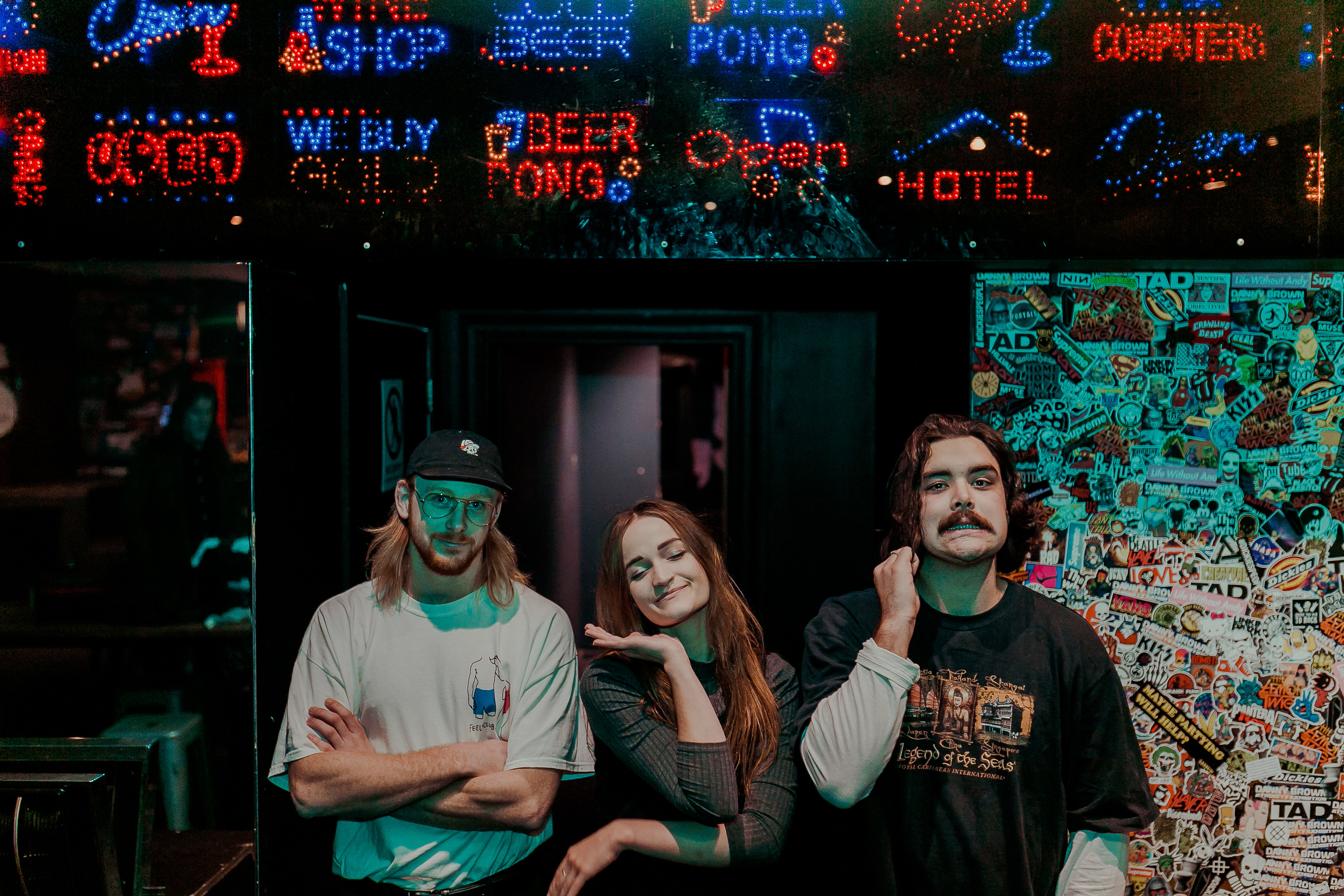 With a new single and a fresh festival under their belts, it's easy to see why Newcastle's RAAVE TAPES are set to be one of Australia's biggest up and comers. Punchy hooks and danceable beats are a staple throughout their music, which is reminiscent of other Australian favourites such as Northeast Party House or early releases from The Presets. Earlier this week I got the chance to chat with the Raave Daddy himself, Joab Eastley, on the importance of safe spaces, his love of the steel cities and of course, blue tins.
Your festival RAAVE TAPES Shut Down the Argyle House happened over the weekend, where did you get the idea to make up your own mini festival?
We've actually done it before, actually it was on the exact same date last year. One of the kids that I taught got diagnosed with Leukaemia; I was pretty bummed about it and I wondered how can I help. So we put on this secret warehouse festival in the middle of town and raised over $6500. It was just a low key line up of our friends from Newcastle, Sydney and Wollongong; it all just turned out so well, it was crazy.
Now you're about to head out on a huge 10-date tour with the band. Besides Newcastle, do you have a favourite city or venue that you guys play in?
We're going to Perth on this tour which is exciting, we've never actually been there which is crazy. Rad Bar in Wollongong was the first place that we played outside of Newcastle, and it's the best. Wollongong is definitely our favourite place to go to.
Raave Tapes have just been announced for Yours and Owls…
Wooo Wollongong again. Is this just a Wollongong interview *laughs*. The fake steel city; we're the real one.
Didn't you have a football match recently?
We definitely did; Steel City of Origin and we won. We've got bragging rights.
Are you guys nervous about playing to such a big crowd?
I'm excited, we'll be playing on the Rad Bar stage. It'll be Lindsay, our bass player's first festival, but I don't think any of us really get nervous; we're not really nervous people. We're all very excitable people who just love being on stage. That Rad Bar stage is literally just all of our friends; there's so many great bands playing at that festival but we won't be leaving the Rad Bar Stage.
Is there anyone in particular that you would really love to see? Obviously, it's such a stacked line up…
In terms of mates, we've got that stage with Toddy, White Blanks and Jacob. Tease are playing on another stage but they're also playing at our festival, and so is Good Boy; there's so much lovely crossover. It's going to be like one big reunion a month later.
But just go straight to the top, the f**king Presets. We make dance rock and The Presets make rock dance. Their early stuff is pretty much really awesome garage rock, but with synths; Are You The One, what a great guitar riff, but it's all just synths. So we've just sort of flipped that around. So we're pretty excited to be on the same bill as The Presets.
Yours and Owls have recently teamed up with Your Choice. Can you tell me a little bit more about the movement? I realise that it's trying to foster safer spaces in the music industry, what do you guys think of it?
We've definitely made Your Choice a part of our Argyle event. Before Your Choice came around, we were sort of doing our best to try and promote safe spaces before that came along; it's nice to have it recognised nationally. We can put up a poster which has it all written out in nice, inoffensive terms. Your Choice have just laid out the rules in a lot nicer terms and it's worded for people who may come in and be slightly on the fence, and starting to learn that that behaviour isn't appropriate; I think that anything that's too unpalatable is going to alienate them. If it's written in cheeky, fun terms they're going to read it and go, "yeah you're right. I shouldn't be a dickhead." It's really important, especially because of the type of music that we make. It's a very upbeat, dancey sort of style that you can mosh to if you like, but please don't push someone if they don't want to be pushed.
I think that crowd control is very important and it doesn't stem from just the organisers of the event, it's got to come into the hands of the people who are on stage. At the end of the day, they're the ones with the microphones. If you see something [as a band] that you don't agree with, you have the right to stop and point that kind of thing out. Our scene is generally, pretty nice; there's a lot of nice people involved in it. Treat people with respect and you'll get it back.
This leads into my next question. In general, do you think that Newcastle has a problem with aggression and harmful behaviour at gigs?
No one has asked me this question yet and I have a very strong opinion on it. I think the really big thing here is, people say that Newcastle has a really bad rapt for this kind of thing, and it does. I think it's hard to throw a blanket over, because in our scene, as opposed to the big triple j gigs, we have a strong culture that is very anti that kind of behaviour; there's never any trouble. I've literally never seen a fight of any kind at our No-Fi gigs ever. But as soon as you get that big triple j audience in, it's not a question of them coming in and purposely being dickheads, I think it's education. I think that they don't know how to be at a gig. They don't know what the rules are or what's expected of them. They come in and they think, well I've seen videos of people jumping around and moshing so I'm going to do that too. And they're hammered drunk and don't think about who's around them.
I think that the Your Choice campaign is a great thing; the idea is that we need to drill into people what's expected of them and what they can and can't do is important. For example, Camp Cope didn't want to play a show here in Newcastle because of the crowd. And you get a lot of that 'do a shoey'. No stop, we're not going to do a shoey. No more! We've actually written a new song that has a sneaky line about how shoeys suck.
I don't think you realise how happy that makes me. Shoeys are the absolute worst.
I think the main thing is education. And people who are being a dickhead at a show, it's about talking to them in the right way. If you see someone acting completely out of line and you walk up and yell at them, then you're no better. Yes, you're doing the right thing and you're calling them out on it, but I think it's the way that you call someone out that is really going to change their attitude.
If you run up and yell at someone, they're not going to respond to that; they're going to shut down or yell back. The way that you speak to people is really important. I think that's just me coming from a pre-school teaching point of view as well. But at the end of the day, talking to drunk people is exactly like talking to pre-schoolers. It's a big issue and such a hot topic, it's something that we're really trying to do our best to change. I'm not afraid to stop a song and start again; that's not an issue if it's going to stop someone getting hurt or someone having a bad time.
It's so good to hear that so many bands are getting behind it and calling out shitty behaviour.
You've got to be mindful; yes it's your right to have a good time at this gig but don't do it at the expense of someone else.
If you could tour or collaborate with any current artist, who would you choose?
Oh, anyone? God I would love to get on a tour with Northeast Party House; I think that we'd just be nice little dancey friends. I know that our drummer would like that a lot, so that's for him. Phoenix would be crazy if we're going big dogs, even Bloc Party circa 2005. Not so much new Bloc Party, but it would still be hectic.
I think that everyone feels a bit that way.
Yeah, definitely. If we're going to go big dog all time, imagine touring with early Daft Punk. Imagine if you could get on the homework tour, as US. That would be crazy. I could really just go on forever.
The next question is something that I think you'll really like. What does the blue tin mean to you?
Well, a very topical question. The blue tin means nothing to me! They're dead to me. They're done! I know! Because Murray's Brewery just sponsored the shit out of No-Fi Records. So blue tins are dead to me. I like blue and red tins now; East Coast Lager my friend. Before anyone calls me a sell-out, these are my reasonings. You've got to support your local; got to support your scene. They're red and blue and I love the Knights. Oh and when Tooheys up their offer of absolutely nothing, then I'll think about it. Tooheys please don't sue us *laughs*.
RAAVE TAPES Live Dates
WED 30 AUGUST
Beach Road Hotel, Bondi
SAT 16 SEPT
Grow Up! Festival, Maitland
FRI 6 OCT
The Foundry, Brisbane
FRI 13 OCT
Jack Rabbit Slims, Perth
SAT 14 OCT
Frankie's Pizza, Sydney
SAT 21 OCT
Bottoms Up Festival, Muswellbrook
THURS 26 OCT
Transit Bar, Canberra
FRI 27 OCT
Penny Black, Melbourne
SAT 4 NOV
The Edinburgh Castle, Adelaide