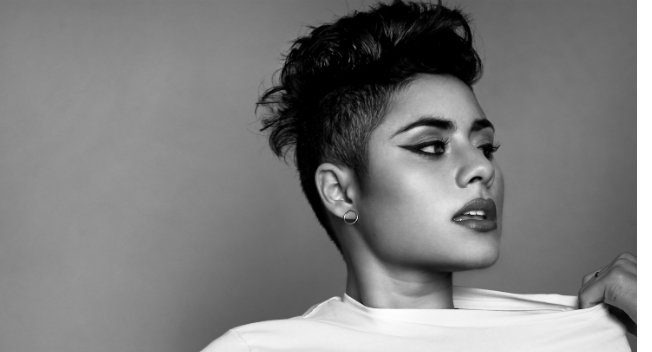 It's busy times for Sydney-songstress Jessica Cerro, better known as Montaigne. After back to back tours with the Hilltop Hoods and Boy & Bear, there has been no time to rest with the launch date of her debut album 'Glorious Heights' looming. Despite her hectic schedule, we were lucky enough to get to chat to her about the upcoming album, her pre-show rituals, and her former OTP, Sherlock and John.
It's been four years since you've signed your publishing deal! How does it feel to finally release your debut album?
Pretty good!
Because I Love You is insanely catchy. How did you go about choosing it as one of your lead singles?
Well, I suppose because it's insanely catchy. And also I think we wanted to go after releasing In The Dark, which is probably the most left track on the album, to the opposite right so that people wouldn't freak out and be like "this album is too experimental for me". Just so that they know I'm planted firmly in the pop realm, but with a bit of weirdness. So yeah, I guess that was just so that triple j listeners, or any listeners of my songs, wouldn't freak out and be like "it's too weird for me".
You've recently been on the road with the Hilltop Hoods, Boy & Bear, and Megan Washington. And now you're about to embark on your own national tour! What do you love about performing?
I think, well I enjoy singing. Performing is place where I can sing for people and I like for singing for people because I think I have a good voice, and also I can be stupid with my face with a way I can't in real life. That's it really! I mean, I also enjoy the connection that you share with people who really enjoy your music. But, I think my motives are a little more selfish.
Do you have any pre-show rituals?
Yeah! I warm up habitually but my band and I also have, well… Have you seen 'The Mighty Ducks'?
Yes I have!
Okay so there's that moment where they all put their hands in and they're all like "quack quack quack quack"! Well my band and I do that, like we actually quack.
Have you had a favourite moment on stage with your band?
I can't really single one out, I mean Miles (drums) every show during I'm A Fantastic Wreck always throws shit at Neil (keys), which is highly entertaining for me! So, I suppose that, just the throwing shit regularly is pretty entertaining. I really enjoy playing I'm A Fantastic Wreck with them as well, Miles nails it and the crowd usually goes wild more for him than they do for me, and I kind of really like that.
You've recently collaborated with the Hilltop Hoods on their single 1955, what was that experience like?
Pretty hilarious! It was easy getting the song down, I suppose. Most of the day was spent just introducing ourselves, watching dog videos and eating pizza. Like that kind of thing. We hit it off really quickly and now Suffa's like a big brother to me and Dan is also really lovely, and I know all their families because I was on tour with them and it's all great lovely times. Like of course I've reaped the public publicity benefits and the sort of rep benefits as well from that song. But, my biggest takeaway from it is the new friendship that I've developed with them, which is really great.
Are there any artists you would like to collaborate with in the future?
Yeah! Not ones that are immediately within reach. I do indeed do collaborations with a lot of artists at the moment, some duets. A lot of them ask me to write top line, and then I do it. Then sometimes it's like we can't release the song yet because you're releasing an album soon, or because it doesn't work with what we're going with right now or whatever. I totally went off on a tangent, you asked who I want to collaborate with! Uh Arcade Fire, David Byrne, they're like my top two.
And I haven't really thought about who in Australia… Actually you know what! I would really love to do something with Lorde one day. I think that would be cool. I don't know what it would be like because we have very different voices and very different vibes, but you never know.
We'll tag Lorde and see if we can make this happen! So you've drawn lyric ideas from a broad range of things on 'Glorious Heights', including video games and even dental hygiene. What's the strangest thing you've drawn inspiration from?
Well the dental hygiene one is a pretty good example! Uh let me just explore my memory for a second, and by my memory I mean my document of all my lyrics. The dental hygiene is probably the weirdest one. Well actually so in Lonely, the whole song is kind of about just being into someone who isn't very good for you, and wondering if you're only into them because you're actually are into them, or if you can't exist without having an emotional attachment to someone.
The first verse is pretty much my life, the second verse is more… Well I'm a massive BBC Sherlock fan and I was a massive Sherlock and John shipper for like a year. So I read this fan fiction, which is quite dark. It was about Sherlock just being super obsessed with John in a clinical, medical way. He would say things like "I want to be so close to him that I would actually like to transfuse my blood into his body, and his blood into my body and that would just be great." So the second verse is just kind of playing off that weirdly dark obsession. So there's that, that's a weird one.
That definitely gives the dental hygiene one a run for its money! So, your version of Sia's Chandelier is fantastic. If you were perform on Like A Version today, what song would you cover?
Ah I think about this almost daily. I still haven't settled on anything, I've had people be like do Kate Bush. I kind of resent Ball Park Music for stealing Bohemian Rhapsody from me, because I really wanted to do it. But, they already did it and it's quite good! So yeah, I would really loved to do that. If not that, then maybe another Queen song. Like um, Kill A Queen. But if not that, ah yeah let's go with Kill A Queen by Queen!
So you've got just over a month before the album launches and the tour kicks off! What are you going to be getting up to before then?
At the moment, no rest! Lots of promo, rehearsing for Splendour, coming up with set lists, working on releasing the album, and the stuff that comes along with that. There will be a lot of rehearsal I'm sure. But, like today I'm just doing interviews in my house, just sitting on my bed – so that's nice. And whenever I rest I research about nutrition and food, and science and shit. Or I'll just go through Instagram and look at pictures of food, or of dogs, and send photos of dogs to friends and send friends messages. You know, the regular chill stuff that people do.
Always good to catch up on your correspondence.
Yeah totally, I'm all about that correspondence life!
If you're liking what you're reading add AAA Backstage on Snapchat [aaa-backstage] and follow us on Instagram [@aaabackstage]
Check out our Splendour In The Grass DAY THREE Gallery HERE
Montaigne Tour Dates
TUES 13 SEP
Brisbane Festival, Brisbane
FRI 16 SEP
Carnival of Flowers, Toowoomba
FRI 23 SEP
Fat Controller, Adelaide
SAT 24 SEP
Jack Rabbit Slims, Perth
SAT 1 OCT
Beyond Festival, Canberra
SUN 2 OCT
Wildwood Festival, Port Macquarie
MON 3 OCT
Caloundra Music Festival, Caloundra
FRI 7 OCT
Uni Bar, Wollongong
SAT 8 OCT
Oxford Art Factory, Sydney
SUN 9 OCT
Lizottes, Newcastle
FRI 14 OCT
Workers Club, Geelong
SAT 15 OCT
Corner Hotel, Melbourne
Tickets & Info HERE