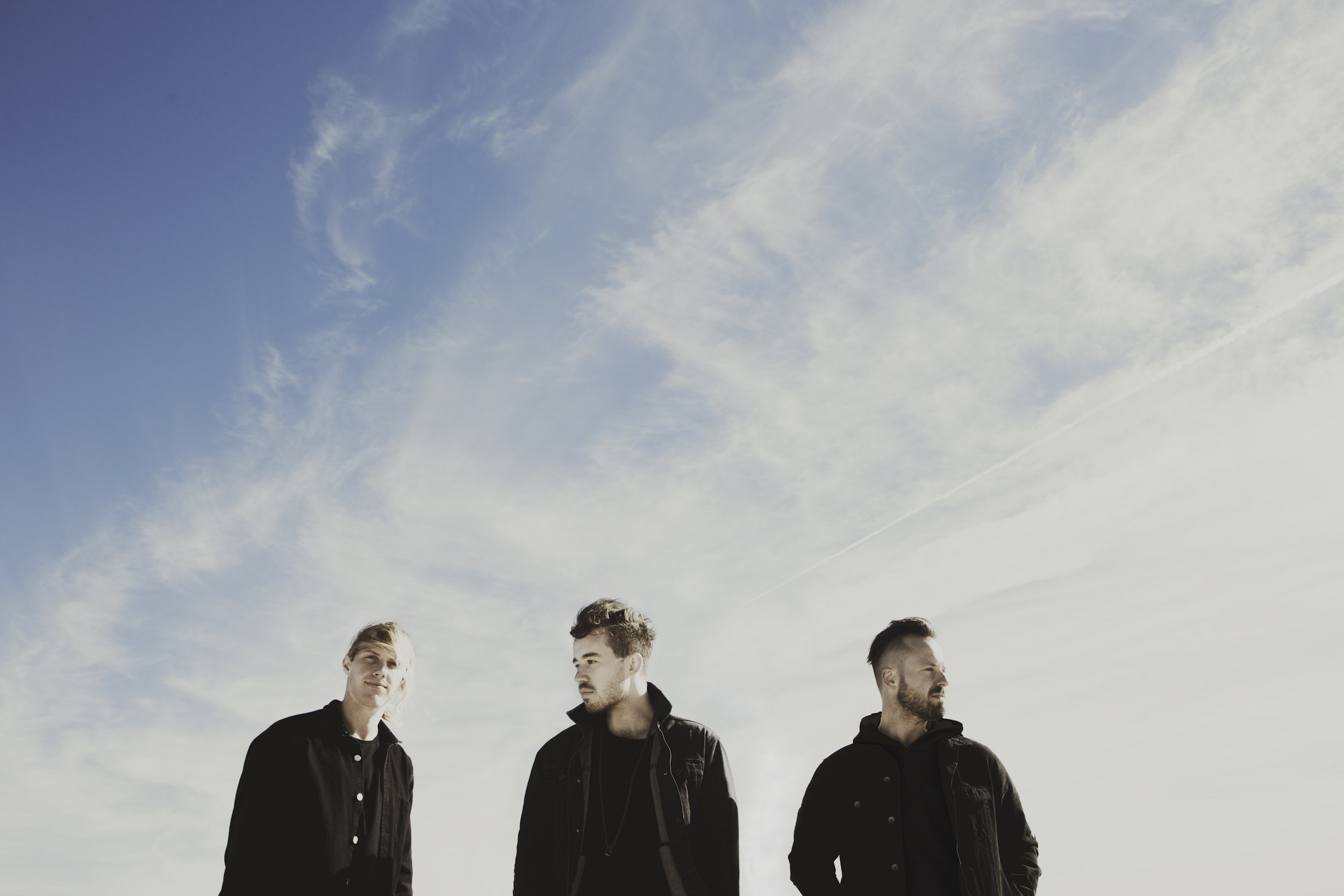 Unless you've had the j's switched off all week and the algorithm that decides which ads you get to see was taking the piss this past weekend, you're no doubt aware that Aussie indie-dance kings RÜFÜS DU SOL have just released their new album, 'Solace'. I could give you my rambling version of how great the album is but why bother if Danny Clayton already gave this stunningly succinct review.
What Danny's Twitter account, and your sponsored ads, failed to mention, though, is that the lads are returning home to give us a tour over the summer! Not only do you get to see their new tracks live, but now you also have winning Xmas gift ideas for your mates.
In celebration of this tour announcement and the album release (and all the other cool shit happening forRÜFÜS DU SOL at the moment), we had a chat with Jon George about their recording process, the emotions that drove the tone of 'Solace' and what foods made it on record.
RELATED: Scope RÜFÜS DU SOL's newly announced tour dates HERE.
Lots of stuff happening for you guys at the moment, including a couple of ARIA Award nominations for No Place. Congrats!
Thank you very much! Yeah, it's really exciting, particularly being back here in Australia and hearing all about it. So it's cool.
It must give you guys a bit of relief or even confidence ahead of the release of 'Solace', which is set to drop on the 19th?
Yeah, so we finished the record a few months ago and [are in a] sort of strange limbo, where you finish the record and you don't hear anything about it and you're sort of a little bemused. You don't know what's going on and so it's really nice to hear some feedback and hearing that everyone's loving it and yeah, obviously the nomination and stuff for No Place is amazing. Pretty cool time to be doing it.
This album definitely feels more emotive or deeper than the other albums—almost like there's a feeling of longing through a lot of the songs.  Can you explain how or why that feeling landed on a great deal of the album?
Yeah, I think that inherently with what we do. We're touring a lot and we're isolated a lot of the time and that feeling resonates through all three of us. We sort of picked up and moved all our stuff to America to write this record and left our friends and family behind. I think we found ourselves just sort of feeling very isolated and embracing that. Getting that emotion out in the record is really cathartic in itself, so we sort of went with that feeling and just buried into ourselves a lot more than we ever have before. And that emotion and personality really seem to come through on the record.
You guys have started a pattern where you record each album in different cities. You were in Berlin for 'Bloom' and now in LA for 'Solace'. Are you guys doing this as an excuse to check out awesome places while claiming shit on tax or do the locations genuinely get the creative juices flowing?
(Laughs) Yeah, I mean that's definitely part of it. We love seeing different parts of the world and to experience different cultures, so that's a lot of fun getting to do that. LA itself is right in the middle of our touring schedule with Europe and Australia on either side, and it's much easier to get to those places from LA. And also the ability to meet some of our influences and collaborate with different people in LA was an exciting prospect so, we were embracing that at the time. Yeah, it was really fun just being in LA and the Californian sun. It's beautiful weather over there all the time; every day is sunny, so yeah we really embraced that.
You're probably looking forward to getting back there after the weather here at the moment.
Yeah, it seems pretty dark and miserable this little trip but we'll be back over summer here in Australia so I'm pretty excited about that.
I just wanted to ask, what happened in No Place? Like the lyrics are quite lovely and nice and it's like you guys were swimming in your LA pool and recording in your LA Airbnb-karaoke room when writing the lyrics… and then when it was time to produce the music and shoot the video, it was like you'd just watched 'Stranger Things' and your world turned upside down and there's this strange, dark energy present in the background. What's up with that contrast?
Yeah, I don't know. I think the isolation… and you feel like you're putting your personal life on hold a lot when we're diving so deep into the music. And that can be a little darker feeling. The easiest thing to do when you're feeling any sort of anguish or stress is to go into the studio and to write in this beautiful playground that we had. So that's the easiest way to ignore your personal life. And when you keep ignoring your personal life it creeps into the music for sure. We find ourselves sort of exploring that emotion and diving into it, like, pretty hardcore. I think we all went through a bit of the emotional ringer in many ways over the last year and a half. I guess just being able to put it out and put it through the music, right through from the synthesizers and creating darker textures and really deep sonic tones and then following that up with lyrical sentiment and trying to explore those feelings that we were going through, was really cathartic.
You guys completely put together Lost In My Mind while on a trip to Joshua Tree. I'm picturing Ari's Joshua Tree trip in 'Entourage' for this session. What is it about that location that has such an effect?
Yeah, there's something super special about the desert—the Californian desert and Joshua Tree that we were really intrigued by. We've been out on a couple of trips out there, just for fun, like whilst we were living there on weekends. And when we were getting towards the latter part of the record making, we still had to finish a few songs' lyrics and just tie up the sentiments that we'd started with some of those songs; and we decided that we'd been inspired to go out for a wander in the desert and find some of those lyrics. And that definitely happened. It was a really cool experience with us, our manager and filmographers and getting to really dive into it. It's pretty otherworldly out there. It feels like another planet and we really embraced that 'escapist' sort of feel. When we came up with the name RÜFÜS we had almost wanted to sort of feel foreign in a way and RÜFÜS DU SOL kept that foreign nature going with just the way that it sounds [like it's] from another country or something. And in the end another planet, and I felt like we were meeting on these Mars-like boulders in the desert and really diving into that extra feeling.
I heard you guys say you used the sound of ripping a coconut apart in one of your songs. I've tried to pick where it is… can I try and guess where it is? Keep in mind I've never heard a coconut being ripped apart.
Sure.
Was it in Solace?
Yeah (laughs). Good guess.
Is it super slowed down at the start and then repeated throughout?
Yeah so, we were ripping the coconuts apart from the chest and really getting this deep stretch of time that sort of starts to happen when you rip a coconut through some stereo microphones. And then we were sending that through to the track through these distortion pedals and delay/guitar pedals so we had a lot of fun with the sound design of that. We were even crushing prawn crackers for that track as well and messing them up in our hands and recording that and it's just this crazy white noise and textural experience that really seemed to mesh well with our track, particularly when there was no beat and like a lot of space for that sort of production.
Alright well now I'm going to have to keep my ears open for prawn crackers. And as far as the coconut ripping goes, you can now legitimately say that you've busted a nut on record. 
(Laughs). I'll remember that.
Your life, obviously at the moment is super hectic. You guys have also launched your own record label, 'Rose Avenue', just before you begin a massive tour of the US and UK and then finally… an Aussie tour to follow!  
Yeah, yeah. It's pretty wild at the moment. We're only in the country for a few days now and we were just in New York this week flying around.  It's a pretty wild ride and we're just running on adrenaline at the moment but it's super exciting you know, we get to do what we love. I wouldn't have it any other way. We love all the excitement and adrenaline.
Speaking of this upcoming tour, I just want to ask, or confirm, really, that you're touring overseas first so that you can really practice and hone your live show before you deliver your best performances to us down under?
(Laughs) Yeah y,ou got it. I guess we're super excited to get back for the Australian summer. We tried to definitely tie it up so we were going to be over here for Christmas and make sure that we get to really enjoy some time with friends and family and then bring the show—definitely well-honed—back to Australia. We've been working really hard on the live show since finishing the album. Just trying to flesh it out and make these cool moments in the set. Combine that with the older material and have these more unique experiences with just playing the album slightly differently or extended outros and jams and making sure we have the ability to have a lot of fun on stage each night between the three of us, musically. For it never to be Groundhog Day; for us to have a fun, individual experience each night.
I saw the clip of 'Underwater' Live at Electric Forest and it already looks epic! How hard is it to learn to re-create all of those little layers live?
Yeah, it's definitely a little tricky but it's a good challenge and that's part of the experience of… you know you can fuck stuff up and it can be really challenging on stage. Particularly if it's a 15,000 person crowd, you know, the nerves can kick in and things can go differently to plan.  But that's all part of it, that side of the experience for us on stage and, I think, for the people watching us, they get to be a part of it. It's not just a programmed person playing on a track, it's definitely moments of vulnerability for us there on stage. And it's cool for us and it seems to really excite the fans.
One of your fans on Facebook… it looked like (during the performance) Tyrone sort of gave you a bit of a look on stage, and (the fan) screenshotted it and was like, "Whoa man! Check out this moment between you guys!" and it looked like you guys were sort of, really happy with the way the crowd was eating it up, this new track. It was awesome to see. 
Yeah, that track in particular hadn't been released when we played that at Electric Forest so we were having this amazing experience, getting to see people's reactions first hand; to see the feeling on their faces as they digested this new song, right there in front of us. People were crying by the end of it and that's an amazing experience in itself—we have said this just over the last couple of days between each other how it's amazing that we get to experience the goosebumps and the feeling of what it was like when we first finished the basis of the track in the studio, all over again through people's faces every night when we play them.
Have you seen that there are a couple of outdoor yoga sessions happening in San Diego, specifically set around your music, coming up later this month?  
No, I haven't seen that—that's pretty epic! Tyrone's been doing yoga for a while and I've just started getting into it the last six months. So I might have to go and join in one of the sessions. That's so cool.
Finally, I have a random question for you. Have you ever been out on a date or at a party or somewhere that you're trying to look cool, or like impress someone and then a song of yours comes on? Have you ever been tempted to point out the fact that this is you?
(Laughs) Yeah, maybe when I was single I had a couple of those moments. It's pretty funny when one of our songs comes on and we're in the place we've been doing these Barre work outs, like at a specific gym in America, and there's one in Australia now as well and sometimes they play RÜFÜS DU SOL and it's a pretty funny experience there exercising, like you're just sweating.  So you're looking pretty disgusting and then you hear your song come on. I'm not sure whether that drives you to work out harder but it's definitely funny.
RÜFÜS DU SOL have just announced a national tour behind 'Solace'. You can scope all the dates below and register for pre-sale tickets HERE.
RÜFÜS DU SOL Live Dates
TUES 1 JAN
Field Day, Sydney
THURS 14 FEB
Sidney Myer Music Bowl, Melbourne
FRI 15 FEB
Sidney Myer Music Bowl, Melbourne – SOLD OUT
WED 20 FEB
Adelaide Entertainment Centre, Adelaide
FRI 22 FEB
Fremantle Arts Centre, Perth – SOLD OUT
SAT 23 FEB
Oceans Winery, Margaret River
SUN 24 FEB
Fremantle Arts Centre, Perth
SAT 2 MAR
Riverstage, Brisbane – SOLD OUT
SUN 3 MAR
Riverstage, Brisbane
TICKETS