Interview: Ulises Bella from Ozomatli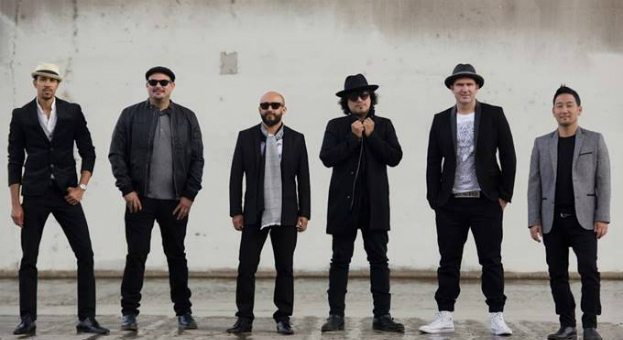 Grammy-winning Californian groove legends Ozomatli are hitting our shores in October for a series of spicy shows to get bootees shaking and feet jumping. We chatted with saxophone cool cat Ulises Bella who revealed juicy deets on their upcoming album, the upside if Donald Trump becomes U.S President, and why they always look forward to coming to Australia!
What are you looking forward to most about Ozmatli's upcoming tour to Australia?
Well, the wonderful thing is we have a great journey and a great fanbase going to Oz so we always look forward to the shows there. We always have wonderful shows whether it be at a club or a festival at Byron Bay Bluesfest or Big Day Out. We have a really great time in Australia so we always look forward to great performances there!
Is there anything in particular you want to do when you get down here?
A lot the touristy stuff we've already gotten out of the way so I think for the most part of the tours we like to catch up with friends.
What can fans expect from these shows?
We're definitely going to be playing a lot of new material. The new album we have right now is kind of like a concept. We've never been a band that did cover songs but for this particular record we're doing really serious songs from the Mexican repertoire and from Mexican composers. We got the help of Sly & Robbie, these Jamaican producers, and we basically reggae-fied all these famous Mexican songs.
That's really cool! What made you decide to go in this direction? 
One time we ended up jamming on a famous Mexican drinking song during our set and we started playing it in reggae style and the crowd went wild. It was then we realised we were onto something!
I notice this upcoming album is titled 'Ozo-fied Volume 1: A Century of Mexican Classics,' how many volumes are you planning on? 
Well as of right now we've actually changed the name of the record to 'Never Stop: Mexico to Jamaica.' We may eventually do another version but we're not sure yet. We're going to see how this one goes, you know?
How is the making of the album coming along? 
We've pretty much finished! We're just putting the final touches in the mastering.
As a sextet, I can imagine working on an album must be interesting! Do you have a certain process in terms or writing and recording? 
The project has always evolved through the years but we've never had one way of doing things. I will say this: the songs that resonate the best are usually the ones everyone puts their say into and it's worked out as a collective.
Any secret hints on what songs will be covered and which artists may be featured? 
Yes. We're doing covers of La Bamba and Besame Mucho in reggae style. Also one of the bigger covers is of a Selena song. I don't know if Selena made it out to Australia but she is a Texican who had a couple of big hits in the states. We also have a lot of guests on the record too including our original Ozomatli member Chali 2na!
Ozomatli have been together for over 20 years now! Did you ever think you would be here two decades ago?  
I think it surprises everybody that a band can last for over 10 years, let alone 20 years. It's a huge surprise to all of us that we're still around kicking now. It's our 21st year as a musical collective and we're still able to hang out together, relax together. Be a family. Usually bands don't last this long, you know?
As Ozomatli is also the Nahuatl word for the Aztec astrological symbol of the monkey I'm curious; do you follow Aztec astrology in your daily life?
Actually no. Interestingly enough the thing was the birth sign of our original drummer. When he told us the meaning of it we named the band that.
Latino music is generally known for it's spiritual relevance and the power in bringing people together. Has there been a moment where you've experienced this in a way that's surprised you? 
Yes. There was a moment when we were cultural ambassadors and we actually got to visit a lot of countries where bands don't really go to – places like Mongolia, Nepal and Madagascar. There were maybe like, two people in the whole country who knew who we were but interestingly enough, when we did play in these places we would draw these huge crowds of 2,000 people. It was a great testament to our art that even though they didn't really know us or our career, people really acted and connected and danced to the music. It was a validation of all our hard work.
As Ozomatli has never shied away from addressing politics in songs, is there a certain issue you have yet to write about but want to? 
I think, depending on the trend of events with our current election, if Donald Trump wins we'll all have some great art coming our way! (laughs)
Apart from the album are there any other projects the band is currently working on? 
We were also doing a kids project where we were doing kids music and started playing all these kids concerts. It usually goes really, really well. 
Ozomatli have had so many spectacular moments over the years including making a cameo in 1999 romcom 'Never Been Kissed'. What do you hope to achieve next?
There's plenty of countries we still haven't gone to that I think would be great. We still haven't gone to Moscow, Russia properly and I think that would be amazing…the whole Czech Republic, Prague. We never got to play there and that city's magical so there's definitely countries we're still wanting to get into. As of right now we're just working on this next album so hopefully it will be on the schedule.
How would you describe Ozomatli in a nutshell?
In a nutshell I would say we're a kinetic force on stage that is all about making you dance!
Do you have a message for your Aussie fans? 
We would really love to send our love to all our friends and fans in Australia. We can't wait to come down and play for you guys!
Ozomatli 2016 Australian Tour Dates
THU 27 OCT
The Metro Theatre, Sydney
FRI 28 OCT
The Cambridge Hotel, Newcastle
SAT 29 OCT
The Lost Lands Festival, Melbourne
SUN 30 OCT
The Triffid, Brisbane
Get Tickets HERE