Just A Gent Walks Us Through His New Album, 'Planet Oasis'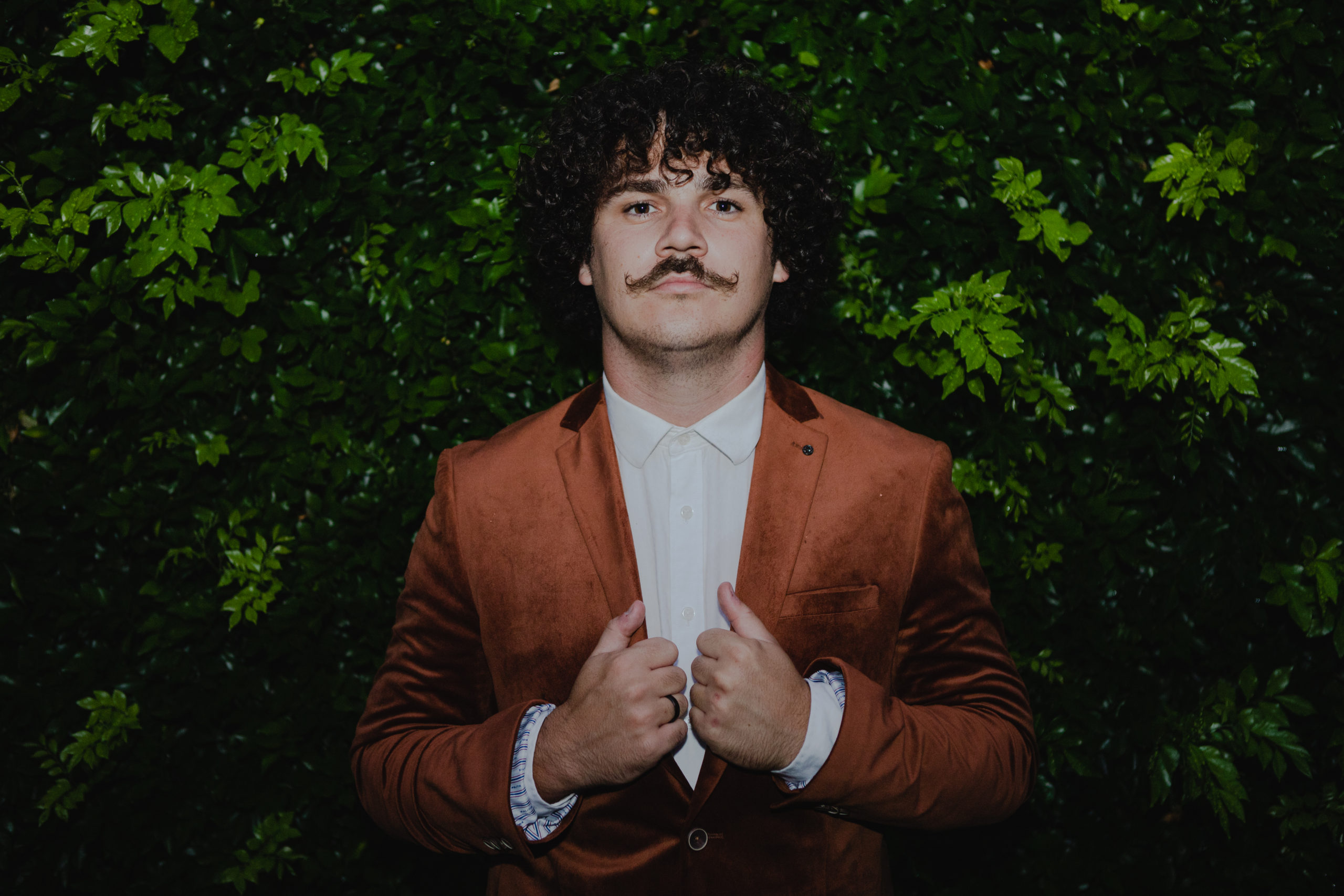 Indie electronic artist Just A Gent has just unveiled his long awaited album, Planet Oasis. The album features 15 solid tracks that take the listener on a musical journey exploring a range of experimental sounds, slapping dance beats and a general vibe that can only come from and forward thinking producer.
The album features previous released singles, 'Who Would Have Thought (ft. Arno Faraji)', 'Sleeptalking (ft. Greta Stanley)', 'Lightspeed', 'Trip To Mars (ft. Sammi Constantine)' and most recently 'Don't Wait For Me (ft. Lani Rose)'. Today we're blessed to able to share with you an exclusive track by track walkthrough from the man himself. So set yourself up with a drink, pop the album on and dive deep into each belter from this incredible album.
PLANET OASIS TRACK BY TRACK
Intro/Lightspeed
The initial idea for Lightspeed all came together in one session, it was one of those moments where I hit flow state and nothing could stop me from getting the idea down, I think it was like 4am and I was happy with where it was at. I ended up throwing that bounce up on Soundcloud/YouTube to get the vibes from everyone. Once upon a time I would just test these kinda demos at shows but this was peak pandemic and I wanted to share this asap/ hear peoples reactions. I wanted Lightspeed to really convey this sense of power and energy, As soon as I heard the drop in my head I pictured time moving past me at the speed of light and I think it expresses that quite well in this final version.
Island Fever
Island fever was a beat I had been sitting on for years and years. I originally was just playing around pretending I was Daft Punk making some funky random beats when it all started to come together. I called the beat Planet Oasis and it sat there for almost 10 years until it popped up on my computer in 2020. I knew it was something special because I still vibed to it, 10 years later. I sent it along with a couple of others to one of my favourite collaborators and good friend Samsaruh. She instantly had the island fever hook come to her head, she threw down a demo and got it to me that day. The song was more or less done then, I just spent a few more sessions tightening the production/arrangement and the mix.
Trip To Mars
Another old but gold tune, Trip to Mars was a random little beat I wrote after watching some of the tv show 'The Expanse'. It was just the drop part at the time and I really liked it but didn't know where to take it. A few weeks later my friend Sammi Constantine came through and she really vibed with the idea I had so we fleshed it out some more and threw down a demo vocal. It sounded sick and I planned on putting it onto my first EP but the label/team and I all decided against it and we ended up just throwing the demo version up as a b side from the Stories To Tell EP, I never really finished it just called it a day. I think it randomly played on Soundcloud one day recently and it just slapped. I wanted this track to get a proper release and not just forgotten about in the depths of the internet so I hit up Sammi and we did some retakes on the Vox and I overhauled the mix (for better or for worse). I think this latest version is much more refined and a lot closer to where I initially wanted it to be but the original version still has something special about it however, it will always be there lingering on the web for anyone who wants both
Aliens
Aliens was originally an instrumental concept I submitted for the theme of Love, Death & Robots. It was less dnb/more 80s a-ha vibes in the original demo.  It didn't cut it for the show but I still really loved the idea and took it with me to Sydney for a week of sessions writing for my URCA EP. My mate Andy (hauskey) came through and we wrote the vocals for both this and my track Time Voyage in the span of about 5 hours. I used both those demo vocal takes as the lead vocals on both of those tunes, the dude is a goat. Aliens production got inspired by all the fresh takes on DnB that I've been coming across these last few years and it was cool to try something fresh and fun.
Cosmos
Similar to Lightspeed, Cosmos was a beat that came together in a night. It basically just wrote it self I was just there along for the ride. It's not something I would normally drop as Just A Gent but it felt so right for Planet Oasis I had to go in and tighten it up, bring it home. I wanted it to capture the essence of time and space but from a really zoomed out perspective. As if you were some celestial being organising the cosmos, pushing around galaxies with your fingertips, you know, that kinda vibe.
RELATED: BRUX WALKS US THROUGH HER LATEST EP, 'TAKE'.
Don't Wait For Me
I sent Lani this demo in maybe late 2016/17. He loved it so much and he was like bro, bro I gotta sing on this, I gotta sing on this. When he threw down his ideas I was in awe at what we had on our hands. We sat on the tune for a while and I think I wanted to improve my mixing skills etc before finishing this up, and I think Lani just keeps getting better and better everyday so we re recorded the vocals last year and I really honed in on the mix and the production. Don't wait for me is absolutely one of my favourite tunes yet and I'm so happy it made it to Planet Oasis.
Feel Celeste
Originally titled, you're not human, Feel Celeste was a track I made when I was really finding my mojo again. For a long time I got lost in the sauce, the loop of life, society, all the bullshit basically lol. It was a moment of clarity which I hadn't had in a long time, one of those moments when you realise we are capable of so much but we are almost expected to fill our lives with crap and I needed to remind myself that life/reality is what we make it. We are spiritual/ celestial beings living the human experience, it's great and all but there's more to it if you can go deeper, unlock your mind and let your imagination run free.
No Time Left
Wrote this idea with Sayah in an airbnb back in 2018 I think it was. We smashed it out there and then, beat and vocal. Sayah came round to my studio here in Maitland last year to wrap it up. I wanted the sounds of no time left to trap you in a moment. Lock you into a trance and force you to listen to what she had to say. I love the concept of no time left. Seize the moment, who knows how long you'll have left with any given thing.
Nova
Nova was just a 30 second idea/drop, the "you've got me looking over my shoulder" and then 30 seconds of madness. It was just something I made to pour some anxious/unwanted energy into. I didn't really even plan on finishing it. Jack and I were looking for some inspiration when we wanted to work on some new stuff and he lost it over this little bite. He created the intro and the huge build up and the track just felt so powerful now. I instantly got inspired and wrote the breakdown section in the middle. We started calling it Nova and my brain just kept instantly picturing an exploding sun and all that energy within. I think we both channeled that energy and it turned out to be one hell of a journey.
Out Of Order
A project I had been sitting on for a minute. I absolutely loved the drop but never really seen it working for JAG. My original intention was to start a whole new Out Of Order alias and drop this tune and a few other belters along with it. As time has gone on I've really experimented with the JAG project and I thought stuff it this is so good it deserves a spot. I went into after already working on most of the album so I brought a lot of the Planet Oasis sounds/melodies into the mix and it ended up being a nice little trip into a future dystopia
Sleeptalking
A powerful tune we had been holding back for a long time. Another one of those tracks I always wanted to finish but felt I never really had the skills/knowledge to nail the concept. It wasn't until the last year or so I felt like I could really nail texture/sonics I wanted from sleeptalking. Greta is incredible and I was so stoked when she was still up for finishing this one.
Know
SADBOii & I have worked on a tonne of tunes over the last few years. Know was a really special one to both of us, I couldn't nail the production for quite a while so it sorta sat in limbo but we both listened to it every now and then when we needed a bit of a boost. I was set on finishing it for the LP and after a tonne of sessions I finally landed on that first drop which really sealed the deal for me.
Who Would Have Thought
When I created the instrumental I was just overwhelmed with nostalgia, I couldn't even tell you why but the sounds just brought it out of me. I think Arno tapped into the same feeling, same place. I want this track to be a moment /place where you can reflect on everything you've done, how far you have come and dope your vibe is.
Planet Oasis
This was the last track I made for the record. I still felt like I needed to express the true intentions, set a sonic landmark for the album. Planet Oasis is that. I want us to all start appreciating the gift we have here on Earth. A perfect blue oasis floating in a tiny pocket of the universe. It gave us life and everything we need yet we still seem to treat it like its disposable. I want this track and this record to inspire us all to love more, care more and live in the now preparing for tomorrow.