King Blue Put Women To The Front With New Playlist Highlighting The Inspo Behind Their Debut EP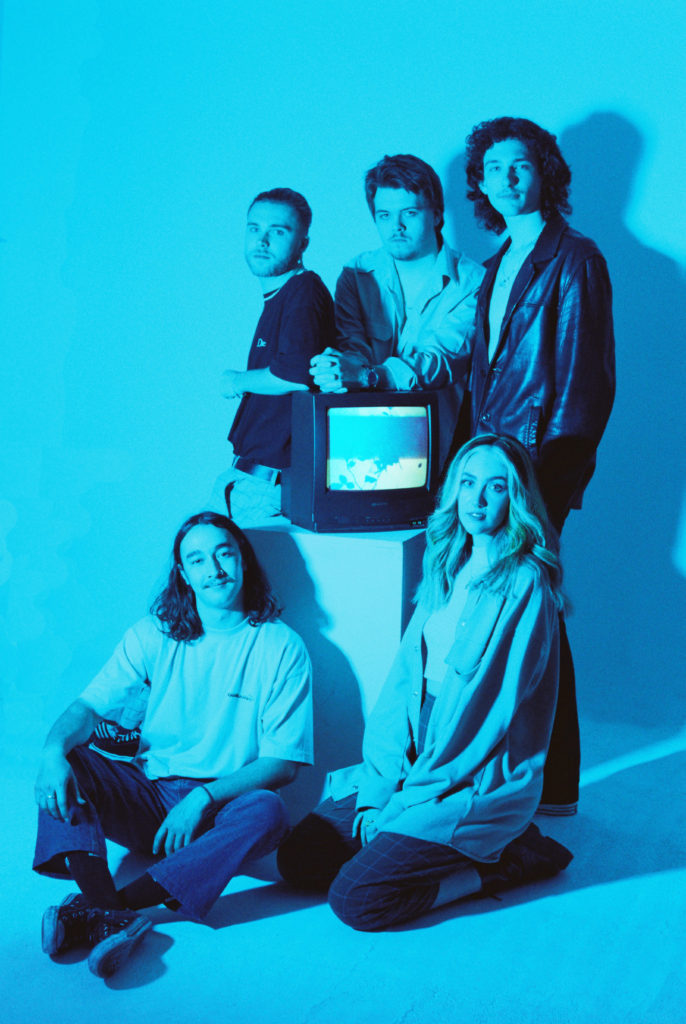 After releasing their debut EP 'Through A Screen', Boorloo/Perth 5-piece King Blue have crafted a playlist featuring their favourite female-fronted artists.
Since debuting in 2021 the group has cultivated a rapidly emerging fanbase with a number of well-received singles, sold-out hometown shows & sharing stages with the likes of Great Gable, The Rions, San Cisco & more. Their coastal indie-pop-rock sound is sure to be a hit with fans of Ocean Alley, Eliza & The Delusionals, and Pacific Avenue, finding their home in the ideal chill summer playlist.
RELATED: PRISCILLA Reveals Their Shiny Pop Delight, 'Lose Control'
The band delved deeper into 'Through A Screen', produced by Andy Lawson (Tired Lion, Eskimo Joe), saying: "Our debut EP contains 4 songs that really juxtapose each other; 2 of them following a similar structure with more of a soulful, emotional theme that ends powerfully. With the other 2 songs showcasing an upbeat and coastal vibe that's easy to bop along to. We really wanted to display the range that we enjoy writing and playing in the first EP that we release."
Check out the top ten female-fronted artists that inspire King Blue below:
Alvvaays:
This year I absolutely fell in love with my new favorite band, 'Alvvays'. They're just so easy to listen to and have the catchiest tunes that bring me a new level of serotonin.

The Marias:
The lead vocalist for 'The Marias' just absolutely blows my mind with her sultry, airy vocals. What really gets me though, are the bass lines in all of their songs. They're so catchy and fill the space in their tunes just right.

Lizzy McAlpine:
Lizzy has a way with lyrics that really touches a person and makes you think. I'm also a huge fan of her backing vocals, particularly in 'Erase Me ft. Jacob Collier'.

Supathick:
As a band, we love the funkiness and intricacies of Supathick's songs. There are so many layers that are put together just right to create some seriously epic songs.

Crumb:
Similarly to 'The Marias', I'm a huge fan of the bass in particular in a lot of Crumb's songs.

Men I Trust:
The delicate vocals in 'Men I Trust's' songs are so compelling, you just don't want to stop listening. There's almost something ethereal about how all the instruments fit together.

Human Bloom:
Truthfully, I haven't listened to a huge amount of songs by 'Human Bloom', but 'Capillary' is one of the coolest songs I've ever heard.

Moonchild:
Much like 'Supathick's' songs, I love the funkiness in 'Moonchild's' music. It's so easy to listen and move to.

Wolf Alice:
I think one of my favorite songs of all time is 'Don't Delete the Kisses' by Wolf Alice. There's just a sense of euphoria that it makes me feel as soon as the first note hits. Perfection.

Yebba:
'Yebba' has some of the cleanest, controlled, most beautiful vocals I've ever heard. As the singer of the band, I am a very big fan of backing vocals and harmonies and she just knows what to do every time, and she executes perfectly.
Listen to the new EP out now, check out their playlist and find their tour dates below!
KING BLUE 'THROUGH A SCREEN' EP RELEASE TOUR
Sat Nov 5th The White Star Hotel Albany
w/ Coolibah & Bush Telly
Weds Nov 16th La La La's Wollongong
w/ The Fuming & Slim Jimz
Fri Nov 18th The Chippo Hotel Sydney
w/ Slim Jimz & Asteroid Blues
Sun Nov 20th The Leadbeater Melbourne
w/ Mona Bay & Sunday Honey
Sat Nov 26th The River Hotel Margaret River
w/ Little Guilt, Residents Club & Bush Telly
Sat Dec 10th Indian Ocean Hotel Scarborough
w/ Sunsick, Coolibah & Lenny and the Bremers
Sun Dec 11th Freo Social Fremantle
Supporting WAAX w/ Spici Water