Kwasi Breaks Down His Love For Playing Live Shows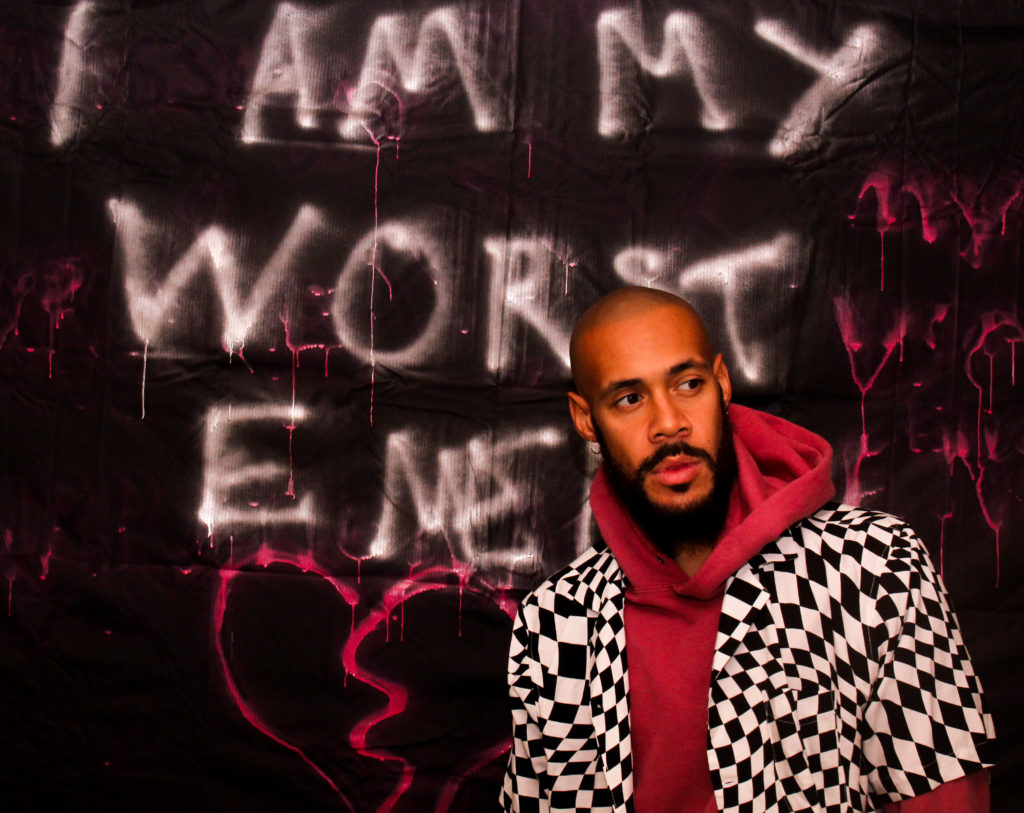 Melbourne/Naarm based artist Kwasi has returned with an anthemic new single 'Self Sabotage Feat. Congrats', and expressed his favourite parts of performing live.
The Ghanian-Australian creator has been making waves in the Melbourne hip hop scene, amassing a whopping 1.2million+ streams on his previous releases and playing support slots for the likes of Genesis Owusu, 360, Illy, Allday, Banks Arcade, Evangeline, Sophy Grphy, D12 and more. Kwasi is also involved in his local music scene, running his own professional recording studio and record label DGTL RECORDS that are dedicated to nurturing upcoming hip-hop talent.
An endearing blend of influences based on early 2000's nostalgia, Kwasi creates guitar-fuelled pop-punk infused with trap stylings. We predict his expert storytelling will capture the hearts of fans of Triple One, Kid Cudi, Kwame and Blessed.
RELATED: Interview: flowerkid Talks Splendour In The Grass Debut, Mental Health & More
Putting Kwasi's addictive cadence and impeccable arrangement on display for the first time in 2022, 'Self Sabotage' was produced by platinum-award-winning producer Hamley (Stan Walker, Pania, Allday). The track combines his confessional yet complex lyricism with Congrats' (Ben Stewart of Slowly Slowly) irresistible hooks to create an absolute earworm.
Speaking about how the anthem of heartache and self-deprecation came together, Kwasi said: "I had some relationship woes at the time, I wrote the words 'Self Sabotage' on my phone notes on the way to the studio knowing I had some energy to get off my chest that day. Being from different music backgrounds we didn't know what to expect when we started creating, but that said we definitely had so much crossover in our musical expression. The session felt cathartic and gave way to a long lineage of songs we've now created together."
Congrats commented on the collaboration, noting: "Self Sabotage serves as a much-needed follow-up to 'Overthink' as I think it really solidifies the way in which Kwasi, Hamley and I balance our distinctive styles to create something unique. It's a natural way of songwriting with a lot of mutual respect. I really enjoy creating music with them."
Check out Kwasi's top 5 favourite things about playing live shows below!
Connection
Connecting with fans and sharing energy with those in the crowd is one of the biggest highs.
Expression
Being able to act crazy and it's acceptable haha. It's such a cathartic experience letting your frustrations and emotions out on the stage. I highly recommend it. I have never felt more content than I do whilst on stage.
Testing out new tunes
It's dope getting that real-time interaction to something that you created in a studio by yourself. Music has an unspoken language and it's sick seeing how people respond.
Imperfection
There's something amazing that happens when you make a mistake look good. Graceful failure and creating some magic in the moment. I came up freestyling in high school, so I've always loved that ability to turn something 'wrong' into something interesting.
Live Drums
I grew up watching my uncle play the drums, nothing gets me more psyched up than watching the drummer thrash a live kit.
Listen to 'Self Sabotage Feat. Congrats' everywhere now!