Live Review: Beer InCider Experience 2017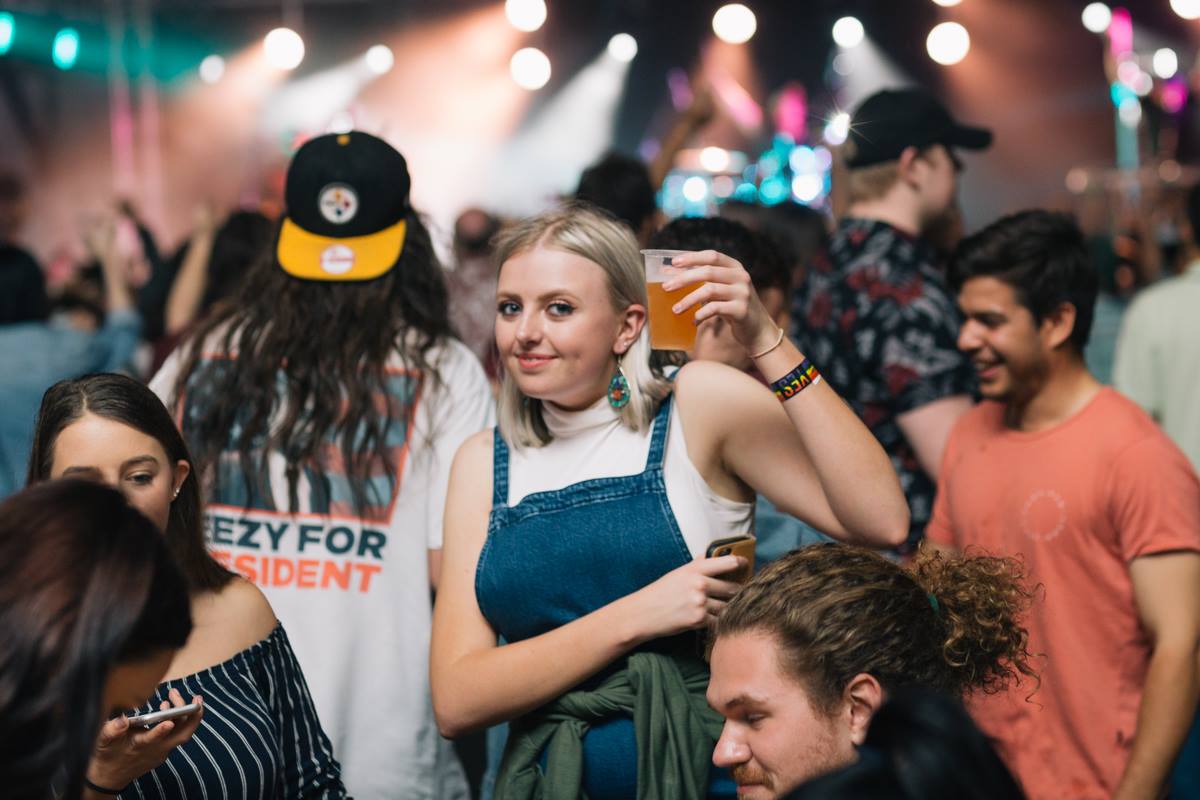 Good brews, sick tunes and a sunny day, that's all you need for a bang up day in the Sunshine State. Lucky for us, Beer InCider Experience 2017 had over 53 brewers from around Australia—with more than 300 beers and ciders—music from Brisbane royalty like Cub Sport and Ball Park Music and the sunniest day this side of the brown snake.
Walking into Brisbane Showgrounds, you had to admire the effort that the festival had made to transform a venue thats used to housing farm animals into a tropical oasis. Field games like mini-putt putt, table tennis and giant Jenga were scattered sporadically throughout the site. Blankets and bean bags were plentiful under gazebos and trees to offer steamed punters a semi-cool place to rest their feet. It almost didn't feel like we were standing smack bang in the middle of Fortitude Valley.
Turning our attention to the mass of brewers inside the main structure, my companion and I forwent the nuanced chat about the benefits of various hops and went straight for the weirdest flavours we could find. The winners included a pine-lime flavoured brew (its just like a splice in a cup!), a chocolate coconut stout appropriately named Lord Lamington and a sour cherry do that when sipped straight after Lord Lamington created a Cherry Ripe party in your mouth that would not quit.
Now that we had tasted the wares it was time to listen to some tunes. Darren Middleton delighted a small but enthusiastic crowd with a stripped back set that, interestingly enough, included a cover of Radiohead's No Surprises. Nothing goes better with a bevvie on a sunny day than a sense of existential dread.
Adelaide boy's The Hard Aches took the stage next, sitting comfortably somewhere in between The Smith Street Band and DZ Deathrays. Vocalist Ben David gave it his all, caterwauling with extreme emotion despite the mercury topping unbearable inside the pavilion. All the sweat seemed to be worth is though as the crowd swelled thanks to a group of overenthusiastic dude bro's in Hawaiian shirts whipping everyone into frenzy.
Next up was local heroes Cub Sport, fresh off the release of their sophomore album. Cub Sport was welcomed to the stage with congratulations on vocalist Tim Nelson and Sam Netterfield's recent engagement. Immediately, the air was thick with rainbow wristbands as the huge crowd threw their arms up for a YES vote. Bolstered by the lovely atmosphere, the band debuted a cleaner, slicker and more mature live set than seen before. Nelson has truly come into his own as a frontman, nailing some sultry dance moves and absolutely destroying every bar of falsetto all while in silver, holographic trousers.
Recent single Chasin' allowed Nelson to show off the new found force in his vocals and a light taste of the band's pivot to a more gospel sound. A surprise came in the form of Cub Sport's flawless cover of Kanye West's Ultralight Beam, a perfect opportunity to showcase multi-instrumentalist Zoe Davis's incendiary guitar skills and how powerful her backing vocals have become.
The audience for Brisso stalwarts Ball Park Music grew to massive proportions as the band stepped on stage. Absent from the scene lately as they prep for their fifth studio album, the band received a hero's welcome from a hometown crowd. The next hour can only be described as pure Brisbane euphoria. A set that spanned from their first album, right up until their latest single Exactly As You Are, held delights for fans old and new.
Classic songs, All I Wanted Was You and It's Nice To Be Alive sent the pavilion into fits of ecstasy as hundreds of fans screamed along to every lyric. Coming Down provided a nice rest for those who had shouted themselves horse as hands swayed and phone lights shined. Ramping it up with closing track Trippin' The Light Fantastic (or as lead singer Sam Cromack put it 'The RACQ Song') had people dancing on tables and hugs as far as the eye could see.
This was my 10th time seeing Ball Park Music and I can say with conviction that while they aren't reinventing the wheel, god damn, they know how to make it spin.
Bellies full of beer and minds full of music, Beer InCider Experience 2017 came to an end. As people shuffled out the gates you could almost hear the proud Queenslander hearts beating in unison.