Live Review: The Jim Mitchells @ The Lansdowne – 22.02.2018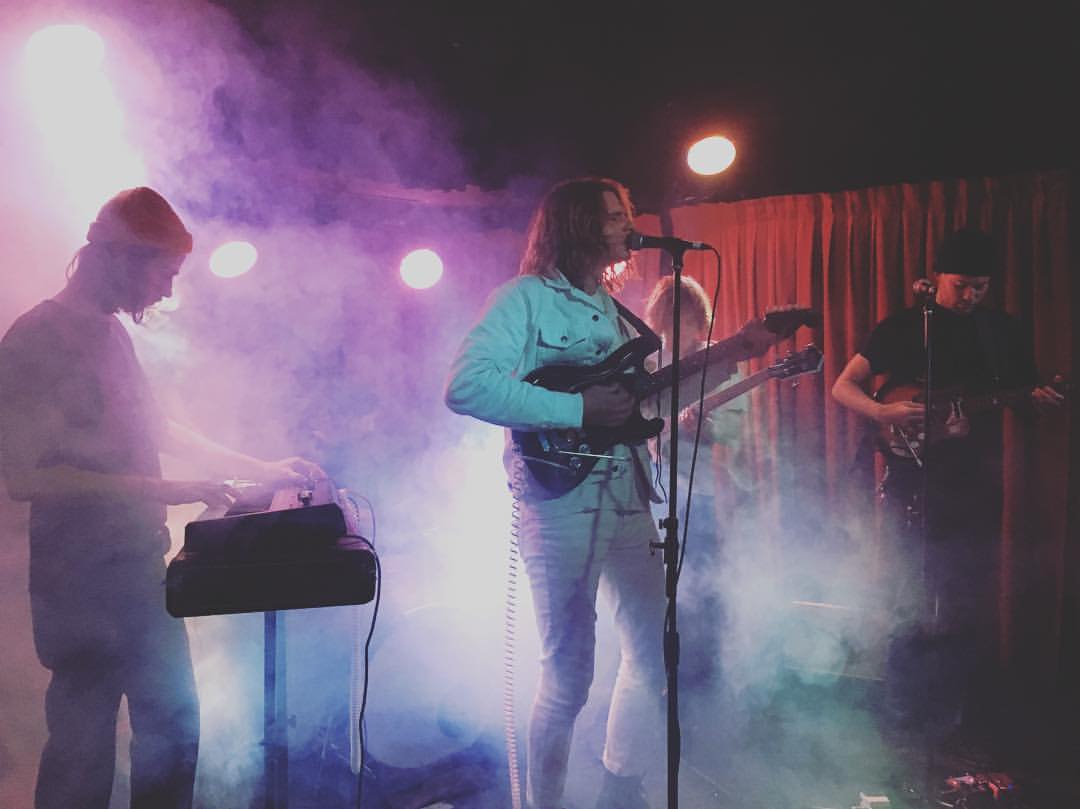 After proving what talent they have through their debut record 'Love Hypnotic', last week The Jim Mitchells took over The Lansdowne Hotel in Sydney to officially launch the album. If you're not familiar with the band, you'll probably want to change that pretty quickly. They deliver a blend of psychedelia teamed with subtle indie, surf rock that is complemented by dreamy vocals and guitars. Combined with a stage almost completely covered in flowers, a packed out room oozing a whole lot of love for the Sydney outfit, you've got yourself a pretty perfect night.
Taking the stage first was Bored Shorts, Tropical Strength and Rosa Maria, who all respectively smashed their sets. With each support band came more and more people, with the room almost completely packed out by the time The Jim Mitchells took the stage.
Setting the mood from the get-go; flowers were draped from the microphone stands, drums, hanging from the ceiling and scattered on just about every inch of the stage floor. Starting off the set with (Let Them All In), there was something so mesmerising about the band, and frontman, Jim Mitchell, in particular, within 20 seconds of them being on stage it was impossible to take your eyes off them. There is a real sincerity in Mitchell's vocals, which are a huge standout feature of the album.
Going on to play Ankle Deep, which is my favourite track off the album, sent a kind of '60s psychedelic vibe throughout the room, with not one person in the room standing still. Going back in time a little, we were treated to a few of their older songs Mind Reader and Planet Absorbed before they jumped straight back into Love Hypnotic material. There wasn't one moment in the set that lacked energy or love, and even during the slower songs of the set, there was still a certain upbeat jangle in the guitars that shone through.
Closing out the set with (…She's Why) and Alone, Stone, the room was left with an electricity in the air and it was obvious how much everyone adored the show. There wasn't anything to fault, and if anything, it made me appreciate the band a whole lot more after seeing the talent they have in a live setting. If you're planning to head along to one of their upcoming shows, then you're definitely in for a treat!
The Jim Mitchells Live Dates
FRI 2 MAR
Byron Bay Brewery, Byron Bay
SAT 3 MAR
The Bearded Lady, Brisbane
SUN 4 MAR
Miami Shark Bar, Gold Coast
FRI 9 MAR
Oddfellow Bar, Fremantle
SUN 11 MAR
Caves House, Yallingup
WED 14 MAR
The Bird, Perth
THURS 15 MAR
The Tote, Collingwood
FRI 16 MAR
The Eastern, Ballarat
SAT 17 MAR
Oh Jean Records, Melbourne
SUN 18 MAR
North Wollongong Hotel, Wollongong