Live Review: Party In The Paddock – Day One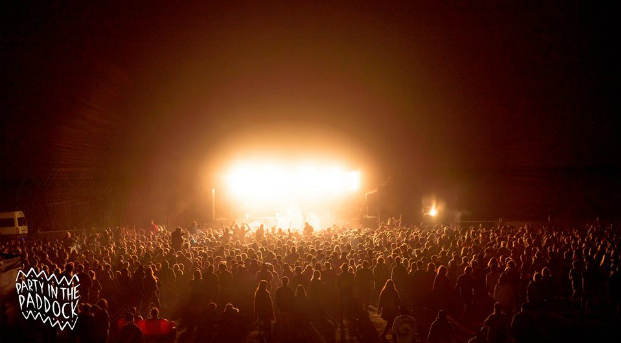 The landscape alone is something to spend your dollars on. Beyond the shabby-chic entryway of stalls and camping grounds lay a breath-taking valley, snaking through the mountains of White Hills, Tasmania. Here hides the main stage of Party In The Paddock (PITP), possibly one of Australia's greatest festivals as of yet and not because of it's size.
Capping at a modest 5,000, the festival embraces and rejoices in its humble beginnings of a few mates drinking beer and listening to some great Aussie bands. Friday morning was a dream. The perfect sunny day with a lineup to make your heart race and a flow of good vibes thanks to Vibestown Productions who are at hand for making this great festival happen.
PITP's Legend Hunt winners, Sumner, was first on the bill and to my surprise this pocket rocket duo delivered an abundance of energy and sass. The dwindling punters of the morning were drawn to the main stage by the powerful beat and eclectic guitar carrying vocalist, Chloe Wilson's captivating melodies.
"It never ceases to amaze me how a simple band of two members can put on such a great show with guitar, drums and vocals."
Building in numbers, the crowd grew as the versatile psych rock reggae outfit Ocean Alley jumped on board the main stage, shortly followed by one of my personal favourites, Hockey Dad. Bringing in well-rejoiced tunes, Girl With Two Hearts and Can't Have Them the loyal fans in the crowd raised their voices to resonate the boys energy on stage. It never ceases to amaze me how a simple band of two members can put on such a great show with guitar, drums and vocals.
The Belligerents, to my surprise, were down a few crowd members unlike their packed out Brisbane shows. Nevertheless, they still put on one of the best sets of the weekend. Frontman Lewis Stephenson pulled out his unforgettable dance moves, reeling in a few more numbers, and as soon as they unleashed their contagious Fat Boy Slim cover the pull of punters was remarkable.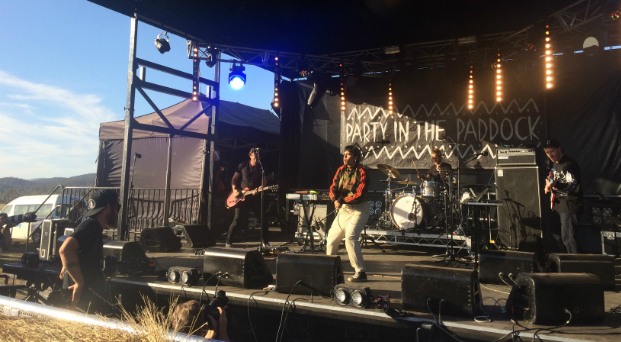 Ecca Vandal is a AAA Backstage favourite, but her set at PITP exceeded my expectations. Armed with her debut EP 'End Of Time' and a whole lot of attitude she shook the paddock, drawing out a raging chorus from the crowd with the leading single. Picking up the pace Vandal owned the stage and too soon her set was over. Lucky for us, PITP was just the opening show for her Australian tour and you can catch her at The Foundry in Brisbane on Thursday 25th February. Check out our interview with Vandal HERE
Next on my hit list to see, the boys from 4122, Brisbane's Violent Soho. The hard-rock kings are loved on an international scale, have delivered many great festival sets and set Oz on fire with their unforgettable hits Covered In Chrome, Saramona Said, and Like Soda. As always the crowd was ravenous with a reckoning drive to mosh. Within the first three songs there were multiple human avalanches in the paddock as Soho put on an addictive set, serving up their latest singles among many fan favourites. Despite their heavier sound, the boys bared their gentle hearts as they encouraged the crowd to care for each other in the mosh.
With Nina Las Vegas pleasing the late night crowd I made my way back to base camp knowing what Saturday had in store for me. Koi Child, Lurch & Chief, Tired Lion, The Bennies, British India… the list goes on. Hold on tight!