MS MR Conquer Like A Version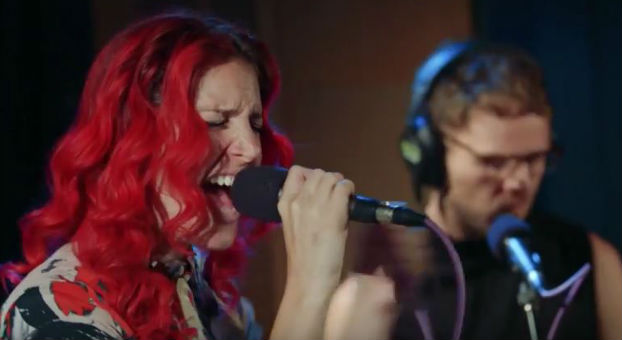 MS MR have proven once again they're pretty freaking dope with this morning's killer Like A Version of Miike Snow's Genghis Khan. After an awesome set at last year's Splendour, the New Yorkian duo are back in Australia for Groovin' the Moo and a bunch of shows around the country. If there's on thing to learn from this cover it's that they never fail to make you boogie.
Admittedly, the line "I get a little bit Genghis Khan/Don't want you to get it on with nobody but me" does send us into a fit of giggles. You can't deny, it's just a little bit silly and incredibly catchy…but still silly. Nevertheless, there's enough emotional sincerity in frontlady Lizzy Plapinger's voice to make up for it. At some points it's actually really emotional, that bridge has all sorts of feelings involved in it.
This song is a bit of a risk, Miike Snow vocalist Andrew Wyatt has a distinguishable voice and without it the tunes can sound pretty blasé. Thankfully, Plapinger also has a very distinct voice and a great range, so it works really well. Not to mention the added male"ooos" backing vocals are swoon worthy.
MS MR are allergic to acoustic music, everything they use is electronic except for Lizzy Plapinger's vocals, she is not a robot as far as we're aware. Anyway, given their aptitude for electronic based instruments it makes sense then that they would pick Miike Snow. With synths galore and some electric drums, MS MR put together a super groovy, sultry, and smooth sound. Not to mention Max Hershenow, the other half of the duo, has some mad skills when it comes to co-ordinated dancing,clapping, and keyboarding. All in all, it's as rad as Plapinger's red hair. Solid work MS MR!
You can catch MS MR at Groovin' the Moo, or any of their upcoming sideshows at one of the dates below.
Read our interview with MS MR frontlady Lizzy Plapinger HERE
Groovin' The Moo
SAT 30 APR
Bendigo's Prince of Wales Showground, Bendigo
SUN 1 MAY
Townsville Cricket Grounds, Townsville
SAT 7 MAY
Hay Park, Bunbury
Get Tickets HERE
Groovin' The Moo Sideshows
FRI 29 APR
Prince Bandroom, Melbourne
TUE 3 MAY
The Triffid, Brisbane
THU 5 MAY
Rosemount Hotel, Perth
Get Tickets HERE