Polish Club "Beat Up" Eggs & Each Other In New Music Video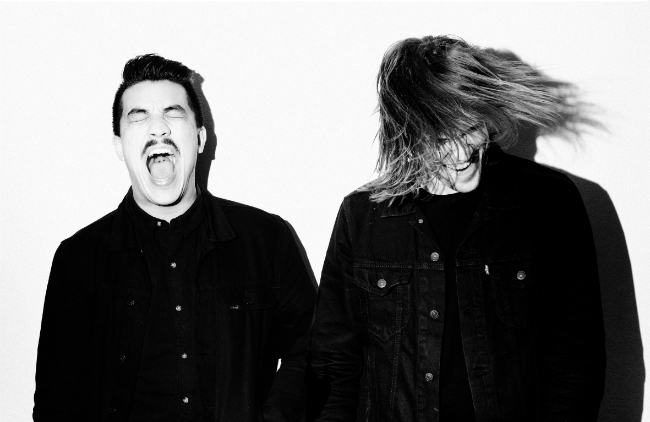 Off the back of a massive tour with Melbourne's Northeast Party House, soul-rock duo Polish Club's music video for Beat Up ***. Beat Up is a continuation of the duo's sound, and is sure to give fans a look into their debut album, which is expected to drop next year.

The Sydney lads bring their signature dirty-blues riffs along with thumping drum lines to Beat Up, topped with Novak's soulful vocal delivery. Novak's Joe Cocker-esque vocals are enough to take you back in time before being hit with their simple, yet refined rock sound.
The black and white music video sees the band bring out their trusty green-screen and run an absolute muck, even resorting to Novak being stomped into the ground by a shoe. The clear juxtaposition of violence and egg-beating videos shows Polish Club's fun and relaxed side, reaffirming they don't take their artistry too seriously.
Cutting between the duo playing their song and glitchy cutaways, Polish Club's latest video is a short and sweet accompaniment to a great composition of overdriven vocals and distorted drums. Continuing with their black and white theme scene in their previous videos for Able and Beeping, Polish Club's simple aesthetic brings to mind their influences of 60s Motown and rock. Either way you look at it, it's a winning…pairing!
Be sure to check out the video, along with their upcoming tour dates below!
Polish Club 'Beat Up' Tour
SUN 20 NOV
Long Jetty Street Festival, Long Jetty
FRI 25 NOV
Black Bear Lodge, Brisbane
SAT 26 NOV
The Northern, Byron Bay
SAT 3 DEC
Jack Rabbit Slims, Perth
SAT 10 DEC
Rad, Wollongong
THU 15 DEC
Karova Lounge, Ballarat
FRI 16 DEC
Northcote Social Club, Melbourne
SAT 17 Dec
Newtown Social Club, Sydney
Get Tickets HERE