Premiere: LAURA MAC Take You To The Dancefloor With Their New Single, 'Don't Know What I'm Thinking'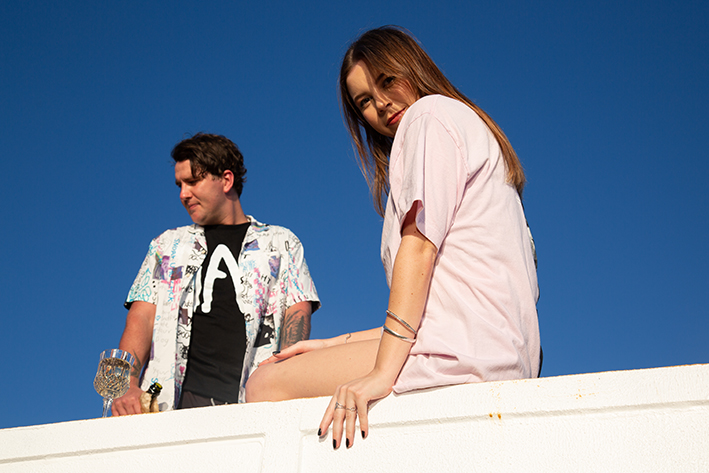 Queensland duo, LAURA MAC will this week unveil their brand new indie-pop gem Don't Know What I'm Thinking and today AAA Backstage has the joy of bringing you the very first spin of the upbeat number.
Don't Know What I'm Thinking brings on the feels of a classic indie jam from the mid naughties. Quick-paced guitar work, toe-tapping drum tones and a festival sing-a-long vibe it's a dance floor hit. Highlighting their knack for creative diverse tunes, LAURA MAC have really nailed their sound on this one.
Party, disco, dance – we're just having fun with it! All our songs have a different vibe but I feel like we've kept our own unique sound. DKWIT is staying up all night partying and loving every second of it. Celebrate every chance you get, party with your mates and dance 'til you  drop… High 5!!" –  Laura Maclachlan, LAURA MAC
RELATED: YAAK Teams Up With Mizuki For The Dream Single, 'Breathe'
The track came to Laura in quick succession, once the fundamentals were laid down, she knew they were onto something big!
"The original idea for this song was one minute of music sent to us by a good friend of ours. I heard it once and immediately knew what the hook/chorus was going to be. Couple of hours later Zac had arranged a whole song. Couple of drinks later we'd written and recorded all of the vocals. It just poured out of us.. it didn't take long at all. It's true that writing about what you know is the easiest thing to do and it's worked a charm for us so far." Laura Maclachlan, LAURA MAC. 
Don't Know What I'm Thinking is an upbeat vibe you'll want in your fun time playlists, it's available this Thursday but you can listen exclusively right here today!