PREMIERE: Wannabe Disciple Tries To Make Friends In Sacred Shrines' New Video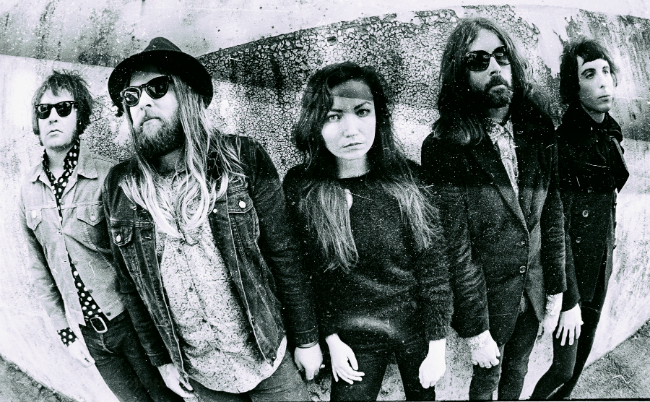 Australia has one of the most culturally diverse populations on earth, and with that brings a variety of religions and faiths. Following in the footsteps of the Sunshine Coast's Pop Cult, Brisbane psychedelic garage rockers Sacred Shrines in their latest music video have founded their very own religion, but attracting followers seems to be harder than first thought.
The music video for their debut album's rockin' title-track Come Down From The Mountain follows a dedicated disciple of an unknown religion as he works through his daily routine of spruiking his faith to the Brisbane public. We watch as the man of faith wakes up, chooses his favourite robe, prepares his placard, preaches to the masses in King George Square, and awkwardly tries to convert shoppers in Queen Street Mall.
Once he fails to attract any new followers he ponders his faith while swigging on a bottle, which seems to give him the mental strength to initiate a hardcore ritual which involves pouring A LOT of wine and seemingly sacrificing his own book of God to the ritual's flames. The video finishes with the disciple holding his burning placard in the dark alone, but still not willing to give up on his cause.
Filmed completely using smartphones, the band's frontman Phil Usher explains the video is based on hypocrisy…no more clearly portrayed by the character's blank placard.
"The song is primarily about hypocrisy and I wrote the lyrics after an argument that left me feeling judged and really let down by someone who should know better. We came up with a story about a guy who decides to start his own cult and what that would look like in the 21st Century.
"Our artist/writer friend David Stavanger plays the main character and as soon as we'd settled on a concept, we knew he was the right person for the job," says Usher.
For a band that only started playing live just over twelve months ago, Sacred Shrines have been making steady waves in both the local and national scene. They've so far supported none other than The Dandy Warhols, as well as The Upside Down, The Demon Parade, Flyying Colours, Tumbleweed, The Murlocs, and Dreamtime just to name a few!
Their debut album 'Come Down From The Mountain', released back in August, was recorded over the last year and produced by the band themselves before enlisting the help of Brett Orrison (The Black Angels), Liam Judson (Cloud Control, The Laurels), Dan James (Drawn From Bees), and Donovan Miller who all had a hand in mixing various tracks.
The result has seen Sacred Shrines deliver a rock sound that's a throwback to ol' skool psychedelia with sprinkles of 90's alt-rock and pop-rock. Let's just say it's no surprise The Dandy Warhols took a shining to the Brisbane 5-piece!
Sacred Shrines will officially launch their debut album 'Come Down From The Mountain' in the middle of December, so you've got a few weeks to get acquainted with its riffs and lyrics before catching this promising quintet live!
Read our album review of 'Come Down From The Mountain' HERE
Sacred Shrines Live Dates
SAT 26 NOV
Pop Crimes Festival, Billinudgel Hotel NSW
FRI 16 DEC
Woolly Mammoth, Brisbane (Album Launch)