PREMIERE: Wren Klauf Mix Beautiful Cocktail Of Sound In "Spellbound"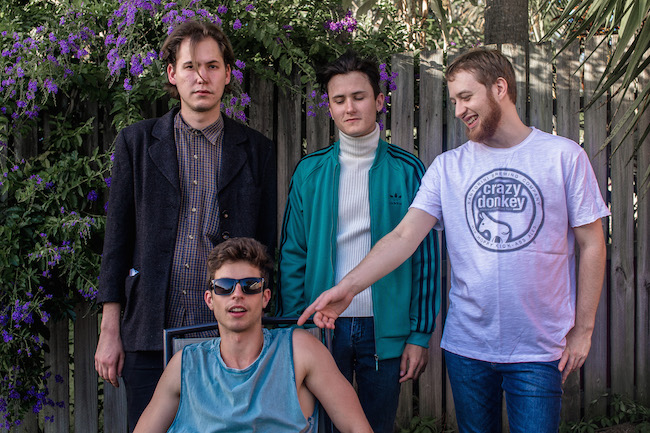 Wren Klauf is everything you could want in a pop-rock outfit, because…well frankly, they're a bit of everything! These guys have picked up their instruments to see what they can possibly do with them, and the resulting chaos is their bread and butter. This is never more noticeable than in their latest track Spellbound, which some GD FRNDS of ours have given AAA a sneak peak at…
The new single ticks all the pop boxes. Mad riff game? Check. Vocal harmonies? Check. Pumping rhythm section? Check. But then you have the collection of everything else, such as jumping between a handful of riffs, straight up genre-shifts and vocal effects that never quite let you get your head around where a sound is coming from. If you could mince Andy Warhol and Salvador Dale into a sound, this is definitely what you'd be left with. Well this, and a fine paste of human remains replete with funky moustache…
The track is full of pseudo-psychedelic sounds that have been produced through the filter of ol' skool rock. In the intro the guitar never rests, bouncing from riff to riff, pairing well with a constant rhythm section. Frontman Sam Faulkner's vocals then cut through with an under-produced, echoey sound, to create an interesting effect with the thick sound.
The pervasive guitar effects, organ, vocal harmonies, and eccentric pop elements can illicit a feeling of TISM, at least in sound, if not content. As the track progresses, this shifts, thanks to a swirling guitar effect, to a broken down 90's guitar pop sound. You're never left without a surprise, and even after a number of playthroughs, you'll still discover a hidden riff or backing vocal that you hadn't caught before in the thick layering and carnival of sound.
Audiences may know Wren Klauf from their previous release New Western, which, while still being an eclectic sound, lacked the final popping production that this newer track sports. Along with the new track, the Burleigh Heads quartet have announced a mini tour! Hitting two nights at the Gold Coast and one at Byron Bay, these live dates are sure to be a mind-blowing experience for coastal pop-rock fans. Check out Spellbound below, and scope some live dates to get your dance on!
Wren Klauf Spellbound Single Tour
FRI 25 NOV
Currumbin Creek Tavern, Gold Coast
SAT 26 NOV
The Northern, Byron Bay (w/ Polish Club)
SAT 10 DEC
GD FRNDS Showcase @ Miami Shark Bar, Gold Coast