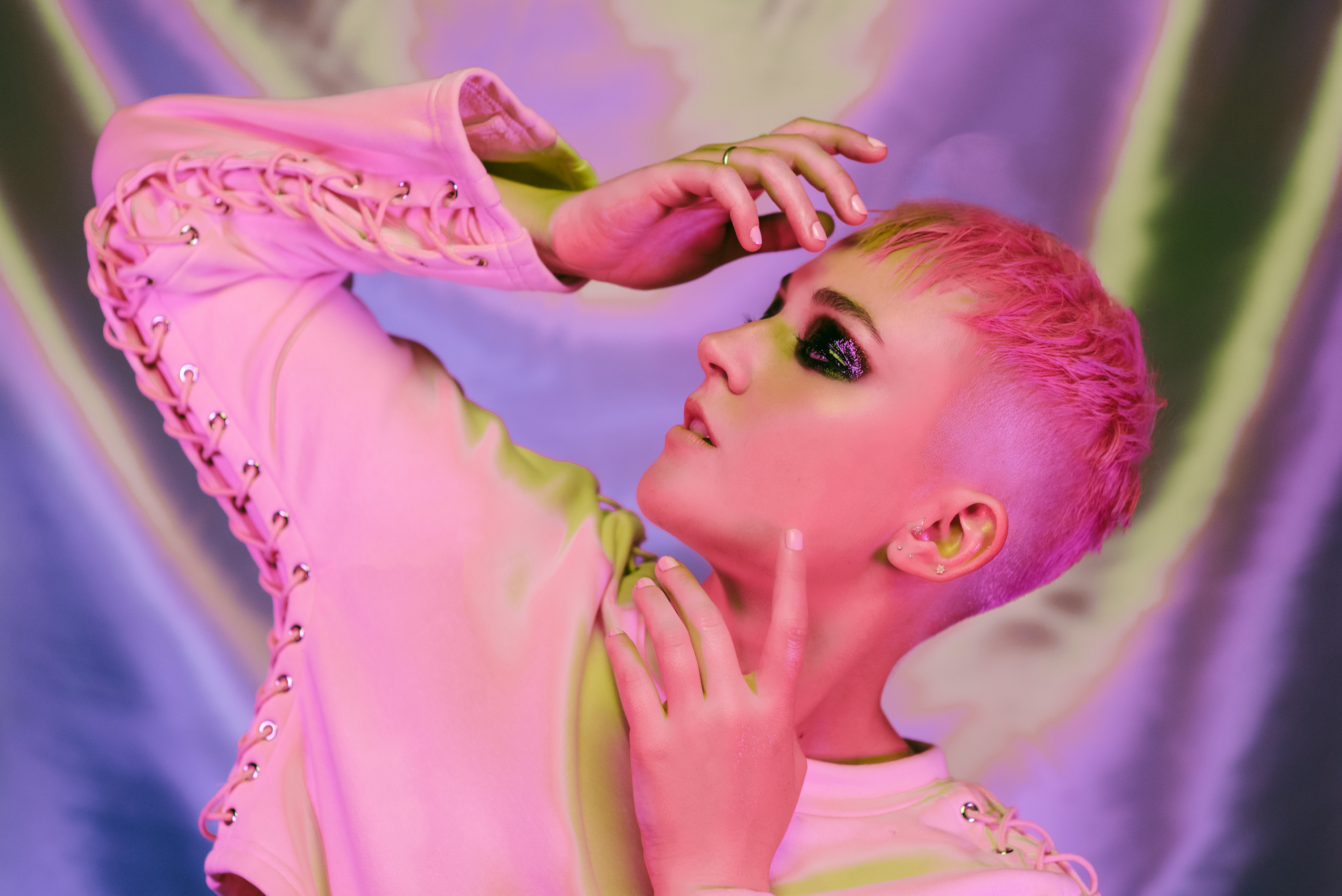 With a debut single as commanding as Autumn / Winter, we just had to get to know Atalein. The solo Melbourne producer and songwriter crafts perplexingly dark and agitated electronics that burrowed in pop aesthetics. Her work is a confliction of the light and dark tones of industrial electronica. We spoke to the rising artist about rebirth, first single nerves and the importance of audio-visual.
How does it feel finally releasing your debut single?
Nervous! I've put a lot of work into it and it's also the first release I've done solo, so that's scary!! I feel it's a lot more 'all on my shoulders' compared to doing things with a band and manager. I know I put a lot of pressure on myself. It can be hard to step back and be like, "Okay… that's enough. It's ready!"
Renewal and rebirth are two ideas explored in the film clip. What do you hope the audience takes away from the experience?
One thing I'd like people to take away is to have confidence in themselves. I think we're always working on ourselves and discovering who we are but as long as we are confident with our own identity and the decisions that we make and no dependant on approval by others, then that is what's really important.
What have you discovered about yourself through writing, recording and releasing this track?
I guess, for me, it'd be that I can make people proud and happy, even when I'm being my true self. Rather than what I thought people would expect me to do or be like. I grew up in a really strict Catholic family household and my relationship with my parents wasn't always good. After leaving home, my relationship with my mother became really close and I speak to her on the phone about 3+ times a day… I've always been scared that if she ever saw my music video or came to a gig or heard my music that she wouldn't be proud, but she was. She kept texting me all day about how proud she was and all the people she's shown and how she can share it on Facebook. That was all a big thing for me. Also, just figuring out that I do have a strong sense of style and sound when it comes to my music. When I was in a band, I felt a little bit lost. I was still so new to writing that I didn't really know what I was doing or how to get things to sound the way I wanted. Now I know what I want and when I'm working with someone like Becki [Whitton, co-producer and mixer] who helped write the track I can articulate that and make it my own.
How important was it to pair the audio and visual for this track into one collective experience?
Really important! Originally I was going to release it as part of a four-track EP with four videos for each song, but with going away I ran out of time. Who knows, maybe there will still be a link with the videos? I think my music is pretty visual so I wanted to add that element to the song when I released it.
What are some other industrial-electronic artists who inspire your sound?
Oooooo um I'll tell you what I'm listening to write now on Spotify… Daphni, Pional, Weval, Kiasmos, Romare. I wouldn't classify them all as industrial but they're some of what inspires me. When it came to writing Autumn / Winter, I was pretty inspired by this artist called Forss. I just really liked the monk-like vocals. I thought they were really pretty. I was also listening to a fair bit of Shlohmo at the time.
Do you often search for the beauty in more dark or harsh music?
I think I do… I'm not too sure why. I just like darker textures and sound. I'm a much lighter person in real life but they're just sounds I'm really drawn to. I've always had a stronger love for harmonic minors from my classical piano days and just seem to stick with it. There are hints of happy, lighter sounds in my unreleased stuff. You'll just have to wait and hear it.
Berlin is on the cards to get some writing done. Why Berlin? Does the city inspire your avenue of sound? 
I went there about a year ago. I just love how excepting everyone is there. It's so full of culture and it's just bursting with art. It's a bit like Melbourne but on steroids. I just think it's a really beautiful place and I've been to a few countries and cities now and it's probably the most that felt like home. I just felt like I belonged there so I want to explore that!