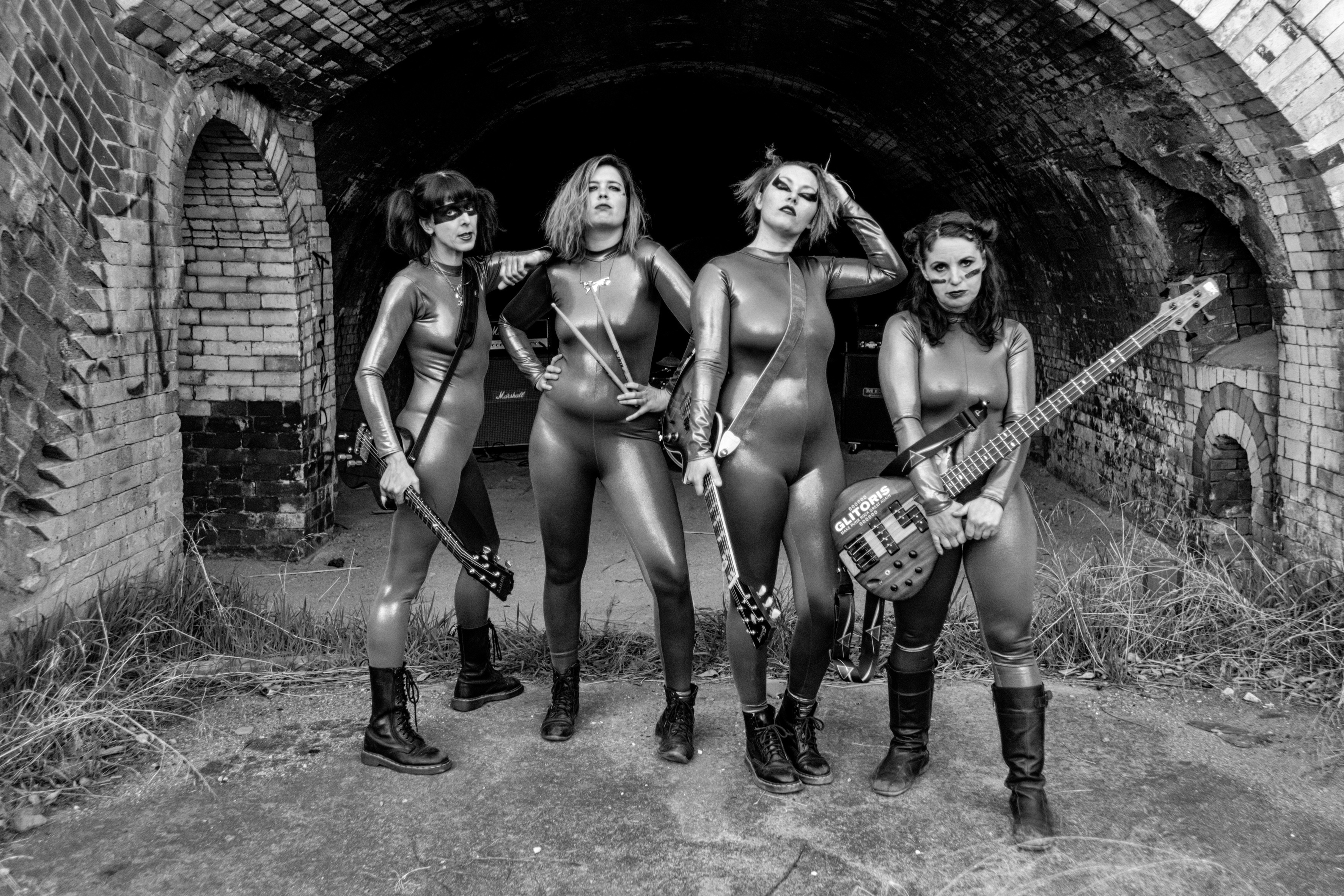 Glitoris are unrelenting. 'The Policy', the group's feverous new album, has landed today and it spares no punches. It's brutal—punching you in the face and stealing your wallet. More importantly, it's a vital album in this crumbling year 2018. We had to chat to the four-piece about the current musical climate, music as a tool to empower and musical theatre.
Protest songs have been making their way back into the music climate. Why do you think that?
The world is not in good shape environmentally, politically, economically, culturally… We're in crisis and you can always rely on musicians and artists to relay the sound of those crises through art.
Do you hope your music incites change? If so, what exactly?
Yes, of course. For two reasons: firstly, to show marginalized people that there's someone listening, who gets it and will stand up and fight the fight; and, secondly, to educate those who can't relate to what it's like to be or feel marginalized in a society. Let's be honest, the Australian Government only cares about wealthy, white middle class men.
What messages from the album do you hopes stays true?
All of it. 'The Policy' is multi-layered but, ultimately, the core message is: we want equality and it's long overdue.
Do you think music is still a powerful tool to empower people?
Definitely. We as a band know it is because we feel the crowd's energy at and after our shows. We also get messages from The Gliterati saying how empowered the music makes them feel. That means everything to us. That's the only reason we're doing this.
RELATED: Stream The Policy—Glitoris' punchy, leading single from the album HERE.
The album touches on a lot of issues. What's the main goal you want people to retain from listening?
First and foremost, the songs and our musicianship and lyrics. So much went into this album—the writing, recording and production took a long time because we wanted to get it right. We recorded 20 songs of which 13 made it onto the final version. We want people to retain the music, the messages, the fact that we're committed to fighting for equality and that we're fearless about how we go about doing that.
Slut Power is easily the best song on the album. Why choose to end on that track?
What track could follow it? Slut Power is focused on showing up the disgusting ways women are treated and framed and spoken about in society. It is the sound of female existential crisis. Each verse deals with a different issue—workplace bullying, body image/shaming and violence—all of which can be horrific and destructive and even fatal in the extreme. Sadly, all these things are just part of what it is to be female and that is unacceptable. It's no secret that it came from a dark place during a dark time. On another level, it is simultaneously a reclamation of 'slut' and slut shaming. So by design it's a big statement and it made perfect sense to end the record with that statement. At shows, we usually finish with Slut Power and stand with raised fists, so we wanted to replicate that on the record: this is what we're most fucked off about and, of all the messages on the record, this is what we want to leave you thinking about.
I feel like Glitoris could score a musical theatre or orchestral rock play. Thoughts?
Are you bugging our rehearsals or something?! We are all huge fans of musical theatre and orchestral music and we often do vocal warm ups with songs from Grease, Charlie and the Chocolate Factory, Annie, Les Mis etc Tim Wickham and Alex Voorhoeve of the Canberra Symphony Orchestra played on 'The Policy' single and it was such good fun—we all realised the potential future possibilities. It's something we've thought about a lot so… watch this space!
Glitoris heads out on a national tour this November and December. Scope the details and stream the album below.