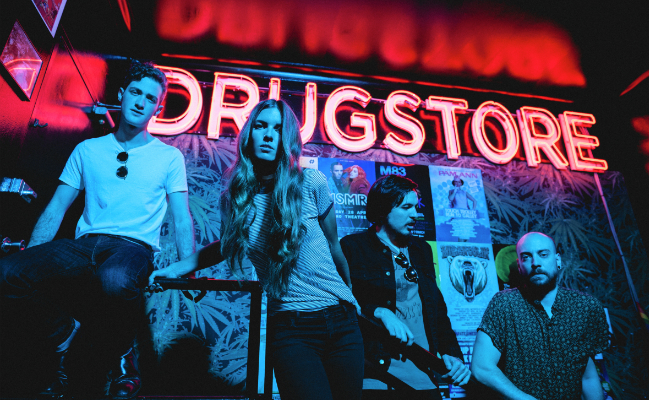 Sydney indie-folk darlings Hot Spoke have been one of our favourite finds over the past few months, and their psych-cow music video for Outlines has once again planted plenty of smiles on our faces! We got to know the quartet a little better before catching them at BIGSOUND 2016!
Hot Spoke recently released Outlines, could you explain to us the creative process you guys went through in achieving the final sound?
We recorded Outlines with Melbourne producer Stephen Schram (San Cisco, Paul Kelly etc). Steve has a real live approach to recording, which we loved. He really pushed us to give a great performance so he could capture the essence of what we are as a band. The whole recording process with Steve had such a great encouraging, joyful energy to it so I think that really contributed to the relaxed sound that we achieved in the end.
During that time which artists and songs did you draw particular inspiration from in achieving Outlines?
We all have different favorites we were probably listening to and drawing from at the time but collectively we were all vibing on The War On Drugs, Jesus Mary Chain, and The Smiths.
The video you guys shot for the song was certainly interesting, was there any particular moment throughout the day which stands out in your mind during the filming?
We were so lucky to be able to film in such an amazing location. Jim and Jan who own and run the farm were so accommodating with us setting up and making an absolute racket and scaring their beautiful cows for the day! We were all quite surprised to learn that cows love citrus, particularly mandarins. The girls really went wild over a couple of mandies…peel and all.
Can we expect a similar sound throughout your EP 'Calm Down,' or have you decided to experiment throughout the EP?
We definitely have achieved an overall sound as a band on this EP that we're so proud of! There are a few slight differences from track to track though for sure.
Can fans expect to hear the new EP at BIGSOUND in Brisbane or will fans have to wait?
Our EP will hopefully be coming out after our BIGSOUND performance along with our second single.
With an EP coming and recently being signed by Mercury Records I'm assuming you guys are on quite a high, what are some of the plans for the future?
We are absolutely thrilled to have such an amazing team around us. We've been plugging away as a band now for about seven years so it really is such an incredible feeling to finally start to feel like the wheels are in motion. After we release the EP we're hoping to do a bit of touring and then we will probably be heading back into the studio to start EP number two.
If you guys could choose any one gig or festival you would want to play at, which would you choose?
We would love to play Splendour one day of course (what band wouldn't?!). We're pretty beside ourselves with excitement that we got a spot at BIGSOUND this year though! That was definitely a goal we were all hoping to tick off the list, so we're super excited to play there.
Finally, how did you guys choose the name 'Hot Spoke?'
We really struggled to come up with a name that we all liked collectively that represented us as a band. After many squabbles we threw the challenge out to all our friends and family to help us and a friend came back at us with 'Hot Spoke'. I liked it because it made me think of cowboy boots with spokes on them.
Hot Spoke at BIGSOUND 2016
WED 7 SEP
10.50PM – 11.20PM Black Bear Lodge, Brisbane