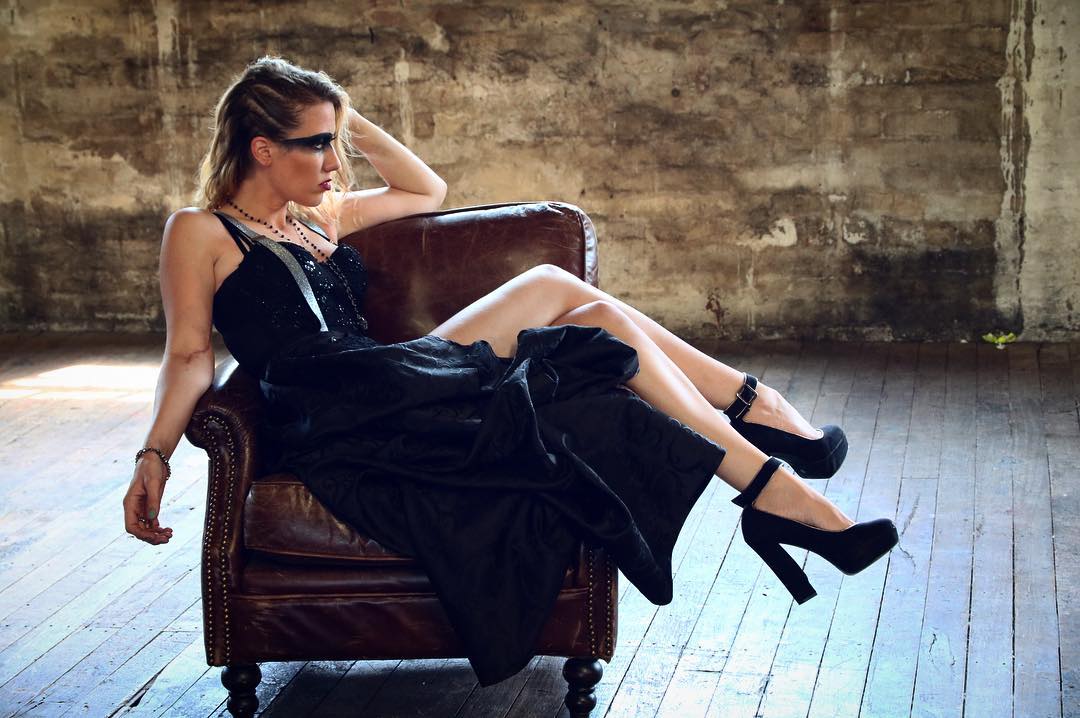 Sarah Maxwell is an inspiring, forward-thinking conceptual artist who's latest track, Flawed, is an anthem to owning your imperfections. It's hard-hitting, forceful approach to song writing which is both motivational and ass-kicking all at once. We got to know Maxwell a little more over email—asking her about the inspiration of Flawed, if she's a perfectionist and what motivates her.
Flawed deals with imperfections. Is this coming from a personal battle and was it tough contextualising that into a song?
Flawed was one of the easiest songs I've written because I knew the subject inside-and-out. I'm flawed, just as we all are and yet we are still force fed an unobtainable goal of 'perfection' on a daily basis everywhere we look. Further more, with all the information we have access to online now, most savvy people understand that we are all looking at the 'photoshopped' version of celebrities and influencers and yet the desire to obtain the unobtainable still prevails. It's as though the magician's trick has been revealed and yet we are all still watching. A little less enamoured, but still watching and emulating nonetheless.
How does it feel to know you could be inspiring a lot of people with this song?
That's what it's all about, isn't it? The reason I write music is to ask the questions that haven't been asked and to inspire people to do the only thing they are here to do… to become the most optimised and fulfilled version of themselves.
I was very eager to write Flawed as I knew it touched onto a current issue a lot of us are dealing with since the introduction of social media. Perfectionism. The silent killer who's demands will never be met. I wanted an anthem to help those who are having a hard time loving themselves when they fall off their path. An anthem for those who are sick of seeing highlight reels and perfection in every photo they see online.
Sonically, the track is a wild mix of inspirations. What brought you to the sound we hear on Flawed?
Flawed started as a glitchy beat with a big fat bottom, inspired by a couple of bottles of prosecco and a few bowls of chips on a warm summer night. As the vocal rhythms and rhymes started to develop after we got into the studio together, the layers built up to what it is today. We love producing electronic sounding beats with a heavy rock influence, in fact, we can't help it. Distorted electric guitar plays a major part in Flawed, and it supports the powerful vocals that soar over the chorus.
Forces & Fury produced the track. How was it collaborating with them?
Working with Astrid and Kat is always a blast. From the first time I met them, I knew we were all very similar. We all noted the change in the industry when it became less about record labels and more about what audience you can build yourself and without question, we put in the insane amount of hours that goes into driving your own music career on the side of a full time job.
They are both extremely talented and I loved working with two kick ass chicks who slay the drums and electric guitar better than most artists touring the world. As producers, they are very technical and I love how much time they will take on each sound, making it uniquely their own. They have a deep love and passion for music and that is clear at every stage. There are no corners cut, they are the first ones in and the last ones to leave with every artist they work with.
What do you turn to for motivation?
I have found a hell of a lot of motivation and tips to optimise my mental health through podcasts, actually. I wasn't ever a fan of listening to people speak when I had music as an option but once I found the right mentors, I was hooked. Being allowed that insight into someone's mind who has battled through something similar to you and overcome it is a wonderful way to remember that you are not alone in any struggle and that there are always many ways to keep on moving forward.I hope that my will music have a similar effect on people.
Physical fitness is the other one. If I am ever creatively blocked, I will go and do something that pushes me physically and gets me out of my head. There's no time to sweat the small stuff or overthink a line in a chorus when you are holding on to a rock climbing wall, twenty metres off the ground, trying not to fall.
Are you a perfectionist?
Oh, yes. I've fallen into the same trap as everyone else which is why I had to get this song out. I knew I couldn't be the only one seeing all these images of my friends and family and celebrities and influencers and then finding myself depressed for the next couple of hours. I can't tell you how many dollars and hours I have spent on photoshoots, music videos and creative projects over the years that I have never even released due to self judgement and the fear that it isn't up to par. What is par though? What is perfect? Who is the one telling me it isn't perfect? Well unfortunately it is me, recycling negative messaging like we all do.
I think the win is when you start to realise you have been chasing perfection and you make a conscious effort to shift that trajectory. The quest for perfection is like committing to a lifelong project that you know will never be finished. Ever.
My hope is that Flawed will remind people how beautiful our imperfections are and to own the skin they are in.