Q & A: The Tipsy Scholars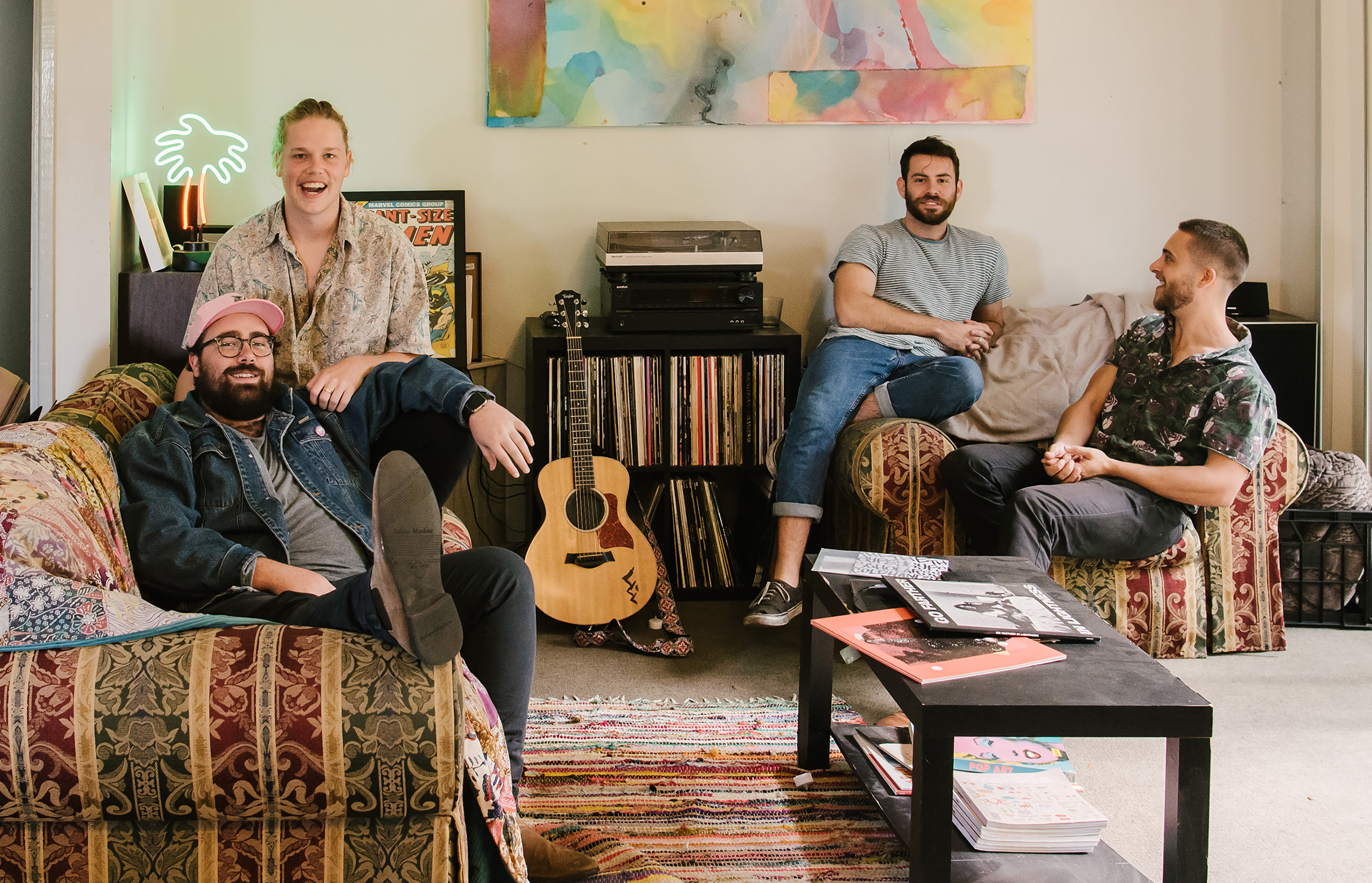 Slaying it both abroad and at home, The Tipsy Scholars are an intriguing and, best of all, fun folk-rock act. Recently dropping their new EP, 'Nowhere To Be'—which premiered on AAA Backstage—the group are also undertaking a seriously huge tour run in the UK and here in Australia. We got in touch with the group to understand some key moments from the EP, if The Tipsy Scholars are more of a live band and saying, "fuck you," to anxiety.
The UK seems to have really cottoned onto the band. Why is that?
I think the combination between getting onto a few Spotify playlists, our single, Cold Hands, being played on radio stations throughout the UK and an outrageous amount of emails has allowed for us to get a foot in the door overseas. We've always been told by friends, fans and music industry people that our brand of folk would be received really well in the UK and Ireland so when it came to booking the tour, I thought there was no harm in seeing who was interested.
I knew which radio stations had added our music to their playlists and with Spotify I could also see what cities/countries had the most listeners; it was then a matter of contacting venues and promoters in those hot spots. It took a lot of persevering, but we managed to get quite a few dates locked in and it has been a very encouraging experience having people from the other side of the world expressing a desire to work with you.
How is it touring the UK compared to Australia?
We start the UK/Ireland part of the tour in the middle of August which will be our first time overseas. We have 8 shows over about 4-5 weeks and literally couldn't be any more excited. I think a major difference for us will be the fact that on our Australian tours, we're often driving long hours to Melbourne, Brisbane, etc. but in the UK, 8 hours in the car will take us through different countries! Really looking forward to experiences the different art and culture in the cities we are playing in.
Say you're playing to a room where majority of punters don't know your music. How do you win them over?
We've been in this position quite a few times over the years and we find that if we're enjoying ourselves on stage, people are enjoying themselves in the audience. It's pretty damn easy to have a ripper time when you're playing music with 3 of your best mates and we try to project this energy out into the crowd. Our type of music is inclusive in the way that it's not like we're playing at the audience, we're performing with the audience and there's lot of ways the crowd can participate and contribute throughout the set. I also think having two front men like Conagh and James, who are personable and also sing in manner where the lyrics are easily understood, help to engage punters from the first tune.
Is The Tipsy Scholars a live band or a studio band?
100% a live band. Our main challenge with the EP—and recording in general—was translating the vibrant and dynamic sound that we have with the live show, onto a record. Performing live is essentially why we do what we do, there is nothing that compares to playing on stage to an excited crowd. We definitely love spending time in the studio, it's always a great growing experience for us, but I would say we are a live band for sure!
Were these songs heavily road tested before laying them down in the studio?
We always play songs live for our fans before we decide to record and release them. The EP is made up of tracks that we know audience reacted to in a positive way, as well as being tunes that we like ourselves. It's important to gauge how a song works in a live setting in terms of structure and arrangement of the tune as well. Sometimes we've been really set on playing a song in a certain way, but then after playing it live found that different elements needed to be changed or adjusted. That way, by the time we hit the studio, we know exactly how we want the song to sound and how we want to record it. 
Modern Anxiety really got to me. Is this something that plagues the band?
Yeah, Modern Anxiety is a hard one to play at any show because it comes from such a vulnerable place. I wrote the song after I had a panic attack on stage at our first sold-out show at Brighton Up in Sydney. The room was so packed, and I'd been unnecessarily stressing myself out that day and frequently checking my phone / being way too active on social media. But the story has a sense of hope in it. After I fainted on stage, I took one song off and came rushing back on so as not to miss the opportunity to share a great show with my best mates.
Interestingly we've found people quite enjoy singing, "fuck this modern anxiety," at the top of their lungs because… well I think it's something a lot of people can relate too.
But does it plague the band? No. We're very supportive of each other's needs or concerns and whenever I sing this song, I look over at Conagh (who the second verse is written about), and know that we're all in this crazy world together and what a great thing that is.
Calculated Note ended up being one of those tracks that snuck up on me and ended up being the favourite. Tell me about that one.
Yeah it's a slow burner old Calculated Note. Glad you liked it. To give some context, I'm a bit of a sucker for a long-distance relationship. The song talks about all the quirks and benefits of seeing someone in a different city or country and follows quite a concise narrative. The song is a reply to a letter I received. When I first opened the 'calculated note' I thought about how great it was that I'd received mail that wasn't my taxes or water bill. I decided to write a song in reply to the letter. What I came out with ended up becoming one of the best songs I've ever written, I think that's mainly because it came again from such an honest place.
The Tipsy Scholars Live Dates
SAT 16 JUNE
Festival Allsorts, Canberra
FRI 29 JUNE
Moonshine, Sydney
SAT 7 JULY
Bar 33, Melbourne
FRI 20 JULY
BMEC, Bathurst
THURS 26 JULY
UniBar, Wollongong
SAT 28 JULY
Polish Club, Canberra
THURS 2 AUG
Hamilton Station, Newcastle
FRI 3 AUG
The Brewery, Byron Bay
SAT 5 AUG
The Milk Factory, Brisbane
THURS 9 AUG
The Lansdowne, Sydney
FRI 10 AUG
The Lass O'Gowrie, Newcastle