RedHook Confront Sexual Assault on New Single 'Jabberwocky'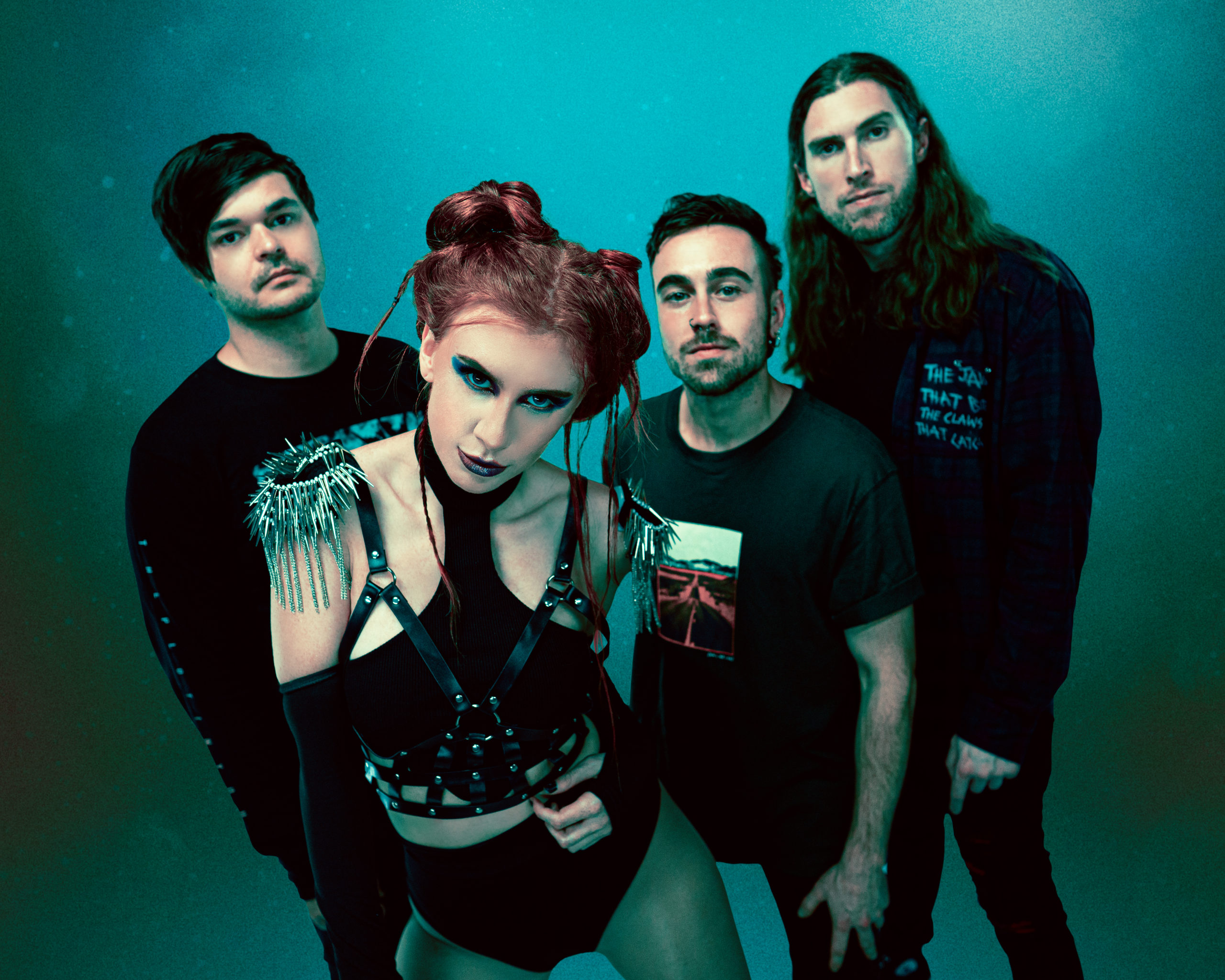 Sydney alt-rock quartet RedHook are well and truly a household name in the local heavy scene by now. After charging into the spotlight four years ago with their unique take on 2000s emo, the band have since released their debut EP Bad Decisions in 2021 and a wealth of popular singles while touring the country. The latest offering, 'Jabberwocky', released 20 May, is an unflinching confrontation against sexual harassment in the music industry.
Produced by Stevie Knight (Stand Atlantic, Yours Truly) and mixed by James Paul Wisner (Paramore, Underoath), frenetic synths and menacing guitars surge underneath powerful vocals. Contemporary hip hop programming decorates the track with a dubstep-inspired breakdown, contrasted by the vulnerable lyrics of the infectious chorus to see it out. It features the band's signature upbeat performance in a more earnest approach without losing the inclination to mosh along.
RELATED: The Spkezy Starter Pack: 5 Records That Influenced Their Sound
'Jabberwocky' is a distressing but triumphant story of frontwoman Emmy Mack's sexual assault while on tour overseas, and a testament to her resilience in dark times. The metaphor of a fictional monster from Alice in Wonderland, which she is able to vanquish by convincing herself it does not exist, conveys the all-too-familiar denial of Mack's personal trauma. This predatory behaviour has been called out in songs by other artists – such as 'Vampyr' by Void of Vision and 'Carbonized' by Northlane – but the topic is not often addressed from a female's perspective.
"As difficult as this song was to write, I felt like it was something I had to do," Mack explains. "One of the main ways I cope when horrible things happen in life is by listening to music. But when this happened to me, for the very first time, I couldn't find a song that resonated with what I was going through. Isn't it strange that we've heard so many stories about high-profile male predators in the heavy music space over the past few years, and yet there are so few songs in the genre that deal with sexual assault itself from a female perspective? I really wanted to help change that."
RedHook have been on the grind since the return of live music, with debuts at Australian festivals UNIFY Gathering and Groovin' the Moo, as well as their biggest national headline tour to date with The Dead Love. The band will be embarking on their second Europe tour in June, including their debut appearance at Rock AM Ring/Rock im Park, as well as multiple dates supporting The Faim in the UK. As if this wasn't enough, they will then head on a 28-date regional tour of Australia supporting In Hearts Wake and appear at Sydney all ages festival Shoreshocked in August. Get tickets now before they sell out, because you know damn well that they will!
REDHOOK
FESTIVAL DATES
FRI 3 JUN | ROCK IM PARK, NURENBURG, DEU
SUN 5 JUN | ROCK AM RING, NURBURGRING, DEU
SAT 6 AUG | SHORESHOCKED FESTIVAL, SYDNEY NSW
SUPPORTING THE FAIM
TUE 7 JUN | LE TRABENDO, PARIS FRA
FRI 10 JUN | SIN CITY, SWANSEA UK
SUN 12 JUN | STEREO, GLASGOW UK
TUE 14 JUN | REDS BAR, NEWCASTLE UK
WED 15 JUN | OMEARA, LONDON UK
THU 16 JUN | ENGINE ROOMS, SOUTHAMPTON UK
SUPPORTING IN HEARTS WAKE
THU 18 AUG | PRINCE OF WALES HOTEL, PINJARUP/BUNBURY WA
FRI 19 AUG | MAGNET HOUSE, BOORLOO/PERTH WA
SAT 20 AUG | FREO.SOCIAL, BOORLOO/FREMANTLE WA
SUN 21 AUG | INDIAN OCEAN HOTEL, BOORLOO/SCARBOROUGH WA
SAT 27 AUG | THE LANDMARK, GARRAMILLA/DARWIN NT
WED 31 AUG | HARVEY ROAD TAVERN, GURENG/GLADSTONE QLD
THU 1 SEP | SEABREEZE HOTEL, YUWI/MACKAY QLD
FRI 2 SEP | OTHERWISE, BINDAL/WULGURUKABA/TOWNSVILLE QLD
SAT 3 SEP | GILLIGAN'S, GIMUY/CAIRNS QLD
THU 8 SEP | COOLANGATTA HOTEL, YUGAMBEH/COOLANGATTA QLD
FRI 9 SEP | ELEVEN DIVE BAR, GUBBI GUBBI/MAROOCHYDORE QLD
SAT 10 SEP | BLANK SPACE, BARUNGGAM/TOOWOOMBA QLD
THU 22 SEP | DRIFTERS WHARF, KURING-GAI/CENTRAL COAST NSW
FRI 23 SEP | CAMBRIDGE HOTEL, MULUBINBA/NEWCASTLE NSW
SAT 24 SEP | MANNING BAR, WARRANG/SYDNEY NSW (EARLY SHOW)
SAT 24 SEP | MANNING BAR, WARRANG/SYDNEY NSW (LATE SHOW)
THU 29 SEP | UNI BAR, THARAWAL/WOLLONGONG NSW
FRI 30 SEP | UC HUB, NGUNNAWAL/CANBERRA ACT
SAT 1 OCT | BEER DELUXE, WIRADJURI/ALBURY NSW
WED 5 OCT | VOLTA, WATHAURONG/BALLARAT VIC
THU 6 OCT | SOOKI LOUNGE, WURUNDJERI/BELGRAVE VIC
FRI 7 OCT | THE WOOL EXCHANGE, DJILANG/GEELONG VIC
SAT 8 OCT | PIER BANDROOM, BOONWURRUNG/FRANKSTON VIC
FRI 14 OCT | ALTAR, NIPALUNA/HOBART TAS
SAT 15 OCT | LION ARTS FACTORY, TARNDANYA/ADELAIDE SA
SUN 16 OCT | NORTHERN SOUND SYSTEM, KAURNA/ELIZABETH SA (LICENSED ALL AGES)
FRI 21 OCT | VINNIE'S DIVE, YUGAMBEH/GOLD COAST QLD
SAT 22 OCT | THE NORTHERN, CAVANBAH/BYRON BAY NSW