The Ruminaters' "Psychopathic Brain Explosion" Video Does Exactly What It Says On The Box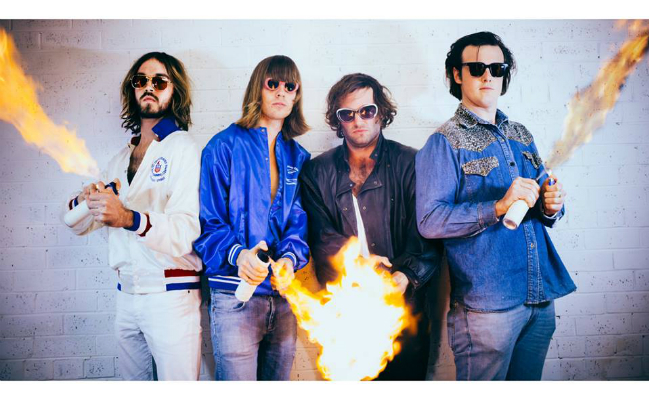 The Ruminaters have dropped their latest music video, and this one is going to kick the sh*t out of your brain's ass. With a song named Psychopathic Brain Explosion, you definitely might have expected something a little nuts, but get yourself ready.
Before we get going, take a moment, just to be sure. Make sure you're sitting down, prepare a nice cup of tea and surround yourself with your favourite throw cushions. Get comfortable, cause it's about to get weird.
The video kicks off with a cooking show Hosted by none other by Ange with special guest appearances from The Ruminaters who have one thing on the menu: frontal cortex. Squish them, mince them, any way you want them, the Sydney lads have pulverised your thinker for the video to result in something that lands neatly between sickening and cathartic.
Mix this in with a stack of colours, fake (we hope) blood, corny visual effects, clips of the band playing, and a surprising amount of penis, and you have The Ruminater's latest track visualised.
The song itself is a psych-pop cruiser that kicks the bass fuzz to 11 to balance with some smooth vocal effects. A healthy dose of bright guitar also keeps the heavy bass tones at bay, and finally a good mix of hand claps and percussion keep it nice and poppy, despite the subject (grey) matter.
The band are known for some killer visuals, as they dropped a full 360-degree video for their last track, Bad Bad Things. Ted from the band explained that for this shoot "Sh*t got real weird", and that just might win the Understatement of the Year award.
Be sure to check out The Ruminaters' upcoming live dates as they launch their self-titled EP!
Check out the video for Psychopathic Brain Explosion below!
The Ruminaters Live Dates
SAT 26 NOV
The Chippendale Hotel, Sydney
FRI 17 FEB
Mountain Sounds Festival, Kariong, NSW
Get Tickets HERE