Secret Garden 2018 Announces Full Lineup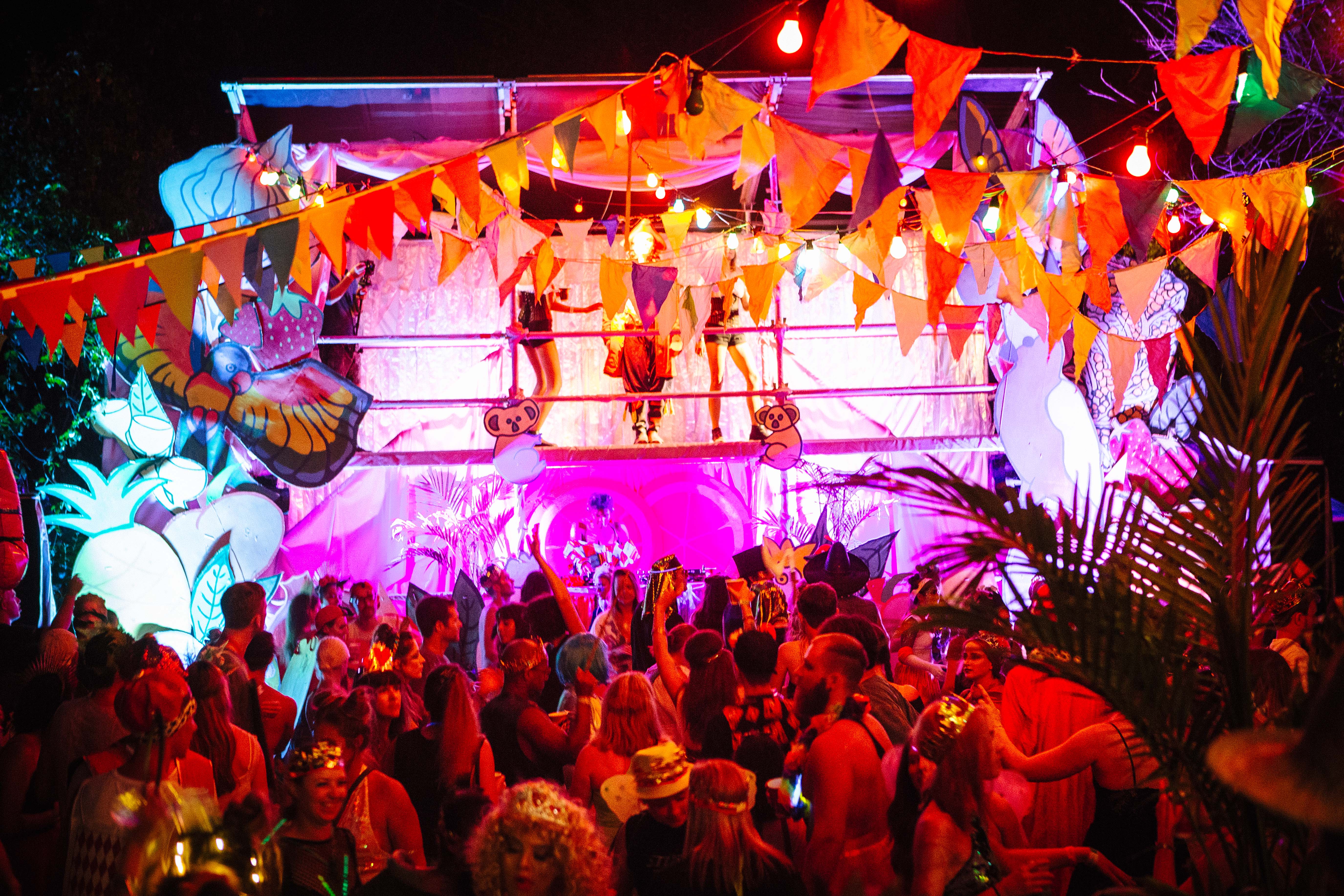 Secret Garden announced its return back in September last year with the promise of revealing its full lineup once tickets were exhausted. With that goal met, and still remaining as tantalising as ever, Secret Garden 2018's lineup is certainly mammoth.
Leading the pack is Secret Garden veterans, DZ Deathrays, along with Holy Holy, Ecca Vandal, Alex The Astronaut, The Harpoons, Miss Banks, Stella Donnelly and more. Happening on Friday 22 and Saturday 23 February next year, the forest disco adventure will, yet again, be open to a select few guests—maintaining its exclusive, intimate and community vibe. Tickets are, unfortunately, all sold out.
Secret Garden, if you couldn't already tell, is a festival all about inclusiveness. Whether it's genre, or the stacked arts and performance program, the festival remains as one of the most progressive and transcendent music and arts experience on the festival calendar. The great Camp Queen Drag Queens will return as well as the infamous Kissing Booth, and the royal banquet of The Great Fatsby.
Secret Garden ticket holders, this is your invitation to bring out your inner-self, embrace the colour and the unknown and have the time of your life. Flamboyant and inclusiveness is almost a pre-requisite for attending this bash in the bush.
Scope the full lineup below.
Secret Garden Lineup Announcement
Gymnasium
Alex The Astronaut
Angie McMahon
Billy Davis & The Good Lords
Boat Show
Bris 182
Broadway Sounds
DZ Deathrays
Ecca Vandal
The Harpoons
Heaps Gay & Friends
Holy Holy
Lanks
Mezko
Miss Banks
Odette
Paces
Vaudeville Smash
Waax
Camp Queen Fitness
Aaron Manhattan
Andee Frost
Beau Kirq
Betty Grumble
Chrissy
Estee Louder
GAFF E
Joe Pol
Lauren Hansom
Megana Holiday
Matt Format
Mira Boru
Radha La Bia
Simon Caldwell
Stelly Gappasauress
Sveta
Vibe Positive
T.G.I Secret Garden
Aegean Sun
Dom Alessio & Friends
Dreamy Rimmy
Eillish Gilligan
Exhibitionist
Froyo Gusher DJs
Inner West Reggae Disco Machine
JEFFE
Ojikae
Rich-Spanning-Time
Stella Donnelly
The Tarantinos
Totally Unicorn
Dinosaur City ft. Babey
Big White
Fritz
Opal
Phanosland
Spike Vincent
Sunscreen
Sweater Curse
Let'sin
Ayebatonye
Catlyf
Ebony Boadu
Fire Dancers
G Coo
Isa (aka Pop Rocks)
Jade Le Flay
Jade Zoe King IV (Live)
Lupa Howl and The Shewolves
Manic Pixie
Matka
Mowgli May
Seduna
Yemisul
The Cosmoteque
Clarissa Mei
Cressy
Doris
GC O'Connor
Godtet The Goods
Keep It Disco
KRYSTAL Diola
Lex Deluxe
Love Deluxe
Maja Bajy
Natalia
The Pressure of Gwen
Price
Rebecca Hatch
Rydeen
Sidehustle
Wallace
The Mesomiasmic
Adi Toohey
Andy Garvey
Big Ting Recordings
Bubble Babies
DJ Meta Etctera
E David (Live)
Jasmine Peters
Katia Avordis
Lazy Susan
Oscar Mike
Slamb
Spiderdog
Swerve
Whipper Sisters
(In A) State Theatre
Awards Ceremony
Brendan De La Hay
Confetti Gun
Disney Karaoke
Dolly Magazine (Live)
Genitals of the Animal Kingdom
Good Morning Secret Garden
Is This Your Life?!
Jazz Therapy
Karlee Tiana
Lou P Scarlett
Nude For Jesus Dance Party
Porcelain Alice
Post-ITS
quad bike
Reverse Burlesque
The Damsels De-Stress
Ring! The! Bell!
Rosie Rivette
Steph Broadbridge
Mystery Bachelor Or Bachelorette