Sydney's FVNERAL Let Us In On The Music That Inspires Them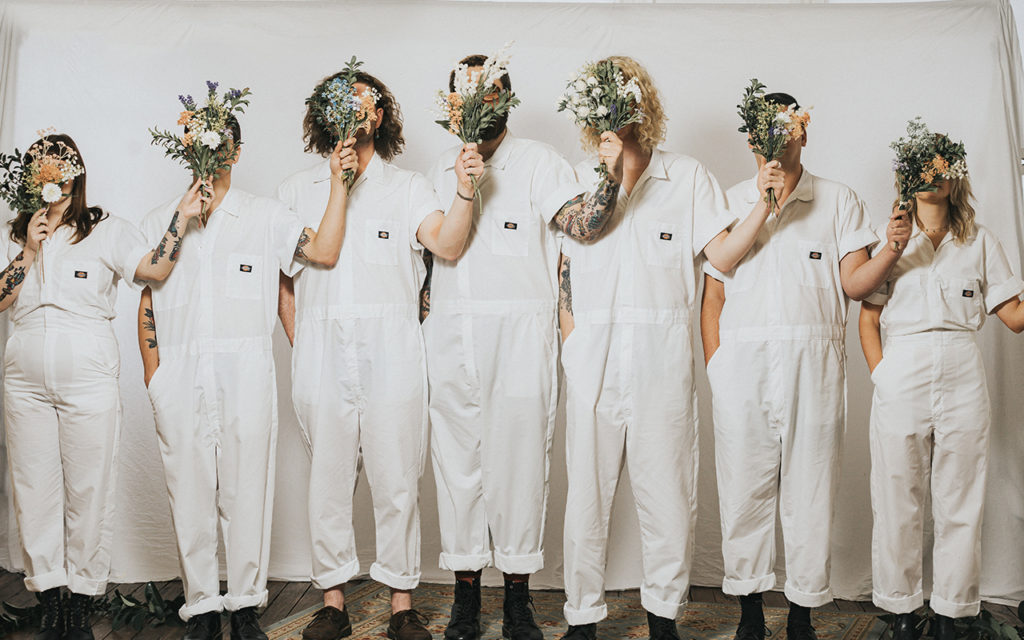 After their recent debut with single 'GOD DAMN LEDs', we chatted with Sydney group FVNERAL to get the scoop on the music that inspires them to create.
These artists are stepping into their own sonic space after many years behind the scenes writing and working with Australian treasures like Birds Of Tokyo and Middle Kids. Carried by the soothing voices of Tim Blunt and Ally Turner, their sound fits nicely in the indie sphere, pulling in softer elements of folk to create music both heart-warming and melancholic. The first single from the seven-piece indie collective, 'GOD DAMN LEDs' is an excellent introduction to their sound, exemplifying their ethos and identity.
With a core focus on finding the beauty in life's nuances and complexities, their debut single reflected this- exploring the concept of finding safety in the help of someone else. In their words, it's about "letting someone take the emotional driver's seat when you feel like it's not safe for you to drive. While it is an incredibly unfair and ultimately unsustainable expectation to put on someone, there is still something beautiful about feeling safe enough to let it happen, even if only for a fleeting moment."
RELATED: HEAD TO THE CLOUDS WITH CAVE PALACE'S NEW SINGLE 'FAR AWAY'. READ HERE
Check out the songs FVNERAL's band members cite as inspiration for their craft down below:
Maggie Rogers – Fallingwater // Ally
"The way this song strips right back around the halfway mark and then starts expanding out into those soaring vocal layers and that almost gospel-like chant is so magical. I feel like I find something new every time I listen to it."
The National – About Today // Tim
"This song perfectly embodies the building and subtle release of tension. Sparse and minimalistic, with Matt Berninger's vocals so sparingly peppered throughout, the space in between the lyrics give you just enough room to breathe and take in the desperation being described. Fucking heartbreaking."
Laura Marling – Devil's Spoke // Jay
"Laura and I are of a similar age and although she has always had maturity far beyond her years, and although she is completely oblivious to me, I feel like we've been on parallel journeys our whole adult lives. She's always been there for me, and much like looking back at old photographs, revisiting an older Laura record is reminiscing about times now long gone forever, and are as painfully nostalgic as they are familiarly warming."
Soft Powder – I Wonder If You Dream // Carlo
"Written by a dear friend, it embodies a time and place in my life and is reflective of a state of mind that I always find myself in."
Andy Shauf – To You // Jackson
"Musically timeless, and so god damn heartfelt and honest."
Madison Cunningham – Broken Harvest // Zac
"Madison captures what the essence of being an artist is; sacrifice, anxiety, honesty, obsession, poverty and hopelessness but ultimately this path less taken brings about the greatest reward and fulfilment. Inevitably <<all things fade away>>, so what's the point of doing something you hate?"
Turnstile – Holiday // Jess
"Aside from firmly believing this band can do no wrong, this track pinpoints the intersection of creativity, style and attitude."
The 1975 – I Always Wanna Die (Sometimes) // Ally
"The lyric <<If you can't survive, just try>> really says it all. The arrangement is so damn cinematic and makes me cry every time."
Phoebe Bridgers – Funeral // Tim
"This feels a little on the nose, but whatever haha. Honestly though, I was living in LA at the time, sleeping in my hatchback that I parked in a friend's driveway, doing an unpaid internship at a label and making beats on my laptop for food money. I was feeling so disillusioned about my place in the world and remember hearing <<I woke up in my childhood bed, wishing I was someone else, feeling sorry for myself. When I remembered someone's kid is dead>> I just cried so hard, realising that even though I was the sole architect of the situation I was in and that I needed to put it all in perspective, all of my feelings were still valid. I wanna make songs that people cry to, in their shitty little cars."
Dave – Both Sides Of A Smile (feat. James Blake) // Jay
"Dave is the perfectly articulated voice of young, fed up, working-class Britain. He is a true talent, a poet, an artist. This record as a whole is in a complete league of its own when it comes to 'urban' music, with the solo tracks flawless and the features awe-inspiring. James Blake, a modern visionary in his own right, brings layers to this song that elevate it to god status and I listen to it 10000000 times every week."
Round this line-up off to a perfect ten with 'GOD DAMN LEDS', out everywhere now!