Take 5 –Aussie Edition– With Subtle Mullets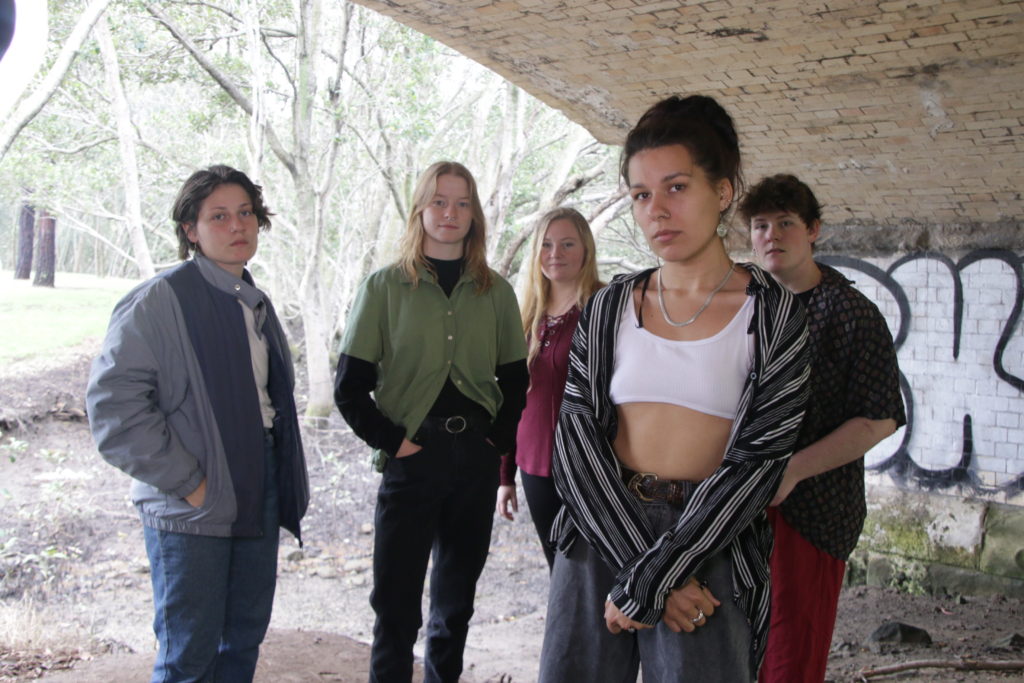 We caught up with one of Syndey's best new offerings Subtle Mullets following the release of their debut album 'Burns Still', to get the scoop on their favourite Aussie artists.
These alt-pop rockers have been making serious waves this year since bursting onto the scene in January with single 'Waste My Time'. With a sound reminiscent of Wolf Alice and The Beths, their latest offering 'Burns Still' further showcases their passionate storytelling ability, documenting personal themes of love, loss and the bittersweet moments in between.
RELATED: PREMIERE- LISTEN TO HOT DONNAS EXPLOSIVE NEW EP. READ HERE
There's something truly addictive about the way this band effortlessly glides between genres in this album, ranging from power-pop and alternative rock, right through to melancholic grunge. The ten-track collection was recorded, mixed and produced by 5-time ARIA award winner Paul McKersher and mastered by Grammy award winner William Bowden.
The proudly queer, immensely talented five-piece comprises Jessie Waratah (vocals), Adelaide Hayes (guitar/vocals), Evelyn Hayes (lead guitar), Hannah Cazar (bass) and Miriam Sands (drums). We tasked each band member with choosing their fave Aussie artist right now to get a glimpse at the varied influences heard on 'Burns Still'- check out their picks below!
ADELAIDE – BEEGEES
When Ev and I were young, whenever we'd both go on road trips with our family, we'd listen to the Bee Gees and it would be a very harmonic trip! Our dad being from ' The Falling Joys ' we were brought up on classic Australian music and bands that were full of melodies and unreal harmonies. Also nowadays, hearing the song "You Should Be Dancing" at The Imperial Hotel is still a bop!
JESSIE – KING STINGRAY
My favourite Aussie band of 2021 is 'King Stingray' they are a Yolngu band from Arnhem Land that have taken off this year creating their own wave of groundbreaking music, I've been lucky enough to see them perform live, and let me tell you it was a night I'll never forget. Their songs incorporate both 'Yolngu Matha' (Yolngu language) and English, and are life-affirming and really grounded in who they are. If you haven't heard of them already, I would highly recommend looking them up and listening to their proper Deadly music.
EVELYN – POLARIS
Polaris is my favourite Australian artist, as a fan of metal music this band really blew me away with their use of lyrics and how they are able to create an atmosphere within a song. As a guitarist, I can really appreciate the insane riffs and melodies that they've produced! They've only released 2 full albums and yet they're one of the best metal bands I've heard ever. 
HANNAH – WAXX
Love me some strong female lead punk energy
MIRIAM – AMYL AND THE SNIFFERS
Amyl and the Sniffers are my favourite Australian band at the moment. The driving drumbeat of Bryce Wilson combined with the commanding voice of Amy Taylor creates such a powerful dynamic that never fails to give me goosebumps. The energy that the four of them produced within their latest album "Comfort to me" delivers the chaos and desolation any classic punk record should. They have definitely become one of my favourites punk bands of all time.
Listen to Subtle Mullets 'Burns Still' album now!