The Faim return with their emotively-charged stadium rock on endearing sophomore record 'Talk Talk'.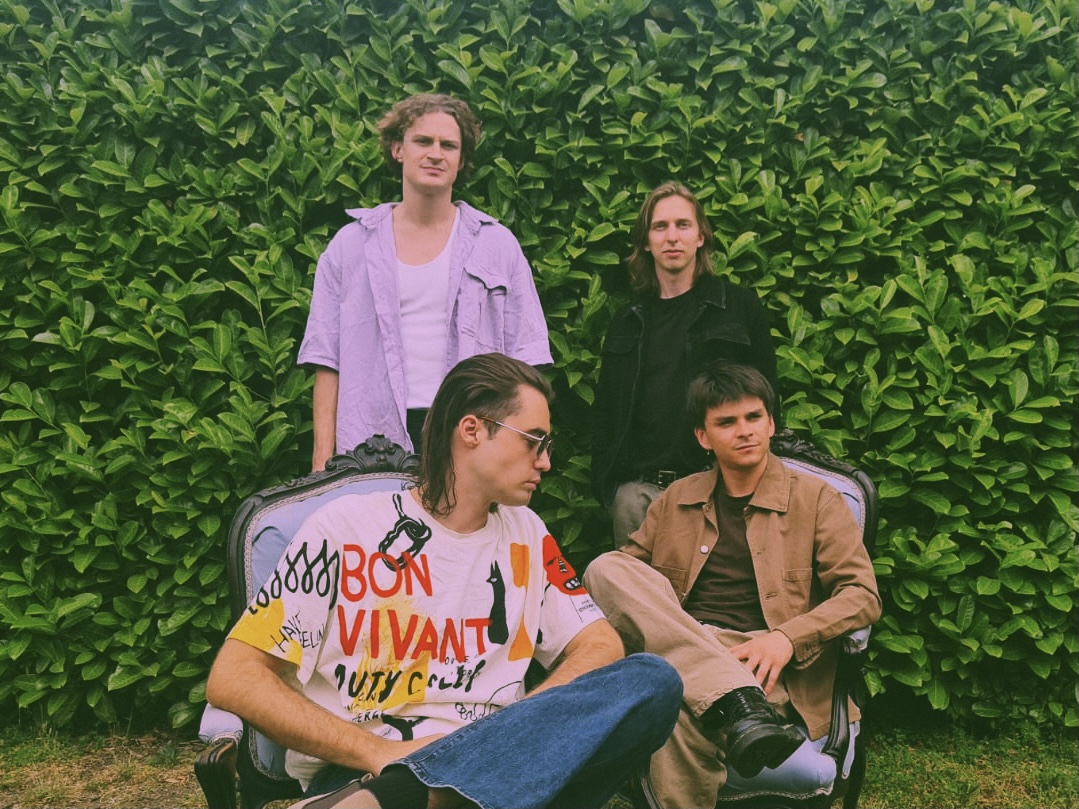 Following on from the release of their widely lauded debut album 'State of Mind', Boorloo/Perth-based four-piece rock act The Faim have just dropped their stellar sophomore album 'Talk Talk' – co-produced with the band by Zakk Cervini (Bring Me The Horizon, YUNGBLUD, Machine Gun Kelly), Erik Ron (Panic! At the Disco, Godsmack, Set It Off), and Matthew Pauling (Palaye Royale, 5 Seconds of Summer, State Champs).
The 11-track second offering further shines a light on the group's innate ability to deliver meticulously crafted pop songs while simultaneously melding formidable anthemic rock that evokes a sincere and raw level of emotion, stacked with memorable hooks that'll have you shouting the lyrics from the rooftop.
Opening with 'madly, badly, fixed', the track subtly sets the tone with its nostalgic and brooding energy, building into a gradual crescendo as it effortlessly unfolds. This is followed by the explosive single 'The Hills', where The Faim are at their best, notably for its infectious and monumental chorus that continues to saturate global airwaves. The third track, 'You (and my Addiction)' harkens back to that of a power ballad of the 80s but still manages to retain an invigorated modern sound with its uplifting and scrupulous production flawlessly navigating its dynamics. 'The Alchemist' tapers down the mood with its somber and melancholic execution, a compelling listen that showcases an impressively different side of their creative prowess.
'Life in a Cinema' is a beautifully composed pop-rock cut that doesn't reinvent the wheel yet still shines brightly with its glimmering walls of synth, delicately deft guitars and is capped off by a shrewdly arranged rhythmic section, providing the perfect bedding for vocalist Josh Raven's captivating and soaring melodies. 'Faith in Me' is another welcome shift in sound, with its sweeping and feel-good delivery; an apt number that breaks up the record, unashamedly leaning into the eclectic smorgasbord of 'Talk Talk'.
'Ease My Mind' is another exceptional powerhouse single lifted from the record, which recalls the vibe of Kings of Leon. From start to finish, each layer sits where it needs to, combining to deliver on one of the most remarkable pop-rock tracks of 2022. 'Me Because of You' leans back into the 80's era, led by the emphatic vocals of Raven and retro-esque infused keys and synths and bouncy rhythmics. Dripping with nostalgia, yet again mastering the art of giving the song a modern polish.
Track 9 'Flowers' is a groove-laden ballad that builds into a very accessible chorus, which wouldn't sound out of place in a movie soundtrack for that crucial inspirational pinnacle. It's followed by 'Jealous Love', opening with steadfast bass and drums and Raven's resolute vocals, highlighting the front man's exceptional range. As the guitars of Samuel Tye gradually and aptly intergrade into the fold on the pre-chorus, the explosive and hook-laden chorus helps the song find the fifth gear, once again proving The Faim are the true songsmiths of feel-good pop-rock ballads. The record closes out with 'ERA', a celebratory and inspiring track that hits all the feels in the right places, drenched in positivity and catchy hooks.
Overall, 'Talk Talk' is an undeniably strong progression for The Faim, further cementing their position as a rock band to be reckoned with.
Whether they're lighting up an arena or bringing the house down in a club setting, The Faim are a bona fide rock sensation set to continue their rise to stardom, and we enthusiastically look forward to continue hearing their sonic development progress.
Catch The Faim on their 'Talk Talk' Australian tour, which kicks off this week on one of the dates below.
 THE FAIM
'TALK TALK' AUSTRALIAN TOUR
Tickets available now from www.thefaim.com
FRI 15 JUL | VISION STUDIOS, BOORLOO/PERTH WA (ALL AGES)
Click for tickets
SAT 16 JUL | JACK RABBIT SLIMS, BOORLOO/PERTH WA
Click for tickets
THU 21 JUL | THE BRIGHTSIDE, MEEANJIN/BRISBANE QLD
Click for tickets
FRI 22 JUL | NEWCASTLE HOTEL, MULUBINBA/NEWCASTLE NSW
Click for tickets
SAT 23 JUL | THE LANSDOWNE HOTEL, EORA/SYDNEY NSW
Click for tickets
SUN 24 JUL | LA LA LA'S, WOOLYUNGAH/WOLLONGONG NSW
Click for tickets
SAT 30 JUL | EVELYN HOTEL, NAARM/MELBOURNE VIC
Click for tickets
SUN 31 JUL | ENIGMA BAR, KAURNA/ADELAIDE SA
Click for tickets