The Temper Trap Get Funky for Live A Version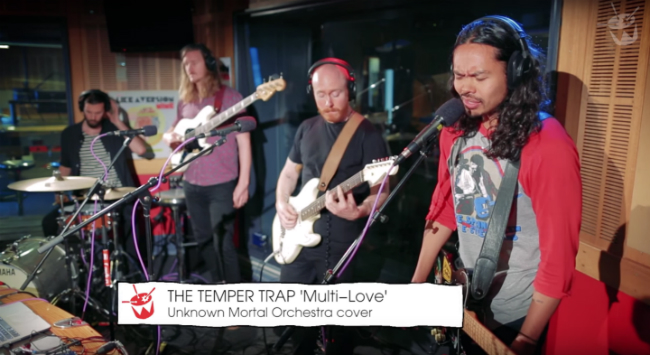 Australia's smoothest rock band The Temper Trap have delivered their grooviest song to date, in the form of their Like A Version cover of Unknown Mortal Orchestra's Multi-Love. Currently gearing up to release their third studio album 'Thick As Thieves', the Melbourne quartet made the track both their own and at the same time extended the boundaries of their pop-rock sound.
The structure of the original energetic ballad by the American psych-indie heroes remained unchanged, as a harpsichord-sounding guitar opened before frontman Dougy Mandagi serenaded the triple j studios with his signature polished tone and captivating range. The bass was just as groovy as the original, a welcome departure from their recent wall-of-sound releases, as the band concentrated more on instrumentation than creating a monolithic soundscape.
The real magic in the cover however is after the second chorus, with The Temper Trap choosing to get super funky rather than fall into the original's psychedelic breakdown. The band's expert use of dynamics, intertwined with some energetic funk strumming and sexy flanger-drenched delay, takes the the cover from sitting in the middle of the pack and up next to this year's best, perched comfortably next to Methyl Ethel's cover of Cry Me A River.
As exclaimed by triple j presenter Alex Dyson after the last chord, "I don't remember ordering tickets to funkytown!".
Set to release their new album in early June the band has said, "no one can accuse us of rushing things. We're definitely slow burners when it comes to writing albums so we're beyond excited to share these new songs". If this Like A Version is anything to go off we reckon their third album might just be their best…
The Temper Trap's third studio album 'Thick As Thieves' is set for release on Friday 10th June. Check out their previous single Fall Together HERE