Top 5 Worst Tour Tips By Turpentine Babycino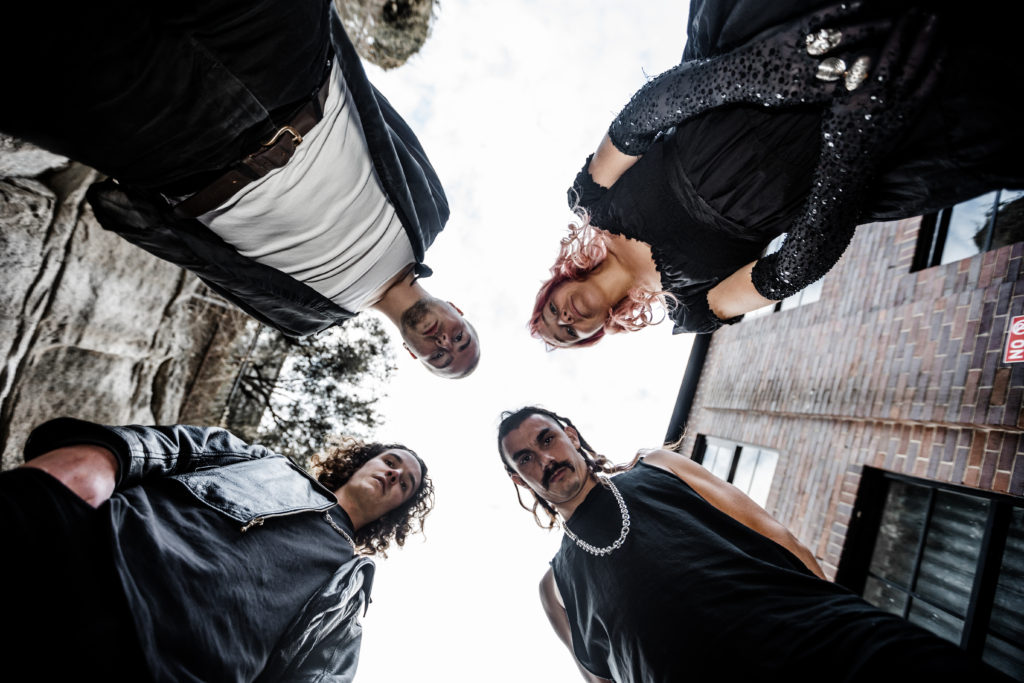 Newcastle band Turpentine Babycino debuted last week with their seriously catchy single 'Write A Song Sounds Shit'; today providing five not-so-serious tips for touring.
The track was recorded with Chloe Hill at The Grove Studios (Birds of Tokyo, Violent Soho), mixed by ARIA Award Winner Paul McKercher (Eskimo Joe, You Am I, Art Vs. Science) and mastered at Studio 301 (King Stingray, Thelma Plum, The Rubens). The resulting tongue-in-cheek anthemic indie-rock sound is destined to appeal to fans of Dune Rats, Teenage Joans and Beddy Rays.
RELATED: PHOTOS: Raw Deep @ Elsewhere
The band explain: "Write A Song Sounds Shit' is about the aftermath of a break-up. Big parties, loud music, long nights and writing shitty break-up songs are often on the cards to help 'forget' about an ex. As a song-writer it's easy to dismiss a great song due to self doubt and judgment and after a break-up, these insecurities are heightened. 'Write A Song Sounds Shit' is that shitty break-up song that nobody's supposed to hear, except people will this time."
Eager to hit the road this October for their headline tour, they've popped together their top 5 worst tour tips below!
Book a trip to Thailand before the tour 
Don't forget to book a trip to Thailand before the tour so you can be super stressed about organising supports, finalising venues, organising distribution and making an entire music video last minute instead of enjoying a strawberry mojito and tofu pad Thai in peace.
Make the tour poster yourself 
It's a great idea to make the tour poster yourself when you have absolutely no graphic design skills, it helps to create that edgy DIY vibe we all crave. If you are going for this "off the beaten track" poster design I'd suggest at least spending that money you would on a graphic designer on updating to Canva Pro for the extra special features.
Don't forget to bring unnecessary things in the van
When packing the van for tour it is integral each person brings lots of unnecessary items. With an entire drum kit, amps, cabs, guitars, many chords and miscellaneous musical items, the van will be packed to the brim making driving and sleeping arrangements very uncomfortable.
Eat lots of eggs and beans before the longest car trip
Before your 12hr car trip from Newcastle to Melbourne be sure to eat a few scrambled eggs, Yia Yia's feta cheese and Mexican beans so that you can drive the whole way to Melbourne with the windows down. 
Don't have fun 
Whatever you do, don't meet people, don't party, don't have the best time with your buddies, don't meet up with old friends and definitely don't follow your passion as this could lead to the organisation of more tours, more great memories, more collaborations and lots more rock music.
Find Turpentine Babycino's single and tour dates below!
FREE ENTRY*
Weds Oct 5th Retreat Hotel Melbourne*
Sat Oct 8th Botany View Hotel Sydney*
Sun Oct 9th The North Wollongong Hotel Wollongong*
Fri Oct 14th Wave Bowl Port Macquarie*
Sun Oct 16th Hamilton Station Hotel Newcastle*
Fri Oct 28th Last Rites Bar Yamba*
Sat Oct 29th Eddie's Grub House Gold Coast*