Dance & Yacht-Rock Collide On Total Giovanni's 'Comes In Waves'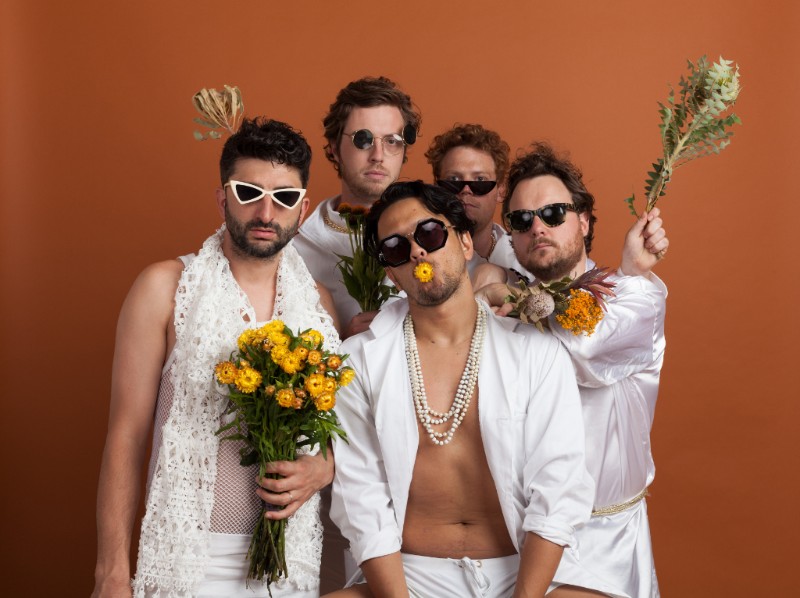 Clashing high-octane dance infused with sweeping soul aesthetics, Total Giovanni is the classiest bunch of movers and shakers from Melbourne. The five-piece have shared their most potent work to date titled, Comes In Waves.
Dance is a big part of Total Giovanni's music. The way they sculpt and handcraft their dance idiosyncrasies rolls at an infectious pace. Cool, calm and collected, the group formulate their own strategic beat—moving you through cleverly timed breaks and melody intervals. Furthermore, Total Giovanni's ability to craft funky yacht rock is an effort on its own. Focussing on the power of the synth and bass guitar, with some added percussive flair and production work, Comes In Waves is a daringly funkadelic moment in this band's prestigious career.
The band mention that the song is the most different and conceptually challenging they've achieved due to a number of facets—one of which being the lack of chorus.
"The lyrics came in bursts. Each section reflects a moment of becoming conscious of something. The feeling of being outside yourself. The song is different in that it doesn't have a chorus – just three different verses with instrumental breaks that have their own feel. Conceptually, the whole song itself is sort of structured like a wave form, moving up and down whilst also moving forward with increasing intensity until it finally explodes," explains the band.
Comes In Waves is set to be the first major taster of Total Giovanni's debut album, which is expected to release later this year. No more information is known about the album though we expect it to be nothing but an instant classic.
Additionally, Total Giovanni will be buttoning up for Client Liaison's travelling music and finance convention, Expo Liaison. Among them will be joined by No Zu, Alice Ivy, John Farnham and Luke Million.
Stream Comes In Waves below.