triple j's Hottest 100 (and 200) 2018 Results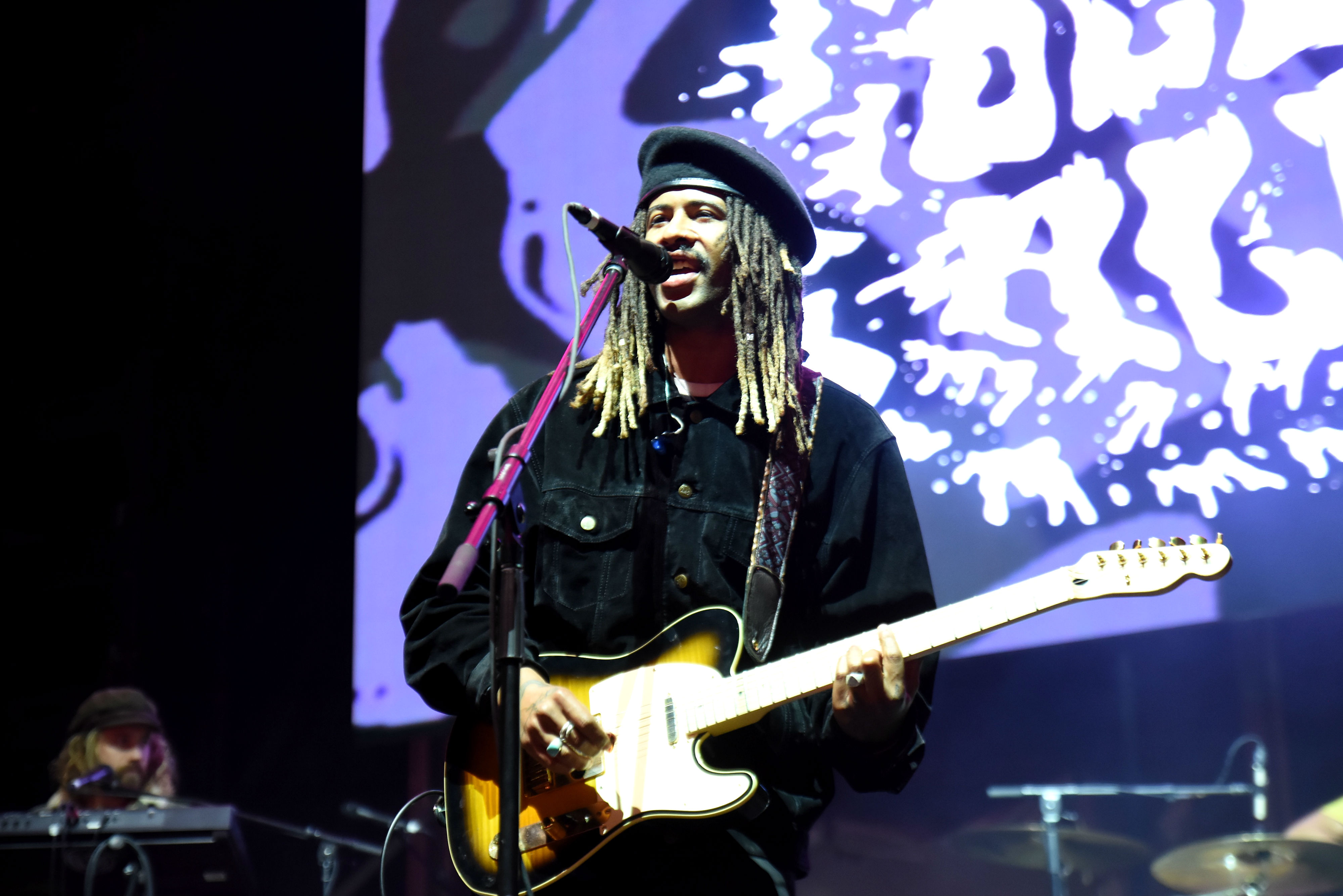 Unless you've been living under a rock, triple j's Hottest 100 has come and gone for another year. For 2018, Australian act Ocean Alley won the top spot with their lucid jam, Confidence. The song was highly tipped early on to get the number slot, which was followed by acts like Fisher, Travis Scott, Childish Gambino, Amy Shark, Mallrat and more in the coveted top 10.
Funnily enough, Ocean Alley slotted in another three times in the countdown—number 10 for Knees, number 16 for their Like A Version cover of Baby Come Back and at number 100 for Happy Sad. The last band to take to number 1 and 100 spot was Powderfinger.
RELATED: See the results for 4ZZZ's Hot 100 2018 HERE.
Aside from Ocean Alley, there were plenty of double—or even triple—entries in this year's list including Hayden James, King Princess, Post Malone, RÜFÜS DU SOL, Hockey Dad, Ruel and more. Additionally, there were 21 artists who made their Hottest 100 debut and there was a total 65 Australian acts, bands and musicians in total.
As per tradition, the day following the Hottest 100, triple j counts down the songs that just missed out—the Hottest 200. Notable acts who didn't make the cut in the real list included Eves Karydas, Courtney Barnett, Slowly Slowly, Phantastic Ferniture, Parkway Drive, Alice Ivy and many more.
See the full list below.
triple j's Hottest 100 (and 200) of 2018
1. Ocean Alley – Confidence
2. FISHER – Losing It
3. Travis Scott – SICKO MODE
4. Childish Gambino – This Is America
5. Amy Shark – I Said Hi
6. Dean Lewis – Be Alright
7. Mallrat – Groceries
8. Billie Eilish – when the party's over
9. Ruby Fields – Dinosaurs
10. Ocean Alley – Knees
11. Skegss – Up In The Clouds
12. The Wombats – Turn
13. A$AP Rocky – Praise The Lord (Da Shine) (Feat. Skepta)
14. Wafia – I'm Good
15. Hayden James – Just Friends (Feat. Boy Matthews)
16. Ocean Alley – Baby Come Back (Like A Version)
17. Billie Eilish – lovely (with Khalid)
18. Hockey Dad – Join The Club
19. Broods – Peach
20. KIAN – Waiting
21. The Rubens – Never Ever (Feat. Sarah)
22. RÜFÜS DU SOL – Underwater
23. RÜFÜS DU SOL – Treat You Better
24. Hilltop Hoods – Leave Me Lonely
25. Thundamentals – I Miss You
26. Vera Blue – All The Pretty Girls
27. Post Malone & Swae Lee – Sunflower
28. Kendrick Lamar & SZA – All The Stars
29. Peking Duk – Fire
30. Cub Sport – Sometimes
31. Alison Wonderland – Church
32. The Rubens – God Forgot
33. Post Malone – Better Now
34. King Princess – 1950
35. Mac Miller – Ladders
36. Amy Shark – All Loved Up
37. Ziggy Alberts – Love Me Now
38. G Flip – About You
39. Ball Park Music – The Perfect Life Does Not Exist
40. Drake – Nice For What
41. DMA'S – In The Air
42. Ziggy Alberts – Laps Around The Sun
43. Drake – God's Plan
44. Hilltop Hoods – Clark Griswold (Feat. Adrian Eagle)
45. Bring Me The Horizon – MANTRA
46. Billie Eilish – you should see me in a crown
47. DZ Deathrays – Like People
48. San Cisco – When I Dream
49. Angie McMahon – Missing Me
50. RÜFÜS DU SOL – No Place
51. Baker Boy – Mr La Di Da Di
52. Khalid – Better
53. Vance Joy – We're Going Home
54. Vance Joy – Saturday Sun
55. Peking Duk – Wasted
56. Halsey – Without Me
57. The Presets – Martini
58. Bene – Soaked
59. Meg Mac – Give Me My Name Back
60. DMA'S – The End
61. Hockey Dad – I Wanna Be Everybody\
62. G Flip – Killing My Time
63. BROCKHAMPTON – BOOGIE
64. Middle Kids – Mistake
65. Methyl Ethel – Scream Whole
66. Flight Facilities – Need You (Feat. NÏKA)
67. Anderson .Paak – Tints (Feat. Kendrick Lamar)
68. benny blanco – Eastside (Feat. Halsey/Khalid)
69. The Wombats – Cheetah Tongue
70. Mallrat – UFO (Feat. Allday)
71. Skegss – Smogged Out
72. Nothing But Thieves – What Can I Do If The Fire Goes Out (Like A Version)
73. Hockey Dad – Sweet Release
74. King Princess – Pussy Is God
75. Kira Puru – Molotov
76. Polish Club – Clarity
77. CHVRCHES – Miracle
78. Hayden James – Better Together (Feat. Running Touch)
79. Thelma Plum – Clumsy Love
80. Mark Ronson – Nothing Breaks Like A Heart (Feat. Miley Cyrus)
81. Jack River – Ballroom
82. Florence + The Machine – Hunger
83. BROCKHAMPTON – 1999 WILDFIRE
84. Tash Sultana – Cigarettes
85. Anderson .Paak – Bubblin'
86. Lime Cordiale – Dirt Cheap
87. Ruel – Younger
88. WAAX – Labrador
89. Ruel – Dazed & Confused
90. Post Malone – Psycho (Feat. Ty Dolla $ign)
91. A$AP Rocky – Sundress
92. Thundamentals – Everybody But You
93. Trophy Eyes – You Can Count On Me
94. The Amity Affliction – Ivy (Doomsday)
95. Arctic Monkeys – Four Out Of Five
96. Odette – Take It To The Heart
97. DMA'S – Do I Need You Now?
98. Kanye West – Ghost Town
99. YUNGBLUD – Polygraph Eyes
100. Ocean Alley – Happy Sad
101. King Princess – Talia
102. Kwame – WOW
103. Parcels – Tieduprightnow
104. Khalid – OTW
105. Eves Karydas – Further Than The Planes Fly
106. SAFIA – Starlight
107. Cosmo's Midnight – Get To Know
108. Mac Miller – Self Care
109. Mac Miller – What's The Use?
110. Ball Park Music – The End Times
111. Alex The Astronaut – Waste Of Time
112. Flight Facilities – All Your Love
113. Camp Cope – How To Socialise & Make Friends
114. Matt Corby – No Ordinary Life
115. Drake – Nonstop
116. FISHER – Crowd Control
117. Montaigne – For Your Love
118. Luca Brasi – Clothes I Slept In
119. Bring Me The Horizon – wonderful life
120. CHVRCHES – Get Out
121. Lana Del Rey – Mariners Apartment Complex
122. Ziggy Alberts – Stronger
123. CHVRCHES – Graffiti
124. Riton & Kah-Lo – Ginger
125. Jack River – Confess
126. Golden Features – Falling Out
127. The Presets – Downtown Shutdown
128. Hermitude – Stupid World
129. Matt Corby – Miracle Love
130. Client Liaison – Survival In The City
131. Allday – Wonder Drug
132. Rolling Blackouts Coastal Fever – Talking Straight
133. Holy Holy – Faces
134. Alex the Astronaut – Happy Song (Shed Mix)
135. Drake – In My Feelings
136. RM – seoul (prod. HONNE)
137. Aminé – REEL IT IN
138. Tash Sultana – Salvation
139. Graace – Last Night
140. Brockhampton – NEW ORLEANS
141. Confidence Man – Don't You Know I'm in a Band
142. Brockhampton – BLEACH
143. Baker Boy – Black Magic
144. Jack River – Limo Song
145. Dominic Fike – 3 Nights
146. Golden Features – Worship
147. Joji – SLOW DANCING IN THE DARK
148. Childish Gambino – Summertime Magic
149. Maggie Rogers – Fallingwater
150. Amy Shark – The Idiot
151. RÜFÜS DU SOL – Lost In My Mind
152. Vance Joy – I'm With You
153. Middle Kids – On My Knees
154. Didirri – I Can't Get Last Night Out Of My Head
155. Nothing But Thieves – Forever & Ever More
156. RL Grime – I Wanna Know
157. FIDLAR – Can't You See
158. Kanye West – All Mine
159. Courtney Barnett – Nameless, Faceless
160. Kali Uchis – After The Storm
161. Architects – Hereafter
162. Maggie Rogers – Light On
163. Hellions – Smile
164. Running Touch – My Hands
165. ODESZA – Loyal
166. Ocean Alley – Bones
167. Au/Ra & CamelPhat – Panic Room
168. Parkway Drive – The Void
169. Middle Kids – Don't Be Hiding
170. Tash Sultana – Free Mind
171. E^ST – Friends
172. Tia Gostelow – Strangers
173. Skegss – Stop
174. Parkway Drive – Prey
175. The Presets – 14U+14ME
176. Joji – Yeah Right
177. I Know Leopard – Landmine
178. Clairo – 4EVER
179. Winston Surfshirt – For The Record
180. Phantastic Ferniture – Fuckin 'N' Rollin
181. Angie McMahon – Keeping Time
182. E^ST – I Don't Lack Imagination
183. Ruby Fields – Ritalin
184. Amy Shark – Psycho
185. Alice Ivy – Chasing Stars
186. A$AP Rocky – A$AP Forever
187. The Wombats – Bee-Sting
188. Petit Biscuit – Suffer
189. Odette – Lights Out
190. Slowly Slowly – Ten Leaf Clover
191. Stand Atlantic – Lavender Bones
192. Bishop Briggs – Baby
193. Ceres – Viv In The Front Seat
194. Matt Corby – All That I See
195. Trophy Eyes – Friday Forever
196. KIDS SEE GHOSTS – Reborn
197. Skegss – My Own Mess
198. DMA'S – Time & Money
199. Good Doogs – Want That
200. Joyride – 6AM