Triple J's Hottest 200-101 2015 Wrap Up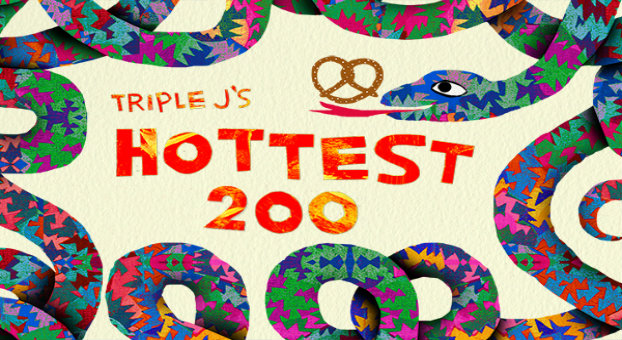 Feeling post-countdown blues? Don't stress, the next instalment is here. If some of your top 10 didn't make it into this year's Hottest 100 countdown, chances are they're in the next 100 that didn't quite make the cut.
Triple j spent Sunday counting down the 200th-101st top tracks from 2015, adding another 60 Australian acts, 16 collabs and four Like a Versions to the list.
Coming in at #101 was 2015's Unearthed High winners Mosquito Coast with Call My Name.
"Coming in at the feted 101 position…is a deserved achievement that nicely bookends the last year for the Perth duo and with strong showings in the countdown from former Unearthed High champs Asta (#47) and Japanese Wallpaper (#69), we reckon we'll hear them in another Hottest 100 soon enough," said triple j Unearthed's Dave Ruby Howe.
Highlights from the second countdown were 2015 winners The Rubens coming in with two more entries Hallelujah and The Night Is On My Side, as well as Courtney Barnett and Tame Impala increasing their total number of entries in the Hottest 200 to five. Florence + The Machine and The Wombats also added another track each taking their totals up to four places in the top 200.
Coming in at #102 was alt-pop group Everything Everything with Distant Past, one of a few prominent acts who missed out in the Hottest 100. Other artists claiming a spot in the top 200 after narrowly missing a spot in the first 100 were FIDLAR, Bloc Party, Set Mo, Sufjan Stevens, The Paper Kites, Drapht, Joey Bada$$, City Calm Down, Beck, and Silversun Pickups.
San Cisco (Magic #178 and Snow #179) and Boo Seeka (Kingdom Leader #123 and Fool #124) also came in with back-to-back appearances in the Hottest 200-101.
Check out the Top 20 of the 200-101 list below:
#101 Mosquito Coast – Call My Name
#102 Everything Everything – Distant Past
#103 RÜFÜS – Innerbloom
#104 Jack Garratt – Breathe Life
#105 Carmada – On Fire (ft. Marabelle)
#106 Kurt Vile – Pretty Pimpin
#107 Kita Alexander – Like You Want To
#108 Childish Gambino – So Into You (triple j Like A Version)
#109 FIDLAR – 40oz. On Repeat
#110 Bloc Party – The Love Within
#111 Seth Sentry – Dumb 
#112 Chet Faker – Bend
#113 Alison Wonderland – U Don't Know (ft. Wayne Coyne)
#114 Courtney Barnett – Dead Fox
#115 Seth Sentry – Run
#116 Chvrches – Empty Threat
#117 Foals – What Went Down
#118 Hermitude – Through The Roof (ft. Young Tapz)
#119 The Wombats – Emoticons
#120 Set Mo – White Dress (ft. Deutsch Duke)
To read our full Hottest 100 wrap up click HERE
Check out The Rubens' reaction when they realised Hoops had topped 2015's Hottest 100: