Tropical Fuck Storm Give Warped Final Track 'Rubber Bullies' Before Debut Album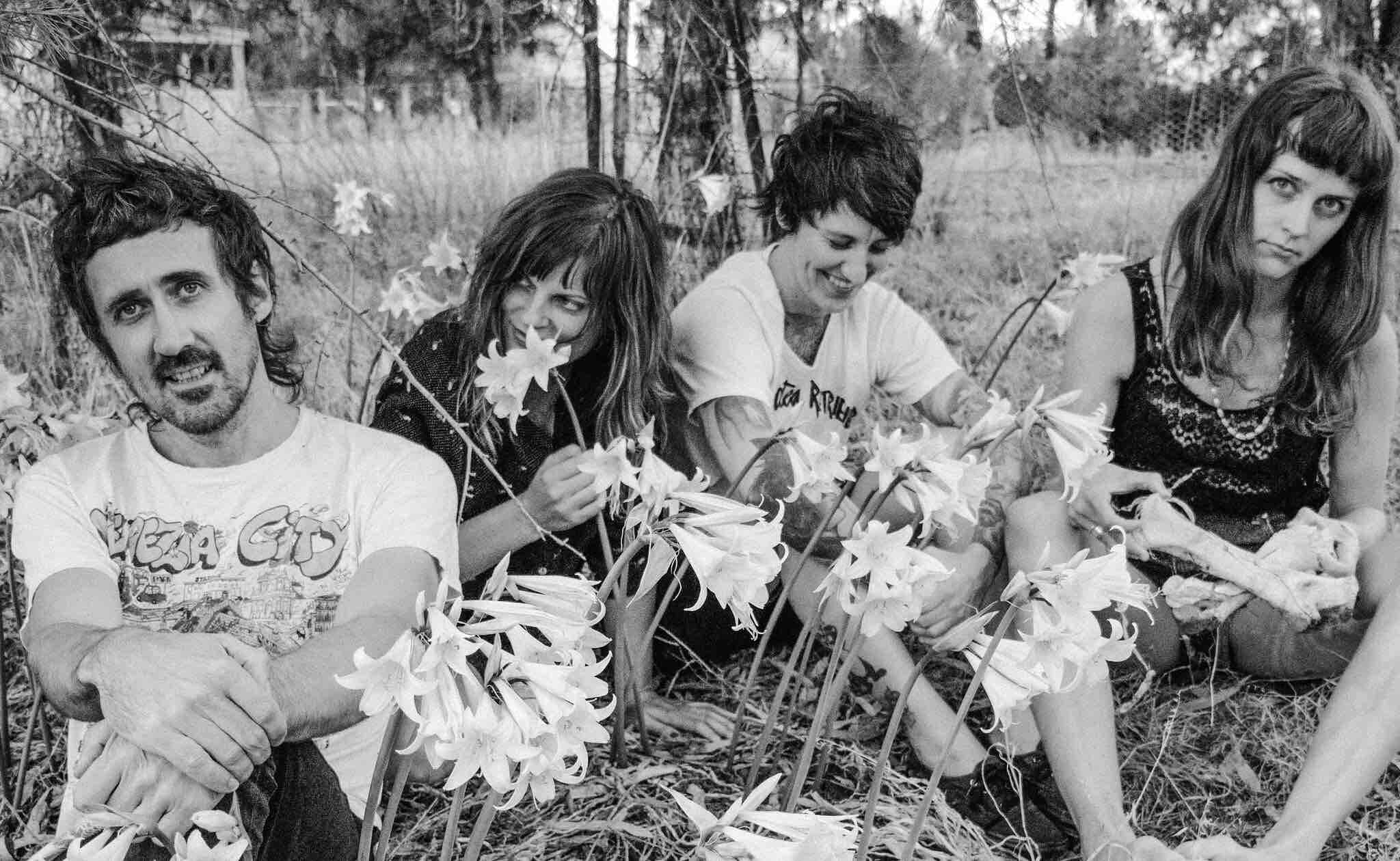 Tropical Fuck Storm's debut album is set to be one of the best Australian releases this year. The group's drip feed of singles has been nothing short of impressive and they continue that stream with the plodding and malicious, Rubber Bullies.
Rubber Bullies is the finale to Tropical Fuck Storm's lashings of 7″ releases and the final track to lay on the upcoming album. Tropical Fuck Storm are a powerhouse and expel aural ramblings unheard to this kind of attention and passiveness than now. Exuding dread and excellence in droning power-punk, this supergroup have undeniably found a new touchstone in Australian music.
Sonically, it's a maniac interpretation of hypocrisy and villainy swirled in ominous hypnotic rock. The group's melodies are perplexing, yet stay together so well. It's all laced over Gareth Liddiard's infamously warped, long and strung together rambling lyrics. He's a fantastic and perplexing storytelling and on Rubber Bullies, he takes the more toxic musical interpretations from The Drones and wears them proud on his chest in this new outfit.
A malevolent chuckle opens Rubber Bullies, whose formidable lyrics encircle the unifying themes of A Laughing Death in Meatspace, which seem more prescient as each day's news of data breaches and betrayals unfolds: "The world's way too connected / and all anybody does is fight". From the fluoro glare of a supermarket aisle to the favelas of Rio de Janeiro, Gareth Liddiard paints a grim picture of our burgeoning anxieties: "You better hold on / the whole world's gonna pass you by… you know the end is nigh."
Tropical Fuck Storm's debut album, 'A Laughing Death in Meatspace', is out May 4 on Mistletone/Inertia. They'll be on tour throughout the country—including a whopping three nights at Howler in Melbourne—this May and June.
Tropical Fuck Storm Live Dates
THURS 3 MAY
The Foundry, Brisbane
FRI 4 MAY
The Cambridge, Newcastle
SAT 5 MAY
Oxford Art Factory, Sydney
THURS 10 MAY
Howler, Melbourne
FRI 11 MAY
Howler, Melbourne
SAT 12 MAY
Howler, Melbourne
SAT 19 MAY
Badlands, Perth
SUN 20 MAY
Mojos, Fremantle
SAT 26 MAY
Theatre Royal, Castlemaine
FRI 15 JUNE
Dark Mofo, Hobart