A Day To Remember Announce Sixth Album, Drop Seizure-Inducing Video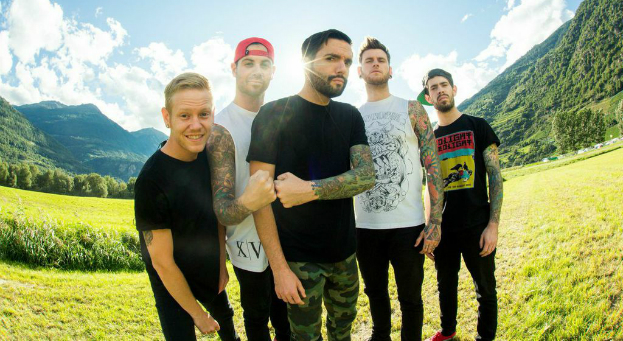 Three years on from the release of the chart-topping 'Common Courtesy', metalcore/post-hardcore/pop-punk (what a fusion of genres) 5-piece A Day To Remember have announced the highly-anticipated new album 'Bad Vibrations'. Coinciding with the announcement, the band has released the video for the second single and title-track of their sixth full-length release.
Bad Vibrations is a fierce track that features punchy screams from frontman Jeremy McKinnon, as well as brutal guitar work that guarantees to open up the pit. The song, and most likely the album as well, focuses on inner darkness and the pressure it can place on an individual, with the chorus projecting the lyrics "This pain is a sickness looming over me/and I can't escape it / Casting shadows that continue to shape who I am on any given day".
The video opens with a warning to those with epilepsy, as the video has the possibility to cause seizures to those who are susceptible, a sign of exciting things to come. Throughout the video our eyes are exposed to many flashes, colours, and fast-paced angle changes as the band shreds through the tune that fans are naming 'Homesick 2.0'.
The lyrics are superimposed throughout the pre-chorus, in a style that emits both confusion and intensity, before unleashing the chorus that shows both McKinnon and guitarist Kevin Skaff belting out the lyrics that are bound to be chanted in their future shows to come.
This track follows the ferocious lead single Paranoia (read more about it HERE), which has already become highly acclaimed and has clocked more than 8 million streams. The song gained recognition for showcasing the band's ability to play songs that are fast-paced and belligerent.
Well-known for their own brand of heavy tunes, which mixes catchy pop punk with heavy blistering hardcore, Bad Vibrations and Paranoia are certified head banger's that echo the aggressiveness found in previous albums such as 'Homesick' and 'For Those Who Have Heart'. So far, many fans are excited that the quintet has decided to travel back to their old school style, whilst blending this with the appealing nature found in 'Common Courtesy'
The band recently toured Australia, co-headlining a massive tour alongside the much-loved The Amity Affliction, that blew the minds of hardcore fans nation-wide.
A Day To Remember's sixth studio album 'Bad Vibrations' is set to be released on Friday the 19th of August.