EP Review: BATZ 'Night Terrors'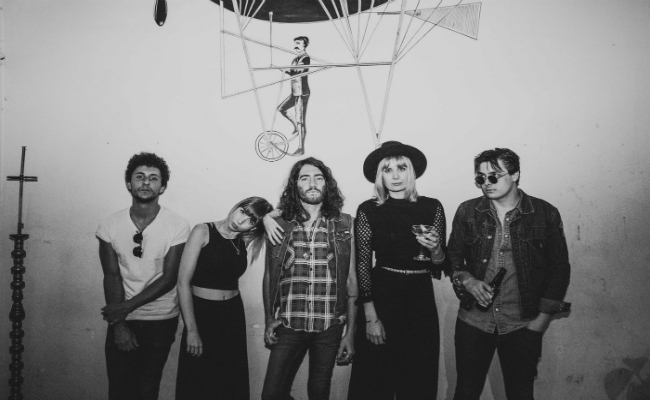 Emerging from Melbourne's after-dark underground music scene in early 2015, BATZ have crafted an unique post-punk sound and the quintet have channeled it all into their debut EP 'Night Terrors'!
B.A.T.Z. is a fantastic opening track. Displaying a variety of post-punk and alternative influences, B.A.T.Z. acts as the album's 'mission statement', a definition of what BATZ are about and where they come from. Surf-rock guitar lends an unsettling vibe to the track, accompanied by a driving rhythm section that ties everything together. The vocal production is the cherry on top, lending an all-encompassing quality to complement the instrumentation.
Sleazy second track Bloodhound is dragged along by an unrelenting bassline, the backbone of the song. Vocalist Christina Aubury's unique technique coupled with her fantastic lyricism generates a ominous feeling, especially through lines such as 'I'm lost/ I'm found/ Stalking through the midnight sheets/ I'm a bloodhound".  Accented by sharp guitar chords that cut through the mix, Bloodhound feels like a dirty Arctic Monkeys track.
Take It is a far more upbeat offering than the previous tracks, propelled forward by a strong dose of basic hardworking punk instrumentation. The bass is less prominent, allowing fuzz-laden guitar to take the lead, and accompanied by an upbeat drumming style, Take It is a fun song that will leave you wanting more.
Closing track 3 Am Pony rehashes the glorious sleaze of Bloodhound, albeit in a more upbeat, rock-influenced way, akin to that of Joan Jett. The snarl in this song brings out a sense of grit for the first time on the EP, showing yet another side to this diverse outfit.
'Night Terrors' perfectly combines BATZ's myriad of influences while acting as a soundtrack to the early hours of Melbourne's late nightlife from which BATZ sprung. The only criticism of this EP is it's brevity. A longer EP would really have allowed BATZ to establish their eclectic sound as well as generating more post-punk goodness to sink our teeth into!