Glastonbury Shows Us Why It's The Biggest & The Best Again In 2016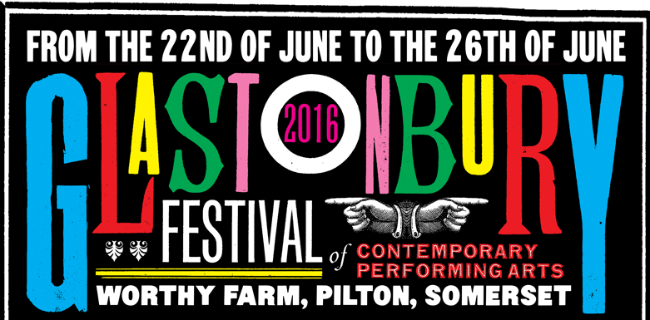 Splendour in the Grass is inbound in less than a month, and the earliest weather forecasts are not help when it comes to trying to figure out how muddy this year's festival will be. We don't know about you, but we're totally looking forward to a repeat of last year's knee high mudslides in the Amphitheatre.
However, if you just can't wait until late July to get your muddy festie fix, then you're in luck because the UK's Glastonbury Festival has just wrapped up over the weekend. Some of the biggest and best acts from across the globe were on the bill for the world's largest greenfield festival, this year headlined by Adele, Muse, and Coldplay.
Sydney alt-fashion models DMA's performed a surprise set on the Thursday night prior to the official kick off of the festival. Each year there are a number of secret sets before the main festivities kick off, such as last year's from Wolf Alice, and DMA's didn't let the crowds down with a massive sing-along to their hits like Delete and In The Moment. In other DMA's related news, the band have dropped the music video for their single Timeless, which you can check out below!
That feeling when you see a band from home KILL it to an international crowd 🙌🏼@dmasmusic just did that at Glasto pic.twitter.com/CU5qMahjSF

— Bridget Hustwaite (@BHustwaite) June 23, 2016
Muse closed out the first night at the Pyramid Stage with a massive set, getting crowds pumped up with their genre-spanning, stadium-scale rock stylings. Songs like Drones and Uprising had an added impact for a large portion of the crowd after the results of the UK's Brexit vote.
🚨🚨 MUSE ALERT. MUSE ALERT 🚨🚨

Head to Pyramid Stage stream on https://t.co/EubrAALQUC right now 🌟 #Glastonbury2016 https://t.co/v5me7bSgT5

— bbcglasto (@bbcglasto) June 24, 2016
Tame Impala were the most prestigious Australians at the festival, playing the penultimate spot on the Pyramid Stage on Saturday night. Their set saw performances of classic tracks as well as a version of Mark Ronson's Kevin-Parker-featuring Daffodils.
Hello if you've just joined us 👋

Tame Impala are performing LIVE. Watch here https://t.co/EubrAALQUC 🌈 #bbcglasto https://t.co/iOHFn8Mdnt

— bbcglasto (@bbcglasto) June 25, 2016
Adele brought a little more intimacy and star power to the closing set for Saturday night, performing all of her massive hits including 2015's Hello. She stated that although she may not be very Rock 'n' Roll, the BBC gave her a warning about her language before she went on stage, something she didn't think even Muse would have had to deal with.
Sunday saw a number of Aussies taking the stage including Matt Corby and last year's Splendour in the Grass Unearthed artists Tired Lion, but it was Coldplay who stole the show, closing out Sunday night with a performance that many people are touting as the best of the whole festival. The band played a mammoth 1:45 hour set, which included a tribute to Viola Beach, the British band who were tragically killed in a car crash in Sweden this year, as well as bringing former Bee Gees front man Barry Gibb on stage to cover To Love Somebody and disco hit Stayin' Alive. 
"And i will try and fix you." @coldplay bring the crowd together at #Glastonbury. Watch-> https://t.co/Os59dxTCYR https://t.co/PrRx8JdgQm

— BBC Radio 2 (@BBCRadio2) June 26, 2016
The festival wasn't without its usual quirks, with thick mud bogging down whole sections of the festival site that would make even the worst year at North Byron Parklands feel day at the beach.
Possibly worse than the mud, however, was the traffic with some punters having to wait whole days to travel into and out of the festival.
How bad is #glastonburytraffic? Well, its taken 11.5 hours to travel 7 minutes…. pic.twitter.com/qAGVHvWFcR

— Clare (@c1areyh) June 22, 2016
Glastonbury again set the standards high for international outdoor festivals. The sheer volume of acts at the festival was daunting and would make for a logistical nightmare for even the most organised of squads. It's certainly getting us keen for the Aussie festival season which can't get here soon enough, but for now, we'll just have to resign to FOMO-inducing photo galleries…