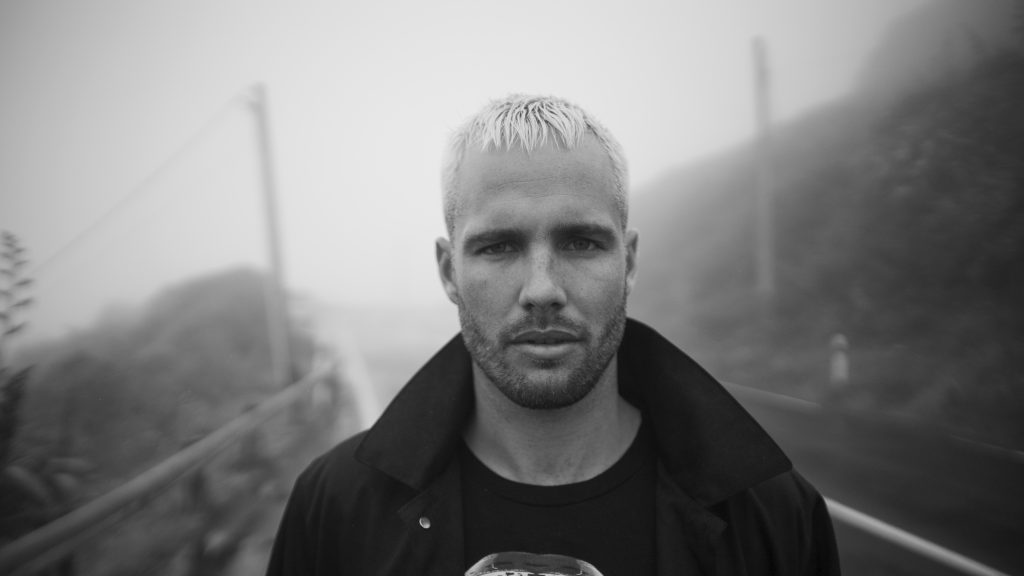 Without a doubt, one of Australia's most unique and vibrant dance exports is the project of Chris Emerson aka What So Not. From its early days working as a duo alongside the enigmatic Flume, What So Not has now expanded far beyond it's humble Sydney beginnings, boasting a resume of global stars like Skrillex, RL Grime and GTA, and a worldwide fanbase to match. Now with the debut What So Not album on the horizon, we spoke to Chris about the heavily anticipated project, the collaborators, his process, and everything in between.
Just to start off, I've been lucky enough to listen to the album and I think it's incredible. It's been a long time coming, but finally we have 'Not All The Beautiful Things' your debut album. Can you tell us a little about how it all came together?
I feel like I've been working towards this thing my whole life without really meaning to. There are some songs on there that really took me almost three and half years to fully conceptualise and put together. I've worked on this all around the world. Nicaragua, Australia, the UK, Europe, America, there's a little piece of every city that I visited in the album to some degree. Travelling around for so much the past six years, pretty much being on the road the whole time, the airports, the car rides, the cafes are where I conceptualised a lot of these ideas.
One of my favourite things I managed to pull off your social media was an Instagram post from March 2017. Instagram explaining how your three-month break from touring had a prolific impact creatively. In it, you explained how you had managed to conceptualise your whole album and now had a clear vision for the whole What So Not project in terms of sound and narrative. How important was that decision for you and the album? 
I don't actually remember posting that but it sounds like something I would do (laughs). I think that was probably an encouragement for other artists to do the same thing, because taking time off is such a scary thing. You want to have time to yourself, and maybe you even have to quit your job because they don't allow you to get that time off. But in this industry, you might be very much discouraged by people that make money off you and it's definitely scary. You could take off 3-6 months and put out a song and no-one cares anymore because you haven't been in their face touring.
That break was a big decision for me—such an important moment and thing that I did for me creatively and for my life in general. I feel like I realised how I wanted to live and how I wanted my career to be, what I wanted to do creatively. I feel like I got to the end of it [recording the album], and I couldn't believe where everything had ended up and how it sounded. I was just so blown away and relieved to have it done and for it to be at the level that it was.
Despite being your debut album, this is still the fifth What So Not project. Did your approach change from EP to album mode?
For me, the 'Divide & Conquer' EP was quite an extensive project, and that really opened the floodgates for the potentials of me doing an extended body of work. It opened my eyes at how left field you can go with things, how much you can strip things back and make things more reserved. You don't have to be ticking all the boxes to please everyone in just one song, you can please people across a whole body of work.
I look back at 'Divide & Conquer' at a song like Adieu, which ended up being probably the most streamed song on the whole EP, and it was just an outro I made on the actual day the project was due, based on some off-cuts of Montreal. Seeing things like that gave me the confidence to make a song that wasn't heavy. Think of songs like Stuck In Orbit, Monsters, Demons from the album. I really love these songs, and they're not big banging songs, they're just songs that I'm really passionate about and enjoyed writing. 
With 'Not All The Beautiful Things', you've enlisted an all star cast of both new and old collaborators, to the point where, unlike any of your past projects, there is not one track that is solely yourself. Was that a conscious choice, and what is it about working with other artists that you are attracted to?
For the most part with this album I really focussed on song writing, and really focussing on the narrative and the album in its entirety. I've mentioned this before, but Be Okay Again was actually the first time I ever sung on a record and wrote quite a full a top line by myself, obviously before Daniel Johns added a few amazing parts. So for me to be creating a record that has an entire narrative and then focuses on song writing, I would of course need to enlist some other songwriters to come and be the voices on these records and speak the narratives.
Working with artists from literally all over the world, did you always opt for an organic, in the person, studio approach?
I really hate the sterile email approach, I think you just lose all the energy. Even with some of my closest friends you just have to get in the room, jam it out and feel it out. For the first time ever I actually did a Skype session vocal recording with BUOY for Stuck In Orbit, and that actually was not too painful. I was just lucking that throughout the process we were talking a lot and having some really great conversation and connecting on ideas and concepts. So when it came to recording it was quite natural, we felt really comfortable with each other, and it just meant that there were an extra couple of days there where I was excruciatingly going through almost 120 tracks of different phrases, and choosing each word that was correctly enunciated, then piecing it together and then layering it so that there was that big chorus. Which all would have been a lot easier if we were in the same room, but you've gotta do what you've gotta do when you are working with these artists and you're not in the same country. 
That in itself is a great story about the recording process. Obviously there are so many names on this record you worked with, but do you have any other standout moments from the album?
There's honestly just so many, if we went through track by track I'd probably just recall so many little things that happened. Working with Toto was absolutely insane of course, people who have written and performed on Michael Jackson records, getting in a room with those guys was just incredible.
Actually one moment I had wasn't even really from this album. I was in Nicaragua with a couple of the collaborators Germ, Daniel and a friend James and another friend Georgia, they became friends on that trip. Seeing them write a top line, and just bounce ideas off each other, go through words, phrases, rhythms and melodies, at the speed and calibre they did, that was a huge moment for me seeing that. I was so grateful to work with them. Germ of course is the voice on after the final track, which is this big, long, wavy ballad.
You mentioned two of my favourite collaborations, your track We Keep On Running with Toto, and the other various tracks with Daniel Johns. Did you find it difficult to collaborate with artists from what is almost the opposite genre to yourself? 
I actually find it so exciting, and it know Daniel did as well. He was so excited working together because we both have very different approaches in terms of our technicality, but we had a very shared vision, and our taste and creativity seemed to line up quite well, which just made it easy.
I think there's an approach you take when you get in the room with people, that either makes the session very easy and smooth, or there's approaches that make people butt heads on things. I always try to make it work, sometimes that means compromising on some things you don't really like just to keep things rolling and then sometimes you get some magic, it's all a balance of personalities.
Daniel was the only reoccurring collaborator on the album, with his vocals featuring on three separate tracks, was there any reason to have him on so many of the songs? 
We tried to really limit it to one person and their track, but Daniel and I worked on so many ideas that we really loved that it just ended up that way. There's a bunch of other songs that I worked on with other people, but these ones that fitted the narrative to me, and as part of this composition. I like that each time Daniel appears it's a different character, a different role, a different voice.
Be Okay Again, of course, was a song that I wrote and had him re-sing, If I Only Knew is where he really shines as the frontman and the vocalist on that piece, adding those crazy screams towards the end. And then Same Mistakes is a different idea again, a song which changes in tempo, speeding up and climaxing before stripping back to nothing. I used his voice more as an instrument and a pad, and then there's only one moment where he really lyrically come to the foreground, and he said himself in that moment that he was sort of channelling Bowie. It's just amazing to have been there, capturing, and help steer some of these different takes I did with Daniel.
You've said in the earlier days that the project of What So Not was an attempt to try and create a new sound that wasn't there at the time. Looking at 'Not All The Beautiful Things' would you say this is something you still try to stick by?
Definitely, I always strive for that agenda, that's the way we move forward in the creative industries. Either try things that don't exist, or combine things that haven't been combined before. One thing that I was really passionate about this album was implementing guitars, which I hadn't done so much in the past. Treating guitars differently, and in turn, I actually treated vocals like guitars too. Running them through amplifiers doing a lot of flipping, twisting and manipulation.
Then with the guitars I was tracking people such as Steve Lukather from Toto, but totally flipping a little solo that he'd done and turning it into something else. Pitching it up 24 notes and putting it on beats mode so that the performance went all strange, and then running that through some more gear until the end product sounds nothing like a guitar, but it also doesn't sound like anything else.
Outside of the album, you're also now taking the role of "creative director" in your work, controlling everything from the stage production to the merchandise. Why did you decide to go one step further and take this step as an artist?
I was already at the point where I write a music video treatment for every song, or at least a little narrative on everything. That way I can share that with someone who is helping me build visuals or direct the music video and try to keep it cohesive. I feel like if the message is there, the narrative is there, the characters are there, it's so easy to create other elements around that, be it a vocal performance, or a music video.
So the album is done and dusted—is there anything else on the cards for 2018? There's still a fair few rumoured studio sessions that we're yet to hear. Any chance we'll get that A$AP Ferg tune?
There's some very old, incredible A$AP Ferg tunes that kind of got a bit lost, but Ferg and I have worked on a bunch of things since then that we're both very excited about too. You might start to see those at some point.
What So Not Live Dates
SAT 16 JUNE
Metro City, Perth
FRI 22 JUNE
HQ, Adelaide
SAT 23 JUNE
The Forum, Melbourne
FRI 29 JUNE
Hordern Pavilion, Sydney
SAT 30 JUNE
Brisbane Showgrounds, Brisbane
TICKETS